DISCLAIMER: This recipe is not for dieting. If you are dieting – try a different recipe – maybe the Garlic Kale Chips or Roasted Garlic Sweet Potatoes or even the Arugula Caprese Salad, but not this one! However, if you are looking for a DELICIOUS and DECADENT vegetarian (not vegan) dish that you can share with friends. This is the one!
Just imagine serving this to your friends with cheese pulls galore when you scoop a serving from the pan as the steam rises from the baking dish – your friends eyes will go wide with delight!
If you are worried about all of the cheese, butter and cream, I think you should remember that a small piece of anything won't hurt – especially if you are enjoying it on the weekend with a salad and a glass of wine.
Besides, there is just something magical about the combination of mushrooms, spinach, garlic and cheese. That is a powerhouse right there. POW!
This dish is like a grown up exotic macaroni and cheese – I mean, yumtastic! I'm pretty sure that kids will like it too. They might exclaim, "I don't LIKE spinach". Just don't tell them it's spinach, they will never know the difference – it will be our little secret. In fact, my own teenager, who will only eat a vegetable under duress (as in, "you can't go out with friends until you eat your veggies" – no, we don't tell her that – but that is what it would take) even ate TWO helpings and said, "Mom, this is good!" – see, I never told her it was spinach – what she doesn't know might even be good for her!
I'll let the pictures say the rest.
I DO want to say one thing – totally off of the subject of food. God is so good! I had a day of dismal failure yesterday. First thing in the morning there was another REJECTION in my in box for my chili recipe/picture. Then I got some worrisome personal news. On my lunch break, I tried to take advantage of the sun to take pictures for some upcoming posts to loaves and dishes – nothing worked right. Then after I finished my day job – which was frustrating, I worked and worked and worked on this website until WAY past my bed time. I couldn't make ANYTHING work right. I worked on my FTP – which I must have so that I can do things like have a Loaves and Dishes Pintrest page and other things to make this foodblog viable. I did not make that FTP thing work. Once I gave up on that, I worked on trying to get my favicon to work (the little square up on the tab on this page. It took me forever to figure out how to design one! Yesterday's problem was how to get it the right size and format for all of the various applications. Anyway, I couldn't get that to work either.
Last night as I went to bed, I prayed, "Please God, if you want me to do this thing and use it to praise you – you have to cut me a little slack – I need for something to work – I need a little good feedback". This morning, while I was half asleep – it came to me how I could make that favicon work. Guess what??? You see it up there don't you? A small green box with the letters L & D? I hope you see it! YIP YIP YIPEEE!!! God helped me with that one!!!
And – although I didn't get any more acceptance letters for submissions to foodblog photo websites – at least I didn't start the day with a REJECTION letter. I am not taking it personally – its just a thing. Anyway, enough about that. Thank you God, I needed a little help.
Let's eat ya'll!
But I am like an olive tree flourishing in the house of God; I trust in God's unfailing love for ever and ever. ~ Psalm 52:8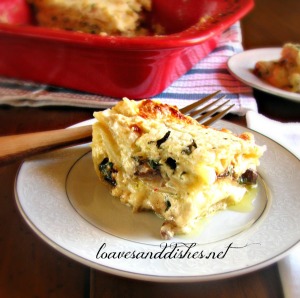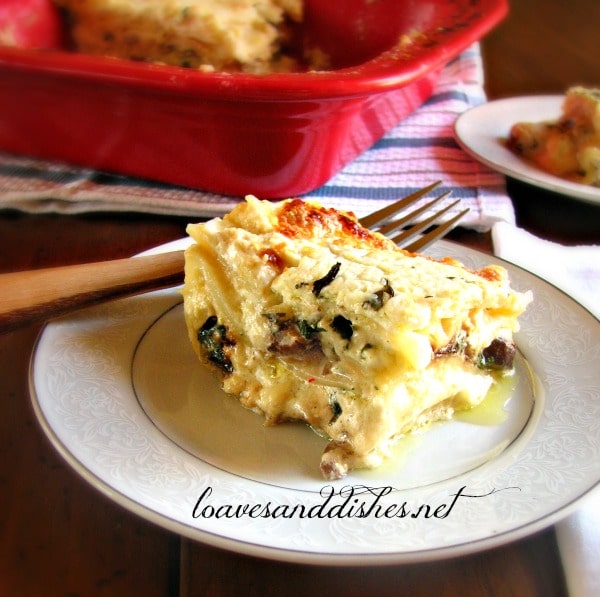 White Mushroom Spinach Lasagna
A delicious and decadent vegetarian meal
Print
Pin
Rate
Ingredients
9

Lasagna noodles – cooked according to package directions

2

Tbs

of butter plus 6 tbs butter

1

medium sweet onion – large dice

8

oz

package of Baby Bella mushrooms - quartered

8

oz

package of button mushrooms - quartered

2

cloves

garlic – minced

2

Cups

fresh spinach – chopped

Salt and pepper to taste

1

block cream cheese

½

Cup

heavy cream

½

cup

whole milk

1

Cup

freshly grated Parmesan Cheese

domestic is fine

¾

C

freshly grated Asiago cheese

1

lb

fresh mozzarella

4-8

sprigs fresh Thyme - chopped

2-4

sprigs of fresh basil - chopped

2-4

sprigs of fresh oregano - chopped
Instructions
Preheat the oven to 300

Place 9 lasagna noodles in boiling water (lightly salt the cooking water) and cook per package directions, remove from heat and drain.

In a large skillet, melt two tablespoons of butter over medium heat then add the onions and mushrooms. Cook until the mushrooms have released their water and the onions are translucent. If the onions caramelize a little – even better! Turn the heat off and add the garlic and spinach to the pan and place a lid on the skillet and let the spinach wilt. Salt lightly to taste. Add pepper to taste. Stir frequently.

In a separate pot, on medium low heat melt the rest of the butter, add the cream cheese, cream and milk and stir frequently until melted. Add parmesan cheese and asiago cheese. When melted, remove pan from the heat.

Spray a 9x9 heavy baking dish with cooking spray. Apply two large spoonfuls of the cheese mix to the bottom of the 9x9 baking dish. Layer lasagna noodles, mushroom/spinach mixture, cheese sauce, fresh mozerella, fresh herbs and repeat ending with fresh mozzarella on top - reserve a small sprinkling of herbs for finishing the dish after cooking.

Bake x 35 mins and place oven on "broil" for the last 5 minutes to develop a browned crust on the top of the lasagna. Sprinkle with remaining fresh herbs when removed from oven.
Notes
white cheesy and delicious
Nutrition
Nutrition Facts
White Mushroom Spinach Lasagna
Amount Per Serving
Calories 400
* Percent Daily Values are based on a 2000 calorie diet.