Eeny Meeny Miney Moe, catch a Tiger by his toe and THEN, milk him for his tiger sauce! I'm so glad that Appalachian Mountains Tiger sauce isn't made this way, aren't you?
Nope! This good old fashioned Appalachian favorite is made by simply mixing up some delicious ingredients from Maw and Paw's fridge to make the most excellent sauce that ever slid around your tongue! Serve this sauce with beef, ribs, shrimp, veggies, eggs, pretzels, hamburgers, chicken wings or whatever you have a hankering to sauce!
WHAT IS TIGER SAUCE?
Tiger sauce is a delicious creamy sweet and sour mayonnaise based sauce that is a little spicy and super flavorful.
Customers can purchase this sauce at the grocery or online. Yet, the homemade version is MUCH better. Hence, some folks like to try the Outback Steakhouse version too. Try it for yourself!
WHO INVENTED TIGER SAUCE?
As far as I know, Tiger Sauce has been something that people have been putting on their ribs, shrimp, beef, pork, veggies and anything that would hold still long enough to have a bite taken out for YEARS!
I have friends who live in the Appalachian Mountains who swear that their relatives invented it. This is their recipe.
This isn't quite the same as the Outback Steakhouse variety, which I think has dill added. You can always add that for that same flavor.
HOW DO YOU USE TIGER SAUCE?
Tiger Sauce is so delicious you will want to make a triple batch and pour it on everything you eat. We think it is best on grilled meats, seafood, fried anything and grilled veggies like asparagus. Personally, I like it on some scrambled eggs.
You try some and let me know what you like it on best. Try some on Tennessee Onions and I bet it's so good that your tongue will want to lick your eyeball.
HOW HOT IS TIGER SAUCE?
This depends totally on you. If you buy some tiger sauce at the store, you will always get the same thing. However, if you make your own, you can adjust the amount of heat by carefully adjusting the horseradish.
If you like yours less hot, then just put less horseradish or vice versa if you like it more hot.
HOW I MAKE TIGER SAUCE
The following photo is an affiliate link and I am an affiliate of Amazon, I will earn a fee should you purchase through this link. That said, you can click the link and go through and compare prices should you need a whisk.
The only kitchen utensil I use for this recipe other than a bowl and some measuring cups/spoons is a whisk. I have this one and I think it does a terrific job!
WHERE CAN I BUY TIGER SAUCE (THE RECIPE IS AT THE END OF THE POST)
You can buy Tiger Sauce in many grocery stores and online yet, I don't recommend buying. Instead, I recommend taking 3 minutes and mixing up your own because it will taste better and hey, you'll be amazed with yourself! PLUS, you'll save money!
However, if you feel you MUST purchase the commercial variety, here is an affiliate link from Amazon, and I am an associate of theirs. If you click the photo it will take you through to Amazon where you can compare prices.
I also use this whisk to whisk things together, it makes everything happen fast! Again, this is an affiliate link and I am an Amazon affiliate who receives compensation if you purchase through this link. You can click the photo of the whisk to go through to Amazon to compare prices.
IF YOU ENJOYED THIS APPALACHIAN MOUNTAINS TIGER SAUCE, YOU MIGHT ALSO ENJOY…
Southern Fried Breakfast Potatoes
TIPS AND TRICKS FOR APPALACHIAN MOUNTAINS TIGER SAUCE
Whisk the sauce together very well and then allow it to sit in the fridge for at least an hour, overnight is better, to allow the flavors to meld.
If you don't have smoked paprika, it's ok, use regular paprika
Whatever you do, do NOT substitute regular horseradish sauce for the creamy horseradish sauce. If you do, your sauce will be TOO HOT, lumpy and will taste funny.
This sauce is FABULOUS on a burger!
YA'LL HELP ME OUT NOW, YA HEAR?
Please leave me a 5 star 🌟🌟🌟🌟🌟 comment below in the comment section, all right? I would LOVE to know if you made this recipe or even if you are planning to! Of course, head on over to Pinterest, Facebook and Instagram and tag me with some photos of your creation!
I can't wait!
Ya'll know I love your comments!! ❤
THE RECIPE FOR Appalachian Mountains Tiger Sauce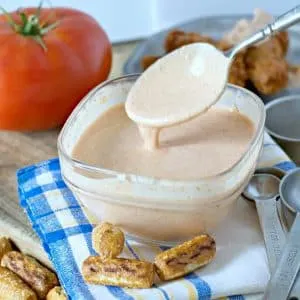 APPALACHIAN MOUNTAIN TIGER SAUCE
A spicy flavorful sauce to use as a dip or a sauce on a variety of foods.
Print
Pin
Rate
Ingredients
½

Cup

Mayonnaise

⅓

Cup

Creamy Horseradish Sauce

⅓

Cup

Ketchup

1

Tbs

Smoked Paprika

1

tsp

sugar
Instructions
In a medium sized mixing bowl, whisk together all of the ingredients.

Allow the sauce to rest in the refrigerator for at least an hour to allow the flavors to meld and then DIG IN!
Notes
*Use the best quality creamy horseradish sauce you can afford.
*Do NOT substitute regular horseradish for the creamy variety.
*You may use regular paprika if you can't find smoked.
*Some folks like to add some onion or garlic powder to the mix, you can be the judge of that.
Nutrition
Nutrition Facts
APPALACHIAN MOUNTAIN TIGER SAUCE
Amount Per Serving
Calories 300
* Percent Daily Values are based on a 2000 calorie diet.
A VERSE TO SHARE
Have you ever read something in the Bible and there was SO MUCH there that you had to take it sentence by sentence? Me too. Me too sister/brother!
Galatians 6 is that way. Boy, it is PACKED in there. Everything from "if you catch someone in a sin, help them gently" to "don't think so highly of yourself" to "be careful that you don't get caught up and sin yourself!".
Easy…
That's pretty easy to do, isn't it? I mean, come on, when you know of someone sinning who is doing something like cheating on their spouse, for example. It's EASY to call that out!
However, is that what we are called to do? Well, yes and no. Galatians 6 says to "restore the person gently" and to "carry each others burdens" and to "be careful or you may also be tempted".
What is tempted?
Tempted to do what? If you call out someone for cheating, does that mean you might also be tempted to cheat OR does it mean that you might also be tempted to sin? Good question.
Seems like the rest of the paragraph is telling us that condemning the other person and not helping him IS the temptation and IS a sin as well.
How about you tell me…
You read the verse and tell me what you think. That's just my thoughts as I sit here at my desk this morning reading my Bible and drinking my coffee.
Galatians 6: 1-6
Brothers and sisters, if someone is caught in a sin, you who live by the Spirit should restore that person gently. But watch yourselves, or you also may be tempted.
Carry each other's burdens, and in this way you will fulfill the law of Christ. If anyone thinks they are something when they are not, they deceive themselves.
Watch yourself
Each one should test their own actions. Then they can take pride in themselves alone, without comparing themselves to someone else, for each one should carry their own load.
Nevertheless, the one who receives instruction in the word should share all good things with their instructor.