Today's post is sponsored by Uncommon Goods who generously gave me TWO SETS of salts to use as a giveaway for my wonderful readers plus a set to use for this post. The $50 gift certificate and the cookbook are compliments of Loaves and Dishes. This is probably one of the funnest giveaways I have done here at Loaves and Dishes – and when you combine that with this yummy recipe, WHOOT WHOOT! Love it! For today's recipe, I want you to take an imaginary tasting trip around the world riding on the crispy shell of a perfectly cooked potato – Southern Fried Breakfast Potatoes! LOL. That got your attention, didn't it?
Recently, my new friend, Tom, over at Uncommon Goods contacted me about trying out some terrific products from the Uncommon Goods Anniversary Line. I agreed to test drive these "Salts of the World", I might as well see what the world in salt tastes like, right?
I really love all of the Uncommon Goods products. Uncommon Goods is simply "my kind of people". Not only do they produce cool stuff. I mean really cool – just go check it out. But they also are dedicated to paying a good wage (the lowest paid person makes 50% more than minimum wage), offering products that don't harm the earth or animals (see? My kind of people) and a third of their products are produced using recycled or upcycled materials. Cool, eh? Yeah, I think so too. I hope you will take a cruise around their website and see for yourself what I'm talking about!
So, without further ado – I'll get on with the recipe. I know recipe seekers are here hunting down the goods. .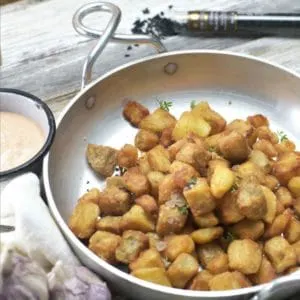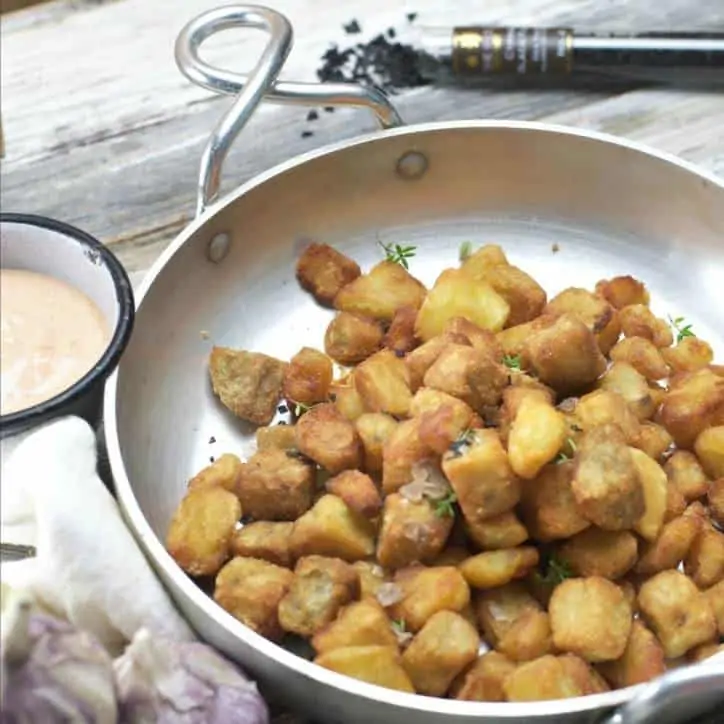 Southern Fried Breakfast Potatoes
Quick easy delicious and crunchy breakfast potatoes, who wouldn't love that?
Print
Pin
Rate
Ingredients
For the Potatoes
8

Cups

water

3

large Russet Potatoes - peeled and cut into 1 inch cubes

½

tsp

baking soda

4

Cups

Peanut Oil or Vegetable Oil

Salt to finish
For the Sauce
1

Cup

mayonnaise

2

tsp

minced garlic

1

tsp

smoked paprika

½

tsp

sea salt

From Uncommon Goods

½

tsp

cayenne pepper

¼

Cup

tomato paste

2

tsp

sherry vinegar

1

tsp

lemon juice
Instructions
Heat the 8 cups of water over medium high heat in a large sauce pot on the stove top. Peel and cut the potatoes. Add the baking soda and the potatoes to the water when it begins to boil. Bring the water to a boil again and allow the potatoes to boil for 1 minute.

Drain the potatoes and then return them to the sauce pot that you boiled them in. Place them over medium heat and allow everything to dry - cook in this manner for about 1 minute once all of the water has disappeared from the sauce pot. Pour the potatoes out onto a rimmed baking sheet to cool.

In a large heavy pot (I used my 6 quart spaghetti pot), heat 4 Cups of oil to 375 (use a thermometer). Once the oil reaches temp, add the potatoes to the oil one handful at a time (be careful of splashes) and cook stirring occasionally with a wire skimmer (large slotted spoon is ok too). Cook for 20-25 minutes until golden brown. Once brown, dip the potatoes out with the wire skimmer onto a paper towel lined baking sheet. Allow to cool for 5 minutes before serving. Serve with sauce.

To make the sauce, mix all of the ingredients together for the salt and mix well. Garnish potatoes with Salts of the World and fresh Thyme.
Nutrition
Nutrition Facts
Southern Fried Breakfast Potatoes
Amount Per Serving
Calories 330
* Percent Daily Values are based on a 2000 calorie diet.
TIPS AND TRICKS FOR SOUTHERN FRIED BREAKFAST POTATOES
As with most recipes – before you start cooking anything, have your ingredients ready to go. Measured. Have the pots and pans you will use ready too. This recipe involves hot oil and believe me, that isn't anything to fool around with. You want to be able to move along with this recipe – so, for at least the first time that you fix this – have everything out and ready to go.

Watch your potatoes when you put them in to boil. They only boil for 1 minute – that isn't long and the water comes up to temperature before you know it

Use a thermometer. If you don't have one – please buy one! It really is an essential kitchen tool. When I started using a thermometer, my cooking improved 500%. No kidding.

Only stir the potatoes once in awhile when they cook in the oil. You don't want them falling apart or anything!

Mess around with the sauce recipe – add what you like and see how it turns out! You might LOVE it! Add some spices that you enjoy and see what that does to the flavor!

You probably already know this, but allow the potatoes to cool well before eating. Those buggers are HOT!
RECIPE INSPIRATION SOUTHERN FRIED BREAKFAST POTATOES
As you all know, I am an avid reader of Cooks Illustrated! I mean, I DEVOUR every single issue. My latest issue features Spanish Fried Potatoes Page 8 of the May & June Issue. I used their cooking method for the crispy delicious shell and then made some adjustments to my own White Sauce/ Yum Yum Sauce for the sauce. Using the Uncommon Goods Salts of the World on these delicious little bites seemed just the right way to showcase the salt! I'm enjoying my world tour riding on a perfectly Southern Fried Breakfast Potatoes!
OTHER STUFF BESIDES SOUTHERN FRIED BREAKFAST POTATOES
I'm pretty pumped about this giveaway! Excited to know that while I am off galavanting around my very favorite place in the world, some great stuff will be going on here at Loaves and Dishes! Have no fear, I'll be checking in regularly.
I hope you will be visiting this recipe and entering EVERY DAY for a chance to win one of those wonderful Salts of the World Sets and an extra gift from me. (That Salt really is cool!).
Here's the caveat to next week….what I am REALLY hoping to do is to be able to force some of my vacation pictures on you! Sarah said she would loan me her laptop (she didn't know that I intend to force vacation pictures on people though, don't tell her).
For now though, let's move on to the giveaway – because I have stuff I have to get done so I can go on vacation! There are shorts to wash, floaties to find, Boche Balls to locate – you know the drill.
You are the salt of the earth. But if the salt loses its saltiness, how can it be made salty again? It is no longer good for anything, except to be thrown out and trampled underfoot.~Matthew 13