***This recipe for Easy Tasty Meatloaf originally appeared on Loaves and Dishes on March 12, 2015 and has been updated with new information***
Welcome to Loaves and Dishes you lovely reader, you!   Thank you for visiting me today!  Is it rainy where you are?  It is here.  It has been raining  ever since I made pizza!  Know what is GREAT on a rainy day?  Tasty Easy Meatloaf!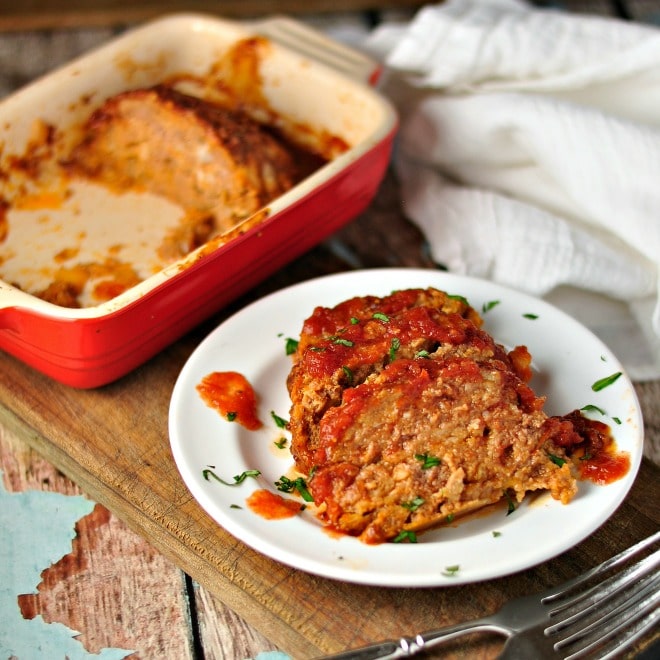 My husband and I married about 3 ½ years ago after a long dating on/off again arrangement.  As you can probably guess, I love to cook and I was SO EXCITED to have someone to cook for again.  I still have one daughter at home but her tastes have a pretty small range – not enough for an adventurous cook Mama.  Don't believe me?  Just look at what she had to say about Chocolate Cake!
Anyway, no matter what I cooked here at home, my husband would say, "You should try Ashley's meatloaf sometime, it is SO GOOD"  or "Ashley's meatloaf is to die for – I mean it is so good".  Ashley is my husband's daughter – now my daughter too!   So, I asked Ashley for her meatloaf recipe.  I did take a few liberties with the recipe – but the original came from her.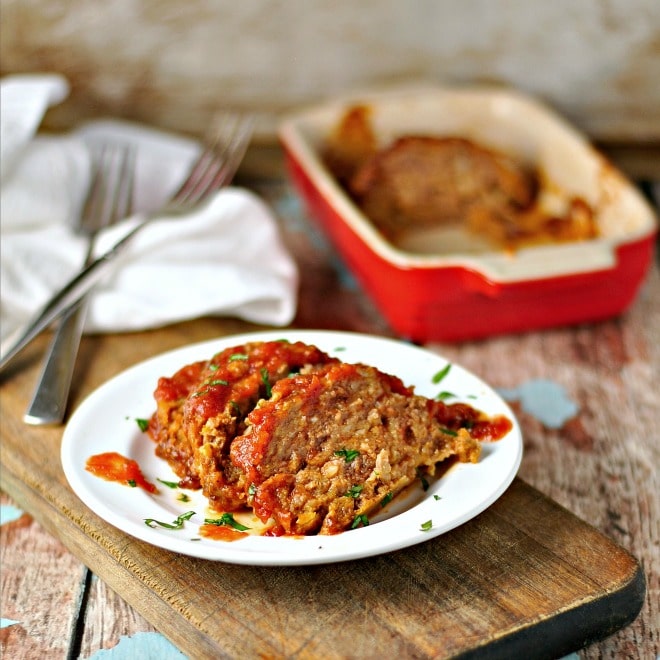 Ashley is a lovely young person.  I continue to be impressed by her "grab the bull by the horns attitude".  I am especially proud that she has chosen nursing as a career.  She wades right into the hardest situations in the ICU and the ER and we are SO PROUD of her.
She makes an awesome meatloaf too.  <smile>.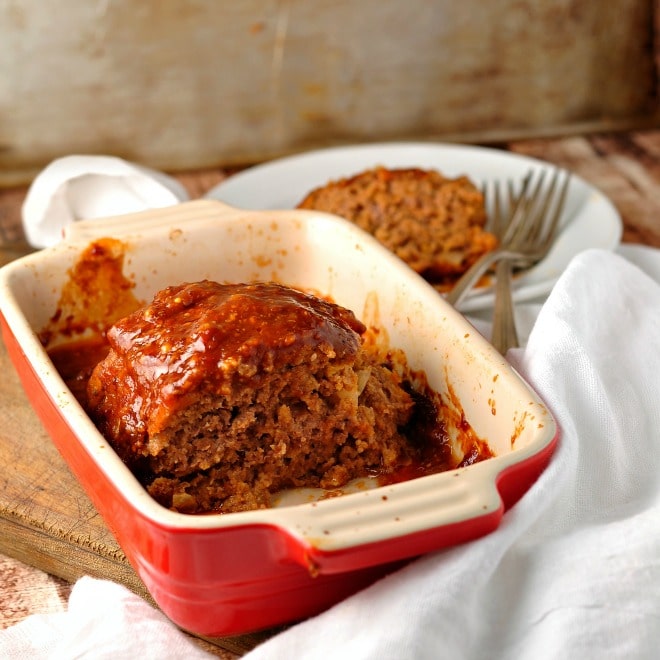 HOW TO MAKE MEATLOAF WITHOUT BREADCRUMS
If you are wanting to make a meatloaf without breadcrumbs, then firstly, I'll point you to my Mom's meatloaf, you can find it HERE.  BUT, if you want to make this meatloaf without breadcrumbs, simply substitute quick cook oatmeal for the breadcrumbs and you will be fine!
HOW TO MAKE MEATLOAF WITHOUT MILK
If you are looking for a meatloaf recipe without milk, here you go…  Just follow this recipe to a T.  I think the tomato sauce does a lot in this recipe.
CAN YOU MAKE THIS MEATLOAF WITHOUT ONIONS?
If Onions just aren't your thing, then, by all means, you may leave them out of this recipe.  The only purpose onions serve here is to add flavor and if it isn't a flavor you enjoy, then leave them out.
YA'LL HELP ME OUT
Please leave me a 5 star 🌟🌟🌟🌟🌟  comment below in the comment section , all right? I would LOVE to know if you made this recipe or even if you are planning to! Of course, head on over to Pinterest, Facebook and Instagram and tag me with some photos of your creation!
I can't wait!
Ya'll know I love your comments!! ❤
Serving suggestions for Tasty Easy Meatloaf
This meatloaf is wonderful with a  crusty bread,  Roasted Sweet Potatoes, a green salad and a country dessert such as blackberry pie cobbler.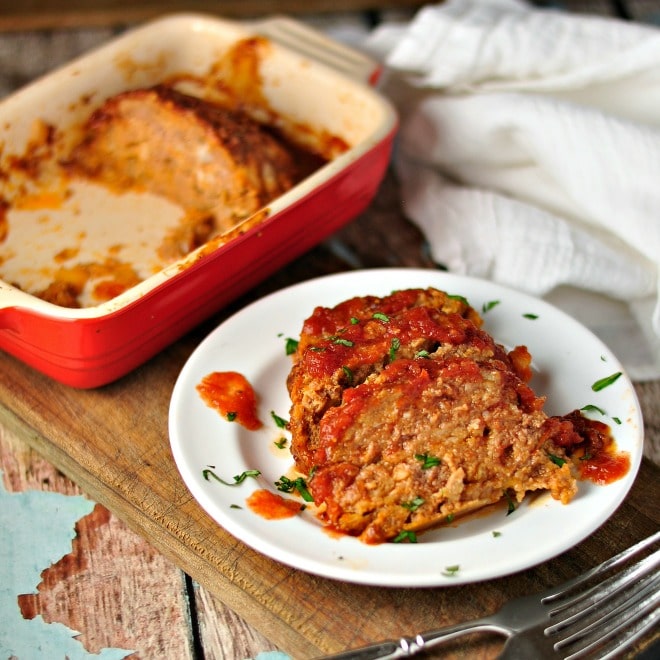 A VERSE TO SHARE
From the fullness of his grace we have all received one blessing after another. ~ John 1:16
THE RECIPE FOR TASTY EASY MEATLOAF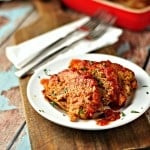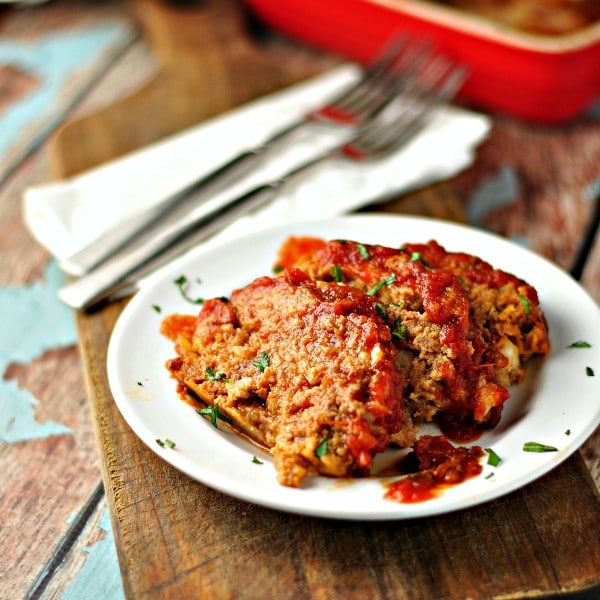 Tasty Easy Meatloaf
meatloaf, meat, beef, pork, loaf, roast, vinegar, tomato sauce, mustard, brown sugar
Ingredients
1

lb

Ground Beef

½

lb

hot breakfast sausage

1

Cup

breadcrumbs

1

small onion – diced.

1

egg beaten

1 ½

tsp

salt

½

tsp

pepper

½

tsp

cumin

1

tsp

garlic powder

2 8

oz

cans tomato sauce - divided

3

Tbs

Cider vinegar

3

Tbs

brown sugar – packed

2

Tbs

good quality whole grain mustard

½

cup

water

2

Tbs

Worcestershire
Instructions
Mix beef, sausage, bread crumbs, onion, egg, salt, pepper, cumin, garlic powder, ½ cup tomato sauce. Do not over mix or your meatloaf will become chewy. Simply use your fingers and mush it together and only do this until it is just mixed.

Place in a shallow oven proof pan and form into a loaf. Stir together the remaining sauce, vinegar, sugar, mustard, water and Worcestershire

Pour the sauce over the meatloaf and bake x 1 hour until cooked through. While cooking, spoon the sauce over the top of the meatloaf about every 20 minutes.

Remove from the oven and spoon the sauce over the top a final time. Allow to rest for 10 minutes before serving.