Tasty Easy Meatloaf is PERFECT for cool rainy days or ANY day when you are hungry really! Delicious, juicy and with a very different type of "red" sauce on the top! Not your granny's meatloaf, for sure!
This meatloaf comes to us by way of my step daughter, Ashley, who is a wonderful cook in her own right. She calls this her BBQ meatloaf. Either way, delicious juicy and perfect!
You might have thought I only ever made My Mom's Meatloaf The fact is, I love all kinds of meatloaf but mom's and this one are my favorite.
Here's something funny. If you search Wikipedia for info on meatloaf, you'll be directed to a page about the singing group. lol It takes a little time to find this article on meatloaf.
As far as meatloaf's go, I think I'll try a meatloaf like this with bacon on top sometime.
What kind of questions do you have about meatloaf? Maybe….
HOW TO MAKE MEATLOAF THAT DOESN'T FALL APART
Here's the thing about meatloaf, you want it to be juicy and tender and yet, you don't want it to fall apart. Sometimes those two things don't necessarily go together.
That said, this recipe DOES help you with that problem. The egg acts as a binder and the breadcrumbs fill it out nicely making everything taste JUST RIGHT!
HOW TO MAKE MEATLOAF WITHOUT BREADCRUMBS
If you are wanting to make a meatloaf with no breadcrumbs, then firstly, I'll point you to my Mom's meatloaf, you can find it HERE. BUT, if you want to make this meatloaf sans breadcrumbs, simply substitute quick cook oatmeal for the breadcrumbs and you will be fine!
HOW TO MAKE MEATLOAF WITHOUT MILK
If you are looking for a meatloaf recipe without milk, here you go… Just follow this recipe to a T. I think the tomato sauce does a lot in this recipe.
CAN YOU MAKE MEATLOAF AHEAD?
Yes! Meatloaf is the perfect dish to make ahead! Mix all the ingredients and have it ready to go in the oven OR go ahead and cook it and then simply reheat for your dinner. Either idea works well.
CAN MEATLOAF BE FROZEN?
Yes! You can freeze the meatloaf once it has been cooked. I recommend cutting into slices, lay the slices spaced out so they don't touch on a baking sheet covered with Parchment paper.
Place this into the freezer until the meatloaf is just frozen and then remove, wrap the meatloaf slices individually in plastic wrap. Then place all of the slices together in a large gallon sized ziplock type bag.
You can remove however many slices of meatloaf you want to heat back up when you are ready to consume it.
CAN MEATLOAF BE COOKED IN A GLASS PAN?
As you can see from the photos here, yes, meatloaf can be cooked in a baking dish. You simply need to make sure that the dish is ovenproof.
CAN MEATLOAF BE COOKED IN THE TOASTER OVEN?
If you have a toaster oven large enough to accommodate the meatloaf pan you want to use and if your little oven can be set for a temperature, then yes. By all means, use it!
You will be saving electricity and space by doing so.
CAN YOU MAKE THIS MEATLOAF WITHOUT ONIONS?
If Onions just aren't your thing, then, by all means, you may leave them out of this recipe. The only purpose onions serve here is to add flavor and if it isn't a flavor you enjoy, then leave them out.
CAN YOU COOK MEATLOAF IN THE SLOW COOKER OR CROCKPOT?
Yes, you definitely can. Simply follow the instructions, but shape the meatloaf into a shape that fits your crockpot. Place on low and cook for 8 hours.
You will find that the meatloaf doesn't have quite the same consistency and may want to fall apart but the flavor will be there.
KITCHEN SUPPLIES I USE TO HELP ME MAKE TASTY EASY MEATLOAF.
A good baking dish is essential to the task of making great meatloaf! I LOVE my casserole dish that is like this one because of the awesome lid… (this is an affiliate link from Amazon. You can click the photo to go through to Amazon to compare prices. If you purchase I get a small commission that doesn't affect your purchase price at all)

YA'LL HELP ME OUT
Please leave me a 5 star 🌟🌟🌟🌟🌟 comment below in the comment section , all right? I would LOVE to know if you made this recipe or even if you are planning to! Of course, head on over to Pinterest, Facebook and Instagram and tag me with some photos of your creation!
I can't wait!
Ya'll know I love your comments!! ❤
WHAT TO SERVE Tasty Easy Meatloaf WITH?
This meatloaf is wonderful with a crusty bread, Roasted Sweet Potatoes, a green salad and a country dessert such as blackberry pie cobbler.
THE RECIPE FOR TASTY EASY MEATLOAF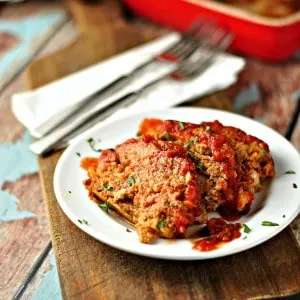 Tasty Easy Meatloaf
meatloaf, meat, beef, pork, loaf, roast, vinegar, tomato sauce, mustard, brown sugar
Print
Pin
Rate
Ingredients
1

lb

Ground Beef

½

lb

hot breakfast sausage

The kind you make into sausage patties for breakfast

1

Cup

breadcrumbs

1

small onion – diced.

1

egg beaten

1 ½

tsp

salt

½

tsp

pepper

½

tsp

cumin

1

tsp

garlic powder

2

8 oz

cans tomato sauce - divided

3

Tbs

Cider vinegar

3

Tbs

brown sugar – packed

2

Tbs

good quality whole grain mustard

½

cup

water

2

Tbs

Worcestershire
Instructions
In a large bowl, Mix beef, sausage, bread crumbs, onion, egg, salt, pepper, cumin, garlic powder, ½ cup tomato sauce. Do not over mix or your meatloaf will become chewy. Simply use your fingers and mush it together and only do this until it is just mixed.

Place in a shallow oven proof pan and form into a loaf. Stir together the remaining sauce, vinegar, sugar, mustard, water and Worcestershire

Pour the sauce over the meatloaf and bake at 350 x 1 hour until cooked through. While cooking, spoon the sauce over the top of the meatloaf about every 20 minutes.

Remove from the oven and spoon the sauce over the top a final time. Allow to rest for 10 minutes before serving.
Nutrition
Nutrition Facts
Tasty Easy Meatloaf
Amount Per Serving
Calories 400
* Percent Daily Values are based on a 2000 calorie diet.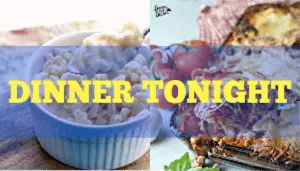 A VERSE TO SHARE
From the fullness of his grace we have all received one blessing after another. ~ John 1:16
***This recipe for Easy Tasty Meatloaf originally appeared on Loaves and Dishes on March 12, 2015 and has been updated with new information***