This is a post sponsored by my friends at Ragu.
You probably know this by now. I really don't like to cook something more than a few times. I've told ya'll repeatedly that we rarely eat the same thing more than twice in a year. That said, I do have some easy recipes that I prepare over and over again. (I neglected to tell you about those, didn't I?) Usually those oft repeated recipes are the favorites! I think you will find that this recipe for Asiago Mushroom Chicken with Ragu Cream Sauce will be requested over and over at your house. When sweet hubby saw this coming out of the oven for pictures this morning – he was already requesting it again!
Some things are just that way, aren't they. I mean, really, food brings up memories and traditions for us. Sometimes we just prepare what we know how to prepare. For those types of dishes, it is like it is in our genes or something. That is what happened with this recipe. I really want to tell you more about it. However, you know we have a new tradition here at Loaves and Dishes. The recipe seekers can just come on and get the recipe. The rest of us meet up after the recipe and pictures to have a chat. I'll see you down there!
THE RECIPE FOR ASIAGO MUSHROOM CHICKEN WITH RAGU CREAM SAUCE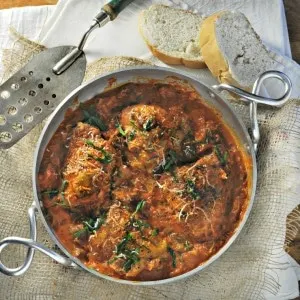 Asiago Mushroom Chicken with Ragu Cream Sauce
If you are enjoying this recipe, please check out the post at www.loavesanddishes.net for the complete instructions with tips and tricks.
Print
Pin
Rate
Ingredients
3

cloves

of garlic

peeled and smashed

1

bunch of fresh rosemary

1

bay leaf

2

Tbs

vegetable oil

salt and pepper

4

bone in skin on chicken thighs

2

Tbs

vegetable oil

1

package of Baby Bella Mushrooms

sliced

1

Jar Ragu Spaghetti Sauce

¼

Cup

heavy Cream

½

Cup

shredded Asiago Cheese

More Asiago Cheese for garnish

Basil for Garnish
Instructions
Preheat oven to 385. Peel and smash the garlic cloves. Tie the Rosemary together with kitchen string. Heat 2 tbs of vegetable oil in an oven proof pan. Salt and pepper the chicken on both sides while waiting for the oil to heat. When the oil is hot and the surface of the oil is rippled, place the smashed garlic cloves in the oil and cook for 1 minute. Then place the chicken skin side down in the hot oil and allow to brown for several minutes. Turn the chicken and allow to brown on the other side as well (about 3 mins per side). Add the Rosemary bunch and the bay leaf to the pan and place the pan in the preheated oven and allow the chicken to cook for about 30 minutes until cooked through and juices run clear.

In a separate medium sized saucepan over medium heat on the stove top, heat 2 tbs of vegetable oil. When the oil is hot, place the baby bella's in the oil and cook over medium heat till done and until the mushrooms release their water - about 3 minutes. Add the Ragu sauce all at once. Stir and heat on medium heat until heated through. Add the cream and the Asiago cheese. Continue to heat until the cheese is melted well.

When the chicken is done, remove from the oven and carefully remove the rosemary bunch as well as the bay leaf. Pour the sauce over the chicken and let stand for 3 minutes. Grate Asiago cheese over the top and sprinkle with fresh basil.

Serve over Hot Pasta.
Nutrition
Nutrition Facts
Asiago Mushroom Chicken with Ragu Cream Sauce
Amount Per Serving
Calories 250
* Percent Daily Values are based on a 2000 calorie diet.
PHOTO INSTRUCTIONS FOR ASIAGO MUSHROOM CHICKEN WITH RAGU CREAM SAUCE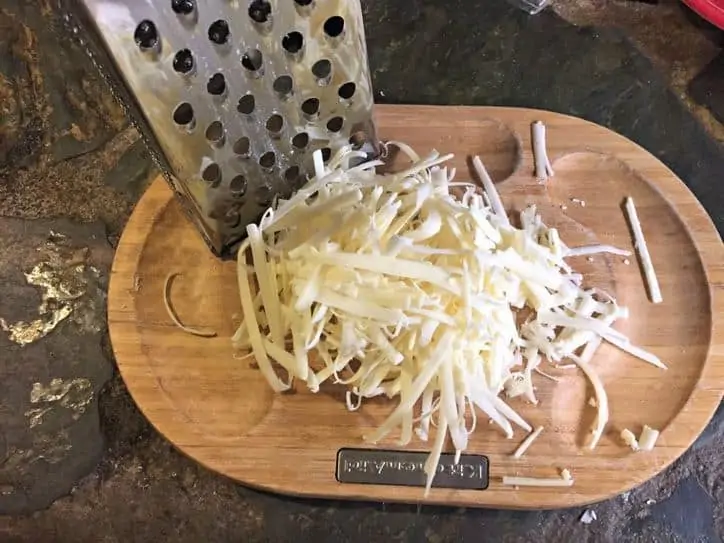 RECIPE INSPIRATION FOR ASIAGO MUSHROOM CHICKEN WITH RAGU CREAM SAUCE
I was recently shopping at my local big box store and found a big ol wedge of Asiago Cheese. Did I need it – No. Did I want it – YES! So, you know what I did… I bought it. I love Asiago cheese. Therefore, it had to go in a recipe and here you have it! I kept thinking about the spaghetti sauce that my mom made when I was kid. I think she may have even used Ragu on those busy weeknights! My mom was a teacher and she left the house early in the morning and didn't get to come home until almost dinner time. Ragu would have made it easy for her to put our meal on the table. I can remember that my dad once added some cream to the sauce and some Asiago (or other white cheese – I mean I was just a kid – I don't really know what kind of cheese it was) and that made the sauce so special. I was trying to recreate that here using chicken in the pasta – because, chicken and pasta is just the best!
TIPS AND TRICKS FOR ASIAGO MUSHROOM CHICKEN WITH RAGU CREAM SAUCE
You might be thinking, "why do I need to brown the chicken first – I am just going to stick it in the oven and bake it till it is done". Here is the thing, if you are only worried about having your chicken done enough to eat – you are right – just go right on and only cook it in the oven. That said, if you brown the skin first – I promise the taste that results will make you smile. You have to get a really good brown on it. The crusty taste remains. MMMmmm.

Do I really have to add a bunch of fresh rosemary and a bay leaf? Well, no, you don't have to because all of the spices you need for the sauce are already in the sauce. When you add the rosemary, garlic and bay leaf – you are flavoring the chicken. If it makes you happy to leave it out – then by all means – leave it out.

Using the Ragu sauce makes for a quick and simple meal – great for a weeknight. All of the spices and tasty stuff is in there so there isn't a lot of measuring and cooking involved. YAY for weeknight meals that taste like they simmered all day!

I want to encourage you to create a recipe of your own! Remember a great sauce recipe from your childhood? Think about what a great tradition you will have making a terrific dish that your family will carry on! Try one!