Hello beautiful people! Before I tell you about the Best Potato Cheese Soup in a bread bowl, please let me tell you to make sure to read all the way to the end. The sweetest and best dessert awaits you there. Maybe you should have dessert first – as my mother in law demands!
Anyway, my sweet daughter-in-law has the flu. I offered to make her some chicken soup but she requested, "some of the best potato cheese soup in a bread bowl, please". She says she feels so much better now (I'm sure it was the soup!). She describes the best potato cheese soup in a bread bowl as "on point".
Of course you are going to want to try this healing best potato cheese soup in a bread bowl for yourself! . What a great way to start the year off on the right foot. Simply curl up on the couch wrapped in your quilt, set the TV on your favorite channel, take your soup in hand and you are SET, my friend! AHEM, now you know my definition of a good time!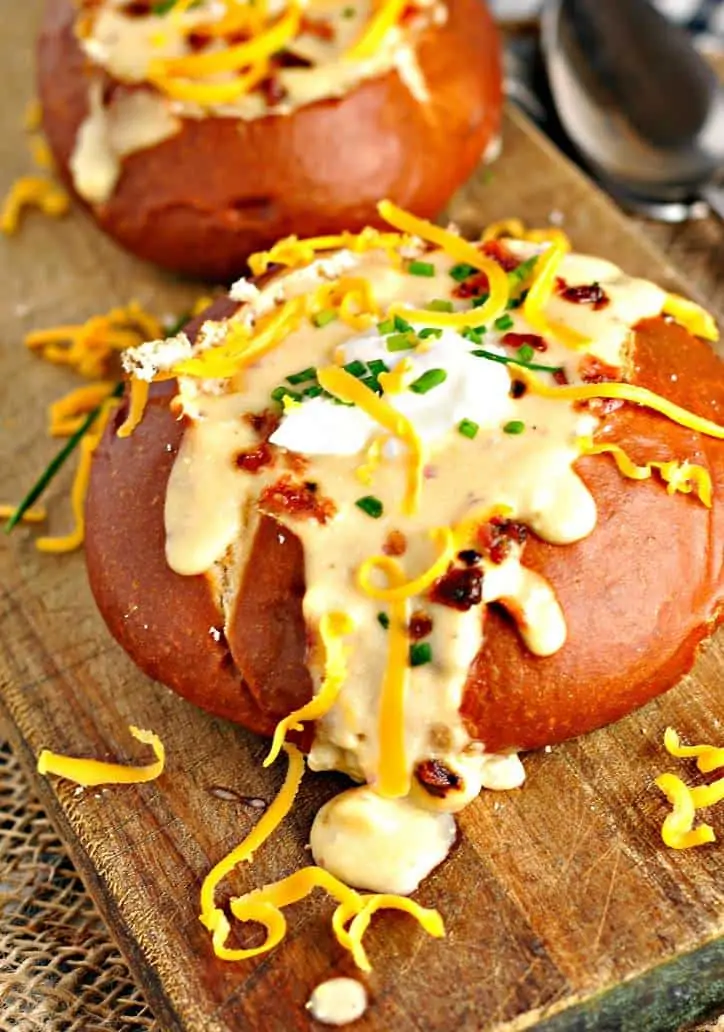 Which reminds me, have you given any thought to the New Year? Maybe relaxing with the best potato cheese soup in a bread bowl is your goal – I hope so!
I have been thinking about the direction for Loaves and Dishes in 2015 and came up with these
15 things for 2015
Not really in any particular order – except for numbers 1 – 4.
Praise God with Loaves and Dishes.
Bring you the best and most tasty recipes for 2015.
Always provide delicious taste – never at the expense of substituted ingredients – you will not find a recipe for cauliflower crust pizza on Loaves and Dishes. Promise.
Delicious can also be healthy
Be aware of food trends – even if not following the food trends.
Learn to be a better photographer. My reader can't taste my recipe – but they can SEE them!
Three delicious, mouth-watering, comforting and tasty recipes per week
Monetize Loaves and Dishes so that the blog expenses are not a burden on my family –ANY income will be tithed at 10% – God will know how best to use the money.
Publish Loaves and Dishes financials each month in 2015 by the 10th of the month.
Celebrate milestones and small victories!
Continue to encourage Sarah Uselton and any other young foodies I know to participate with Loaves and Dishes.
Attend at least one food blogger conference.
Improve google ranking so that Loaves and Dishes appears on the first page when "loaves and dishes" is googled!
Improve ranking in "Best Food Blogs in America" to less than #500.
Increase library of "how to's".
Want to see how I am doing with these and check them off as we go? I encourage you to sign up for our mailing list – right over there on the left hand side of this page. I promise to just let you know when a new post comes out – I won't bug you otherwise and would never ever share your email address with anyone else.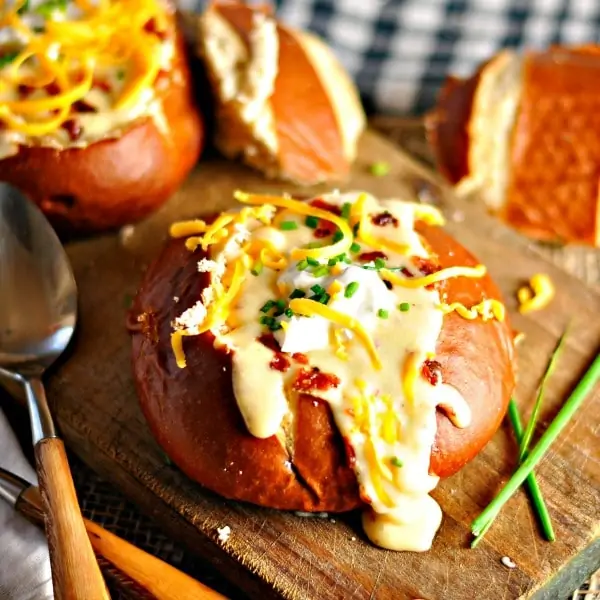 COMING UP NEXT after The Best Potato Cheese Soup in a bread bowl:
How to roast a chicken in your crock pot! It is so easy you won't believe it! I hope that you will also be reading about our Spraker family recipe for the ultimate chocolate brownie pie – but that means I have to keep it secret long enough to take its picture – not easy around here!
Come back and visit soon.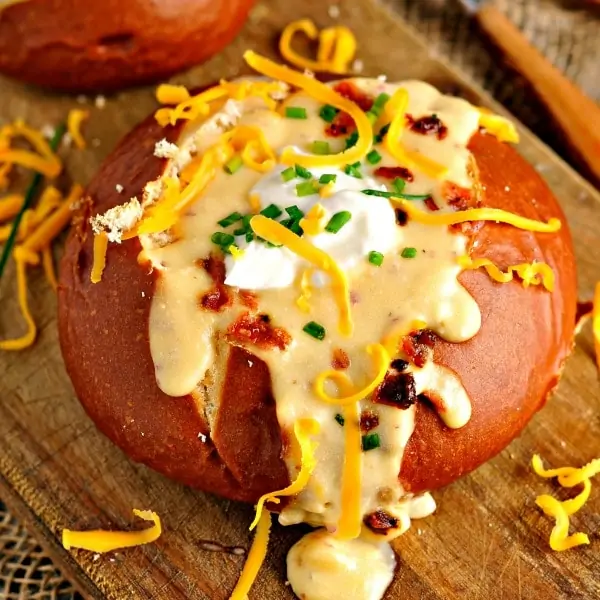 " Do not be anxious about anything, but in everything, by prayer and petition, with thanksgiving, present your requests to God." —Philippians 4:6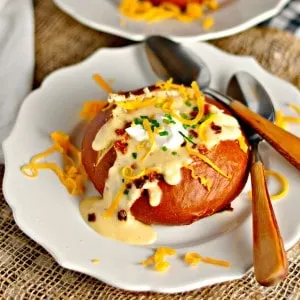 The Best Potato Cheese Soup
The Best Potato Cheese Soup. Really. Try it!
Print
Pin
Rate
Ingredients
2

tbs

Olive oil

1

large sweet onion – diced

2

tsp

garlic – minced

about 4 cloves

1

quart

Chicken Stock

if boxed, use one large box.

1

quart

of water

2

tsp

salt

5-6

large potatoes – cut into 1 ½ inch cubes

if Russets or baking potatoes, peel. If Red or Yukon Gold – no need to peel.

3

large carrots - peeled and cut into ½ inch pieces

1/3

Gallon

of whole milk

½

pint

Heavy Cream

½

stick of butter

½

block Veleveeta Cheese – cubed.

2

Cups

Sharp Cheedar Cheese – shredded

1

C

Parmesean – grated

Salt and pepper to taste

Garnish – bacon crumbles

chives, sour cream, shredded cheese.
Instructions
In a large heavy stock pot, heat 2 tbs of olive oil. When hot, add onions and cook over medium heat until translucent – 2-3 mins. Add garlic and cook for another 1 minute. Add Chicken stock, water and salt to pot. Add potatoes and carrots to stock pot and bring to a boil. Boil until potatoes are fork tender.

Turn burner off and allow to cool until able to remove about ½ of the potatoes with a slotted spoon to a food processor or blender. Process until potatoes turn into a paste and then add back to the stock pot.

Place stock pot back on the burner and on medium heat, add milk, cream, butter and Velveeta cheese and heat until butter and Velveeta is melted. Do not bring to a boil – adjust heat to low as temperature nears boiling. Stir frequently with wooden spoon and scrape bottom of stock pot frequently to prevent sticking.

Add sharp cheddar one handful at a time, stirring each time. Add parmesean. Add salt and pepper to taste (will vary greatly depending on types of cheese you use – so add a little, taste, repeat).

Serve in bread bowl, soup bowl or mug. Garnish with bacon crumbles, chives, sour cream and shredded cheese.
Notes
IF you dont' have the bread bowl, just put in a regular bowl
Nutrition
Nutrition Facts
The Best Potato Cheese Soup
Amount Per Serving
Calories 400
* Percent Daily Values are based on a 2000 calorie diet.
And now – dear readers – dessert. The sweetest and best kind imaginable. I am so excited because I witnessed first hand humanity and beauty. I am still almost in tears about this. Keep reading because, THIS, MY FRIENDS is WHAT IT IS ALL ABOUT!!!
Last night, as is often the case, as soon as my paying job was finished for the day, I hit the road with my 16 year old daughter who loves to sing. Over the river and through the woods and across a mountain or two we landed in Stuart, Virginia at the Honduras Coffee Shop for open mike night.
I want to tell you about a young man who stepped on stage to sing – shoulders hunched forward – face red. In a whispery voice he said, "I ain't never done this before" and he pulled his cap lower over his eyes. We clapped – as nice people should. As he started to sing, you could feel his nerves and hear his voice quake a little.
So, my dear friends, what do you think the crowd did? We SANG WITH HIM! Isn't that what our kindergarten teachers taught us – when you see someone struggling, GIVE THEM SOME HELP! Sometimes we forget that lesson. But at Honduras Coffee Shop last night, we didn't forget, we just tuned up (as much as we can) and sang along. As you can see here in my little video – everyone is singing and smiling – everyone. Even the young man on stage.
You see, my friends. Do you see the beauty? Together, together we can conquer any obstacle. WE can! Now, wasn't that a delicious dessert if ever there was one? I think so.
Go out and Make Dinner, Not War!