My 15 month old grandson is teetering around my home office with a smear of dark chocolate on his chin and a big toothy grin on his face. It's not appropriate to give chocolate to a baby, so don't do it. I shouldn't have admitted this to you. Besides, what if his mother reads this post?
Maybe I should admit instead that I can't stop eating this Blissful Salted Chocolate Bark That Will Make You Smile! Please, someone come over here right now and rescue me from myself! The fact that it is so easy to make, it smells like heaven and it is even easier to eat – makes chomping down on just. one. more. piece so irresistible.
My poor grandbaby. Will he grow up thinking that this is what all home Mimi offices are like? A perpetual parade of food that Mimi photographs and then offers as open season to eat? I hope so.
Speaking of eating, this Mimi is happy dancing all over the place. The cold weather is here. The tree actually made it in the house and on the stand.
(Don't be a hater. One year the tree only made it to the deck where it laid on it's side until after the holiday was over).
That wasn't just laziness.
Sweet hubby and I hiked down to the bottom of the hill and cut down a Cedar Tree and dragged it to the house a few days before Christmas, the tree stand broke and we couldn't find another one at such a late date. What can I say?
I have my excuses.
This year though…. I haven't been quite so tardy. Christmas carols are playing on Pandora, a few Christmas decorations are up, I've been caroling with a few church friends, thank you Jesus – the shortest day of the year is today and then the darkness begins to subside, the LoveFeast service at church was beautiful and…… a tiny bit of baking – all indicating that Christmas really is here.
So, no hating, just go fix some of this Blissful Salted Chocolate Bark That Will Make You Smile right now and put a bowl of it next to where you are sitting. I don't want to be alone in this new addiction. I want you to join me. This recipe is WAY TOO EASY. Let me just hint…… get yourself LOTS of COLD MILK to guzzle down with this delectable bark!
I mean, it can't just be grandbaby and me teetering around like drunks in my office with chocolate smeared on our faces and big toothy grins, we want you to join us!
The Recipe for Blissful Salted Chocolate Bark That Will Make You Smile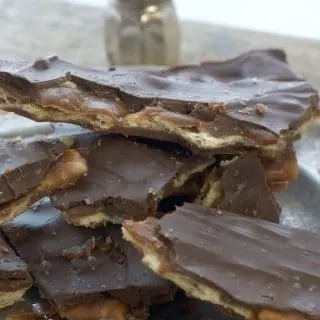 Blissful Salted Chocolate Bark That Will Make You Smile
This recipe from www.loavesanddishes.net
Print
Pin
Rate
Ingredients
½

sleeve saltine crackers - about 30-40

1

cup

2 sticks Butter

1

Cup

dark brown sugar

2

Bags dark chocolate chips

12 oz

Kosher salt - to taste
Instructions
Preheat the oven to 425. In a sauce pan, melt the butter and brown sugar together and bring to a boil. Allow to boil for about 5-6 minutes - stir occasionally.

Put down parchment or a silpat mat or greased aluminum foil on a rimmed baking sheet. Lay saltine crackers out to cover the baking sheet (the rim part is important).

Pour the brown sugar/butter boiling mixture over the crackers, cover as evenly as possible

Bake at 425 for 4-5 minutes until bubbly.

Remove the sheet pan from the oven and pour the chocolate chips over the crackers. Don't worry - they will melt. When they melt, use the back of a wooden spoon and spread the chocolate over the crackers. Sprinkle Kosher salt evenly over the surface.

Place the entire baking sheet into the fridge or even the freezer until the chocolate is hard - about an hour. Break it into pieces or cut with a knife or even a pizza cutter to create different sized pieces.

Store in a resealable container and keep in the fridge.
Notes
Feel free to change up the kind of chocolate you use. Personally, I like the darker chocolate, but this works great with white, milk and dark chocolates.
You can also add lots of other stuff to the chocolate. Try sprinkling on some crushed peppermints or candy sprinkles!
Nutrition
Nutrition Facts
Blissful Salted Chocolate Bark That Will Make You Smile
Amount Per Serving
Calories 350
* Percent Daily Values are based on a 2000 calorie diet.
Tips and Tricks for Blissful Salted Chocolate Bark That Will Make You Smile
The recipe calls for saltine crackers, but really, I think any kind of crunchy plain cracker would work. Like Captains crackers or butter crackers for instance – those would be delicious too. The cracker just adds the crunch and a substrate for building candy on. It's the I beam of this contraption
It takes A WHILE for the chocolate to harden – and even then, if you let this sit out on the counter the chocolate will get a little soft. Best to put it in a plastic bag and keep it in the fridge. Let me take that back. I live in the south. It is rarely very cold here (I KNOW what cold is – I grew up in Ohio), the weather in North Carolina is NOT cold. Anywho – if you live where it is super cold and you (like me) refuse to turn your heat above 65, THEN…. you could probably leave this out on the counter. Otherwise, put it in the fridge.
There are A LOT of ways to make this lovely sweet a little different. You could add nuts on top of the chocolate. You could use white chocolate. You could use milk chocolate. You could add candies. You could add peppermints. You could add sprinkles. You could add edible google eyes and santa hats in colored chocolates. Me? I like plain ol dark chocolate and kosher salt. I'm funny like that. You be you. I'll be me. Get creative and make this Blissful Salted Chocolate Bark That will Make You Smile and let it represent YOU! 🙂
As you can see from the photos, if the chocolate is soft AT ALL, it will end up with your thumb prints in it. I recommend to freeze it for a few minutes before breaking into pieces. You could also use your pizza cutter to cut into smaller chunks – but really, what fun is that? I love having chocolate on my fingers….. and camera…… and pants….. and face…..and grandbaby…..
It is fine to use light brown sugar if that is what you have. I like dark brown – it has more flavor. Use what you have though. When the butter and sugar are boiling – that is kind of scary looking – don't worry it will be fine. Just don't get any on you. It's like lava.
DO NOT TRY TO MAKE THIS WITHOUT PUTTING SOMETHING DOWN TO PROTECT YOUR SHEET PAN. Put down a sil-pat matt, parchment paper, wax paper or even greased aluminum foil…. but BELIEVE ME, you do not want this stuff stuck to your baking sheet.
Keep in the fridge after making.
Remember when we made some other easy treats? Like Cake Pops and Jalapeno Poppers?
A VERSE TO SHARE
What else is there to say? …..
Isaiah 9: 6-7
For to us a child is born,
to us a son is given,
and the government will be on his shoulders.
And he will be called
Wonderful Counselor, Mighty God,
Everlasting Father, Prince of Peace.
Of the greatness of his government and peace
there will be no end.
He will reign on David's throne
and over his kingdom,
establishing and upholding it
with justice and righteousness
from that time on and forever.
The zeal of the Lord Almighty
will accomplish this.