This post sponsored by Hormel.
I have a terrific game-day recipe for you today! YES I DO! I am super excited about these Chili Pimento Cheese Poppers because they are simply The BEST! (PLUS – I have a coupon for you!!) These Chili Pimento Cheese Poppers are Spicy and Flavorful – absolutely perfect game day party food! However, I'll tell you a little secret – they aren't just for the big game anymore! I write these posts in the wee-early morning hours and I am having one as a part of my omelet right this very moment. YUM! But – you can decide if jalapeños for breakfast is right for you after you try these Poppers for the big game! (But who am I to stand in your way?).
With that, I want to take a moment to say "Hey Thanks Hormel!". This post for Chili Pimento Cheese Poppers is sponsored by my new friends over at Hormel Chili. They have some great products and I hope you will check them out to make your own game-day easy and tasty.
I know you can't wait for the recipe, so we will move right on to that. However, there are some important Tips and Tricks that I want you to know about before you move off into your own kitchen to whip up some of these delicious Chili Pimento Cheese Poppers. So, please join me after the recipe for the information you NEED to KNOW and for more great conversation about all things Chili Pimento Cheese Poppers!
THE RECIPE FOR CHILI PIMENTO CHEESE POPPERS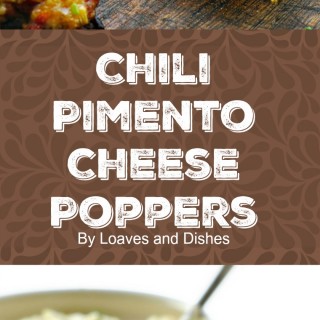 Chili Pimento Cheese Poppers
If you would like more information about this recipe such as "tips and tricks", please visit the blog post at www.loavesanddishes.net for more information
Print
Pin
Rate
Ingredients
For the poppers

6

large fresh jalapeno peppers

2

tbs

vegetable oil

1

can Hormel No beans Chili

1 12

oz

package of Pimento Cheese - recommend using the recipe from Loaves and Dishes

For the Cream Cheese Topping/Dip

½

Cup

Mayonnaise

4

oz

cream cheese

½

cup

parmesan cheese

2

oz

canned diced green chilis

Garnish - Chives
Instructions
Preheat the oven to 375. Cut the jalapenos in half lengthwise. Remove all seeds and ribs. (I use a spoon - see photo instructions).

In a 10 inch iron skillet or oven safe skillet, heat 2 tbs vegetable oil over medium heat. Place the jalapenos open side down on the hot skillet and allow each to cook until the face is browned - about 2 minutes. Remove from the heat. Turn the peppers over so that the open side is facing up. You can remove them from the pan if you like (I did).

Spoon about 1 tsp of Hormel No Beans Chili in the bottom of each pepper (amount will depend on the size of the pepper). Top with a tsp (about) of pimento cheese. Place back into the skillet - open side up and place skillet into the oven. Bake at 375 for 15 minutes until the cheese melts.

While peppers are baking, mix the ingredients together for the topping/dip. Place in a small oven safe dish and place into the oven alongside the peppers. When peppers are done the dip should be heated through as well.
Notes
If you don't have pimento cheese, simply use shredded cheese.
Nutrition
Nutrition Facts
Chili Pimento Cheese Poppers
Amount Per Serving
Calories 280
* Percent Daily Values are based on a 2000 calorie diet.
TIPS AND TRICKS FOR CHILI PIMENTO CHEESE POPPERS
When removing the seeds and ribs – be careful because it could spray into your eye – and that hurts.

If you are sensitive to peppers, wear gloves for removing the seeds and ribs.

The peppers will not be crispy when they come from the oven, you will need to serve these with a fork.

Don't over fill with pimento cheese, it will just end up all in the skillet if you do.

Allow peppers to cool slightly before serving.

The topping/dip is good with chips. In fact the whole thing is good with chips.

These are also great served with rice and beans (they work as an omelet filling too – just saying).

You do not have to make your own Pimento Cheese – but, I'm telling you, you won't be disappointed if you do! You can find a great recipe for Pimento Cheese right here at Loaves and Dishes!
You Might Also Enjoy South Carolina Hot Dog Chili
STEP BY STEP PHOTO INSTRUCTIONS FOR CHILI PIMENTO CHEESE POPPERS
INSPIRATION FOR CHILI PIMENTO CHEESE POPPERS
For Christmas, my good- best bud, Marcia, sent me a magazine called "Southern Cast Iron" with a note attached that says, "For Inspiration". I have looked at this magazine so much that the cover is already warped. I have been oogling the pimento cheese stuffed peppers recipe on page 36 since the magazine arrived. So – that recipe was the inspiration for this recipe. I made my own pimento cheese which you can find the recipe for RIGHT HERE. (I think it would be perfectly fine to use a good quality pimento cheese from the store though). I knew that the Hormel No Beans Chili would be the perfect accompaniment. Perfect. Right there! Although these jalapeños are not crispy – they are still the perfect delivery system for a delicious bite of chili and pimento cheese. YUM! When you add the cream cheese topping. It's taste bud popping, really. (HEY! Did you see that? I rhymed!!) So – tell me what your favorite Game Day Recipe is???? Leave me a comment WAY ON DOWN THERE in the comment section! I promise to respond – they come straight to my cell phone.
For God did not give us a spirit of timidity, but a spirit of power, of love and of self-discipline. ~ 2 Timothy 1:7