Jump to Recipe
Who is the "they" who say, "The best things in life are worth waiting for"?  Were they talking about this meatball recipe?  Did "they" know that I have been performing kitchen experiments to find the perfect meatball recipe for YEARS?  It's starting to feel a little "Truman showish" around here – so, I'll just get on with the Blow Your Mind Meatballs.
Did I tell you about the BEST Italian restaurant in the WORLD that is located over in East Bend, NC?  I'm sure I must have – I'm positive I told everyone – including some people I met in line at the grocery.  Kitchen Roselli is the name.  Reservations are required at least a week in advance.  
It is worth the drive and the wait.  I don't care how far you must drive – it's worth it!  Kitchen Roselli isn't some fru fru "five green beans stacked up like a TeePee" place either – nope – they give you plenty of delicious authentic fresh Italian food to eat.  Their restaurant is in a charming old general store.   You will be full and in love with everyone and everything when you leave.  Promise.
They aren't even paying me to say that.
What exactly am I in love with over there?  
I'll tell you.  
They make THE PERFECT MEATBALL!  I've been trying to duplicate it for a couple of years now – and I can't.  I have no idea how they do it!  Their meatballs are about the size of a small baseball and are tender and moist and oh so delicious.  
So – this is my best guess at a similar rendition.  The flavor is close.  I couldn't achieve the super size and roundness though – that remains a mystery.
For big flavor though – these blow our mind meatballs are amazingly simple.  Just make sure to read the tips and tricks.  
Just so you know, I still love these Honey Chipotle Meatballs and these Tennessee Whiskey Meatballs and even this Pepperoni Meatball Sub!  I think you should love them too!  
I might STILL be on a quest to figure out how the Roselli's do their meatballs, but these Blow you mind meatballs are an excellent stop along the way.  
If I EVER figure it out – I'll be sure to share it here!
I'm anticipating that some of you came here with specific questions, such as:
How Do I Make Italian Meatballs?
Most Italian meatballs are made by mixing three types of meat:  beef, pork and veal together and then adding a filler that will fluffen (my word) (aka – fluff up) the meat and some eggs to stick it together and some seasonings as well.  All of that is mixed together, rolled into the typical ball shape and either baked or fried – depending on your preference and then most American's simmer in a tomato sauce
How do I Make Meatballs From Scratch?
You will be so much more satisfied if you make your meatballs from scratch using the process I describe above.  The recipe included here uses ground beef, sausage and ground lamb rather than the usual ingredients – but is so flavorful, I don't think you will be disappointed.
How Long Do I Bake the Meatballs in the Oven?
After reviewing several other recipes, I can honestly say, "It varies depending on what you are after".  If you are looking to bake your meatballs enough so that they hold together when you are putting them in the sauce, then bake them as noted in this recipe.  If you are wanting to give them a little char to add flavor, then you will want to broil them for 15 minutes or so.  Many people choose to fry them in the frying pan first.  Like baking – this will also cause a flat spot on your meatballs.
THE RECIPE FOR BLOW YOUR MIND MEATBALLS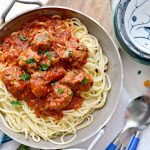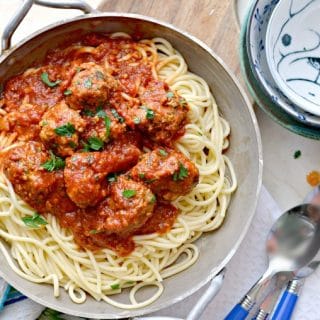 Blow Your Mind Meatballs
Ingredients
⅓

Cup

Whole milk

½

cup

smashed saltine crackers

¾

lb

ground beef

¾

lb

breakfast sausage

¾

lb

ground lamb

1

tsp

minced garlic

2

large eggs

2

Tbs

Italian seasoning

1

tsp

kosher salt

1

tsp

ground black pepper

½

cup

parmesan cheese

¼

cup

finely chopped Italian parsley
Instructions
Preheat the oven to 425.

Prepare two baking dishes with aluminum foil sprayed heavily with non stick cooking spray and set aside.

In a small bowl, mix together the whole milk and the saltine cracker crumbs. Mix well and set aside.

Place all of the other items into a large bowl together - tearing the meats into small pieces as you go. Do not mix the meats until ready to add in the crackers/milk mix.

When the cracker milk mix resembles breakfast cereal that has been allowed to sit out for too long, then add to the meat mixture and using your hands mix well.

Once the meat mixture is well mixed, roll into balls that are about the size of golf balls and place on the baking sheets - placing no more than 12 per sheet.

Bake at 425 for 15-20 minutes. Remove from the pan and place into an awaiting rich tomato sauce and simmer for several hours until ready to serve. We prefer to serve over spaghetti
TIPS AND TRICKS FOR BLOW YOUR MIND MEATBALLS
The Meatballs
This is really important – DO NOT over handle the meat.  Usually, I have you mixing things in as soon as you add them.  Not this time.  Simply start with the saltines in the milk and let that sit.  While that is soaking, put ALL of the other stuff in a bowl and let it set until the saltine milk is ready to add.  When you add the saltine milk, then using your hands, gently mix everything together as completely as possible.  As SOON as it is mixed together, start rolling your meatballs.

I experimented with several sizes of meatballs.  The size that holds its shape the best is a little smaller than a golf ball.  Go with that size.  

Roll the meatballs up and place them on the prepared pan.

That reminds me – DO NOT forget to spray your tin foil with non stick cooking spray – because the meatballs will stick and then you will lose that wonderful caramelization along the bottom of the meatball.

The meatballs are gonna sag a little when they cook – don't worry – it is normal.

Remove the meatballs from the pan GENTLY – they aren't baseballs.

Ever so gently drop the meatballs into the sauce.
Simmering
Simmer means that the sauce just barely bubbles.  No vigorous stirring of the sauce once the meatballs are added.  Gentle stirring only.  Scrape up along the bottom of the dish with each stir.

Simmer for a couple of hours if you can – stir every once in awhile.
The Ingredients
I used Italian parsley in this dish – but I'll be honest – I live in the country and I can't always find Italian Parsley at the grocery here.  Curly parsley will do – I think it has less flavor though – just my opinion.  Chop the parsley as fine as you are able – it doesn't wilt a lot in the meatballs.

As usual, if you don't like garlic (I sometimes get complaints that I use too much garlic in my recipes) – you could leave it out – but then your meatballs won't taste just right – so, you decide.  Plus – there is always the added benefit of vampire deterrent if you add the garlic.  Lol.

I know you are probably going to have questions about the saltines in the milk.  Here is the answer to your question.  Have you ever let a bowl of cornflakes sit out for too long and when you come back they are all mushy and unappetizing?  That is what the saltines should look like.  They are ready to add to the hamburger when they have absorbed all of the milk.  That is how you will know.  You must stir them pretty frequently to encourage them to absorb all of the milk.

You probably are going to ask me if you can use 2% or 1% or skim milk in this recipe.  The answer is no.  Use Whole milk.  That is part of the beauty of the recipe – you can even brag – "Try  my whole milk meatballs"  That is what Kitchen Roselli does – so be authentic.  OK OK, if you try the other kinds of milk – let us know what happens.  I don't recommend it however.  

You are also going to ask me what to do with the other ¼ lbs of meat.  The answer is, "I don't know".  Make a couple of burger patties – I bet they will be good.  
 A VERSE TO SHARE
I'm fixing to say something that might not be very popular.  This being summer, it is probably the best season for throwing vegetables – so just hurl away if this makes you mad.  I'm gonna say it anyway.
Most folks don't like to hear about the devil.  I believe he is alive and well.  Oh, he doesn't have more power than he used to have – but he IS a liar.  Sometimes it is hard to discern his voice from even  your own!  He is a mimic like that.
A few weeks ago, I asked for ya'll to please pray for me.  I had a BIG decision to make.  Then I told you that I made it – it was a done deal and no backsies now.  I never did tell you what the big decision was though.
The Big Decision
The BIG decision is that I decided to quit my full time job.  The one that paid the bills.  The one that offered 401K.  The one that offered paid vacations, annual bonuses and an annual raise.  The one that allowed me to work from home in my jammies and with my dog laying by my feet snoozing away. Yeah that one.
Why?  Why did I do such a thing?
It may have been the DUMBEST thing I EVER did!
Don't think I haven't wondered if it was.
But I have faith.  I prayed about it.  I asked you to pray about it.  Then, God just made a way.  Things fell EXACTLY into place.  I applied to a part time job that I thought sounded interesting and fun – like something that I would truly enjoy.
Things That Happened
I am not joking here – when I sat down in the interview chair the owner of the company said, "I've already decided from your resume to hire you if you want the job – so, let's just get that out of the way right now".  She answered every single question I had and couldn't have been any nicer.  I left the interview dumbfounded.  When has that ever happened?
I checked the calendar to see when an official "two weeks" notice would fall – and it would fall EXACTLY on the day I returned from vacation.
Just to be more fair to my coworkers, I gave an extra few days so that my last day fell at the end of the month.
Uh -oh, I found out AFTER I tendered my resignation that my health insurance would also end on the last day of the month of the last month I worked.
That's ok – have a little FAITH – my husband's insurance picked right up where the old one left off.
I needed a TB test before I could start work – no problem – my doctor's office fit me right in and no problem reading the test either – they got me in and out so that I was to work on time that morning.
Why I say all of that
I tell you all of this to say – Don't sweat it – God is in this.  I know it.  He knows it.  I think He knows plenty about this little ministry I've got going here that I call a food blog.
But that isn't the end of the story.
I am officially into week number 3 of "not working full time".  Now, mind  you, I AM working part time at a regular job AND I am working diligently here.  There are posts to get out twice per week and there are several behind the scenes projects I'm working on.
Plus, I have family obligations and such – just like you.
The Struggle
But anyway, this week I have STRUGGLED with myself.  When it is time to sit down at this computer I am finding ALL KINDS of other things that I need to do – like fold a load of laundry, check the email, let the dog in/out, make a quiche for my daughter's friend.  Seriously, the list of things that I can find to do rather than sit down here and give my concentration to writing, photography, blog planning, behind the scene project work can get VERY long.
Creative friends of mine call  this "The Resistance".
Recently,  Bjork Ostrom (whom I idolize) talking about this very thing on his podcast.  He said that with creative people whenever The Resistance is felt – it is leading you to the MOST important thing that you could work on.  So, beat down the Resistance and work through it.
I've thought about that a lot.  I am suffering through The Resistance.  But in my mind, The Resistance isn't some nebulous part of myself that I am battling because of some hidden fear of doing the important work.  Oh No Sir!  In my mind….
(here comes the unpopular part)
The Resistance is that bad old devil.
You've heard, "The devil made me do it" ?  Well, I'm telling you, the devil made me NOT do it – a lot!
Hang with me here.  I'm coming on down the final approach with this.
If I believe this blog is a calling of sorts (and I do).  I believe it is God who has helped me get this far and has seen a way to make it happen for me to QUIT my paying day job in order to pursue this dream more (and I do).  Then WHO would be trying to stumble me up from producing the content that may help others?
One guy – that ol tricky devil.  That's who.
Oh, he sounds a lot like me when he hisses in my ear.  "Wendi, what if those photos aren't appetizing enough – you better sit down and look at some more spaghetti photos until you get a better handle on what you want them to look like".  "Wendi, there might be an email from work that you need to respond to right now instead of working on your project".  "Wendi…..".
The Answer
The answer to all of that noise?   Listen for the still quiet voice.  Be still and know that I AM!  You know who said that?  Yeah, not ol devil, that's for sure!
I have read that the closer we are walking with God, the harder the devil will try to trip us up.  I've experienced it before – I bet you have too.
In fact, when did the ol devil start messing with Jesus?  Right after he had been baptized and saw/felt the spirit come down upon him.  What did Jesus do?  Jesus rebuked the ol devil – told him to get the heck out.  Guess what the devil did?  He left.
The Lesson
That is a lesson for me.  From now on – I'm not just going to muscle through The Resistance like I've been doing.  I'm going to bow my head and ask for strength and then I am loudly and forcefully going to tell Satan to hit the road because I've got work to do.  Important work of showing folks great recipes,  how to make them, why they work and great words from our Lord, ways to think about them and why they work in our lives.
Can I get an Amen?
Here is Matthew 4: 1-11
Then Jesus was led by the Spirit into the wilderness to be tempted[by the devil.  After fasting forty days and forty nights, he was hungry.  The tempter came to him and said, "If you are the Son of God, tell these stones to become bread."
Jesus answered, "It is written: 'Man shall not live on bread alone, but on every word that comes from the mouth of God."
Then the devil took him to the holy city and had him stand on the highest point of the temple. "If you are the Son of God," he said, "throw yourself down. For it is written:
"'He will command his angels concerning you,
    and they will lift you up in their hands,
    so that you will not strike your foot against a stone.'"
Jesus answered him, "It is also written: 'Do not put the Lord your God to the test."
Again, the devil took him to a very high mountain and showed him all the kingdoms of the world and their splendor.  "All this I will give you," he said, "if you will bow down and worship me."
 Jesus said to him, "Away from me, Satan! For it is written: 'Worship the Lord your God, and serve him only.'"
 Then the devil left him, and angels came and attended him.