I DID eat some diet food! While I was waiting for this Pepperoni Meatball Sub Casserole to bake! The diet food is called a salad and it goes perfectly with this Pepperoni Meatball Sub Casserole. The best news is that salads are easy to fix and this Pepperoni Meatball Sub Casserole is too making dinner a BREEZE! Didn't you feel that breeze as you whooshed right in and out of the kitchen? I thought so! I believe that if you want to see happy faces around the dinner table, you have to start with some simple instructions and REAL ingredients.
A MOVIE ABOUT PEPPERONI MEATBALL SUB CASSEROLE!!!
Besides the breezing feeling of zipping this in the oven. You will also feel like a rockstar because HELLO? Kids LOVE it. Dads LOVE it. Moms LOVE it. Neighbor's LOVE it. If you leave it out on the counter long enough, the Dog will Love it too. Ask me how I know. Do you want a photo of Pete licking his guilty lips?
THE BASICS OF PEPPERONI MEATBALL SUB CASSEROLE
All joking aside, all there is to this dish is to toast the bread with some flavored butter – which is easy to fix. I'll show you. Then lay the bread in the casserole dish that you rubbed with a little of the same flavored butter. Cover with the pepperoni and meatballs. Slosh some pizza sauce on top. Cover with CHEESE and more CHEESE – and hey, I think maybe you better add a little cheese. Then sprinkle with a little herby and buttery bread crumbs (I'll show you, no worries). Pop it in the oven. Now go put your feet up!
WHAT TO DO WITH YOUR EXTRA TIME WHEN YOU PREPARE PEPPERONI MEATBALL SUB CASSEROLE
I'm guessing that now that you are fixing this for dinner, you might have about 45 minutes on your hands. What are you gonna do with all of that time? You could chat with your kids or your spouse or…. with the dog. I know Pete loves when I chat with him – except when chatting involves me telling me how mad I am at him for counter surfing the pepperoni meatball sub casserole. Pete says, "Let's move on from that subject".
You could call your best bestie. You could EVEN send me a snapchat – cause now that I'm getting the hang of it – I''m loving it. Just like a 14 year old. I have recaptured my youth. Yep, that's me -making silly faces and using billions of dollars worth of technology to zap my mug around to the other side of the globe…. Or down a few couch cushions….. Whichever.
Here is my snapcode if you want to add me. So fun! If I ever get my act together, perhaps I'll put my snap story together. So far – my act is noncontiguous. You knew that already though.
THE RECIPE FOR PEPPERONI MEATBALL SUB CASSEROLE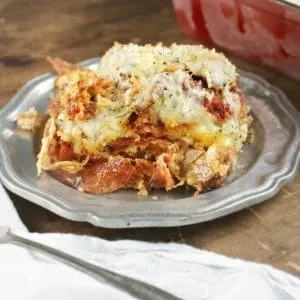 Pepperoni Meatball Sub Casserole
If you enjoyed this recipe, please visit www.loavesanddishes.net again for more great Comfort Food Recipes made with REAL ingredients and easy instructions.
Print
Pin
Rate
Ingredients
1

loaf of italian bread

1

stick of unsalted natural sweet cream butter - softened.

1

tsp

garlic salt

2

tsp

italian seasoning

1/2

cup

parmesan cheese- divided

the real stuff if you can get it and the green can if you can't 4 oz cream cheese - softened to room temp

¼

Cup

Mayonnaise

¼

cup

milk

14

oz

meatballs

use the recipe noted in tips and tricks below - or use frozen ones if you don't' have time to make your own(If using frozen - thaw them first)

6

oz

package of pepperoni slices

28

oz

prepared pizza sauce

8

slices

of provolone cheese

2

cups

shredded mozzarella cheese

½

cup

panko bread crumbs

2

tbs

melted unsalted sweet cream butter
Instructions
The day before you plan this recipe, if you are using the store bought frozen meatballs, put them in the fridge as you do not want them frozen for this recipe. Earlier in the day, set out a stick of butter on the counter to soften to room temp. When ready to start the recipe, set the oven on broil and get out a 9x13 casserole dish (I prefer a glass or ceramic one - but whatever you have will work). Cut the loaf of Italian bread into 1 ½ inch slices. Set aside. Mix the softened butter (1 stick) with the tsp of garlic and the 2 tsp of italian seasoning and ¼ cup of the parmesan cheese - set the other ¼ cup aside for the end of the recipe. Mix well. Spread the butter mix on the bread pieces evenly and thickly - just do one side. Leave about 2 tbs of the butter mix out to grease the casserole dish with. Place the buttered bread pieces on a sheet pan with the butter side up. Place in the oven under the broiler for about 2 minutes until they are crusty around the edges and the butter is melted. Turn the bread over to toast on the other side for another 1-2 minutes. When the bread is browned, remove from the oven. Set the oven on 350.

Grease the bottom and sides of the casserole dish with the remaining 2 tbs of butter that you reserved. Place the toasted bread slices into the bottom of the casserole dish to fill the bottom of the dish.

Mix the cream cheese, mayo and milk together until well blended. Spread this over the toasted bread in the casserole dish. Sprinkle ¼ Cup Parmesan over the top of this.

Place the pepperonis around on top of the cream cheese mix. Cut the meatballs in half (so they don't roll around) and then place those around on the bread as well. Pour the pizza sauce over the top of the meatballs/pepperonis and bread.

Place the provolone slices evenly across the casserole dish. Cover with the shredded cheese.

Mix the ½ cup Panko bread crumbs with the 2 tbs melted butter as well as the remaining 1 tsp italian seasoning. Mix well until the mixture seems crumbly. Sprinkle over the top of the casserole.

Bake at 350 for 45 minutes until the cheese is browned and bubbly and some of the pizza sauce is bubbling through. Remove from the oven and allow to cool for 5 minutes. Cut into squares and serve.
Notes
Use store bought meatballs or make your own following the loaves and dishes recipe!
Nutrition
Nutrition Facts
Pepperoni Meatball Sub Casserole
Amount Per Serving
Calories 500
* Percent Daily Values are based on a 2000 calorie diet.
NUTRITION INFORMATION ABOUT PEPPERONI MEATBALL SUB CASSEROLE
TIPS AND TRICKS ABOUT MAKING PEPPERONI MEATBALL SUB CASSEROLE
You know, lots of times I warn "this is not a diet recipe". This one isn't. If you are looking for a diet recipe – then perhaps you might like to have THIS SALAD – it is delicious and good for you. You might even like to have THIS chili – super good – full of protein – everyone knows what they say about beans – they are good for your heart! Right? All I am saying here is, if you are going to have the casserole, have the casserole. Go for a long walk after dinner.

You might be tempted to ask me, "Can I substitute some "This isn't really butter" for the butter" or "can I use the 0% fat cheese substitute for this recipe". My answer is always going to be, "Sure, you CAN if you want – but it won't taste the same and you might want to think for just a sec about how those things were made – a cow didn't make that, a chemist did – personally I trust the cow". Could you try the real stuff – just this once?

Let's talk FLAVOR for just a second. Where do you think most flavor comes from? Yes – great flavor in this recipe comes from the spices – but it is also coming from fat. We have been taught that fat = bad. Fat doesn't equal bad. We NEED real fat in our diet. Your entire nervous system works on the fat it has stored. I could go on and on. I'm just saying, if you are worried about your waistline – then eat a little less. But don't swap out chemicals for real stuff – how could that possibly be good for you? It isn't. Rant over (well, until next time… lol).

About the meatballs. If you REALLY want this to be the BEST RECIPE EVER, you should DEFINITELY USE THIS RECIPE FOR THE MEATBALLS!!! These meatballs are easy to make and SO FLAVORFUL that they will knock your socks off. That said, not everyone will have the time for that. If you need quick and easy then just use the frozen ones you get at the grocery. The meatball recipe I am directing you to can be made ahead and frozen – just sayin – when there is a will, there is a way.

About the pizza sauce. Yes, if what you have is spaghetti sauce, then use it. The pizza sauce thing is just a personal preference. It does cost a little more.

You might notice that I didn't add any salt to this dish. Isn't that amazing? That is because I didn't think it needed any. Cheese is pretty salty – so if you think it might be needed- I'm gonna suggest you just wait till it's ready – take a bite and see. You can always add it at the table if needed.

"I had more bread than I needed". I'll just say, not all of our loaves of bread are gonna start out the same size. I'm telling you what worked on mine. If you have left over pieces of bread you

could use them on the side of the casserole dish and kind of make a side crust. You can save them and serve them with the casserole – garlic bread! YUM! People pay big bucks per box for that Texas Toast stuff! Yummy to dip around in the extra sauce that is sure to be streaked on the plate.

This makes great leftovers – but there won't be many leftovers. Promise.
A VERSE TO SHARE
I can't even start to share this verse with you without saying a thing or two about it. I LOVE this verse. When I start to worry, I think about Jesus himself saying, "Wendi, my child, don't be silly…. ". Jesus has got this my friend. He has got this. Do you worry? I used to. I used to a lot. I asked (well, it might have been begging) God to take my worrying spirit away from me. I asked over and over. God led me to this verse and then he led me to the verse that shows you how to pray. I learned that I can chant the Lord's Prayer over and over and it takes my worry away. What do you do to stop worry? This is what works for me.
"Therefore I tell you, do not worry about your life, what you will eat or drink; or about your body, what you will wear. Is not life more than food, and the body more than clothes? Look at the birds of the air; they do not sow or reap or store away in barns, and yet your heavenly Father feeds them. Are you not much more valuable than they? Can any one of you by worrying add a single hour to your life?
"And why do you worry about clothes? See how the flowers of the field grow. They do not labor or spin. 29 Yet I tell you that not even Solomon in all his splendor was dressed like one of these. If that is how God clothes the grass of the field, which is here today and tomorrow is thrown into the fire, will he not much more clothe you—you of little faith?
~Matthew 6: 25-30
God is good. Amen? Amen.