This post sponsored by Ragu.
To celebrate fall, I'm throwing a mouth party that will allow you a little more couch time – how is that for a favorite comfort food?! In this new take on a traditional dish, Chorizo Mouth Party Lasagna Rolls uses Ragu Pasta Sauce and introduces Mexican Chorizo to Spanish Serrano Jamon and the two live harmoniously in a shower of Mozzarella CHEESE PULLS. I know I KNOW. RIGHT????
This recipe is just what we all love and need for fall. A new take on a wonderful old dish! Who doesn't love rich, delicious deep flavors and a belly warmed with luxurious tomato sauce while at the same time, no fuss ? Simple. Easy to put together. Really, between football practices, fall festivals, preparations for holidays and everything else that happens this time of the year, who has time to simmer a sauce all day? Am I right?
For a great recipe, you might also try our Best Classico Lasagna Recipe too!
Besides, maybe I am telling on myself here, but don't we all need a little extra time to snuggle up on the couch with a blanket and a magazine and simply smell the delicious garlic, onions, cheeses and meats as they do their thing in the oven. I mean, that's what we are talking about, right?
So, come in the door after work, put on your pot of water to boil, assemble the ingredients, cut up your onion and garlic. Cook those in the skillet and then add your chorizo sausage. Cook till browned. The water should be boiling by now, so put your lasagna noodles in to cook.
And now… for the easy part…. today, you are not adding fresh tomatoes, fresh basil, fennel, garlic and ground peppers to the dish as I usually have you do. I don't have you simmering a sauce on the stove top all day! Nope. I want you to go sit on the couch – remember? So, simply add your Ragu Chunky Sautéed Onion and Garlic Pasta Sauce to the pan because the quality spices are already in there!! Ragu has done ALL of the WORK for you! Isn't that great!
Let all that tomatoey goodness in the Ragu Pasta Sauce simmer together while your noodles finish cooking. Once the noodles are done, simply assemble the rolls, cover with the sauce and pop it all in the oven!
Now, go put on your jammy pants and a big warm sweat shirt and sit on the couch until it is done. This is a simple weeknight meal (or even a weekend meal) that any of us can handle! Today, we don't have to do all of that work for this yummy sauce because it was done YEARS ago by a woman named Assunta! Did you know that? I didn't! My dear readers, I want to introduce you to someone!
Assunta Cantisanto is the woman behind the Ragu name! I LOVE these kinds of stories and I know you do too! Assunta migrated to the United States from Italy with her family's recipe for pasta sauce. She shared her pasta with friends and neighbors (just like you and I do!) and her neighbors RAVED! Can you imagine how many people said, "(throat clearing)…. Assunta….. could I possibly have your recipe for your pasta sauce?". Her pasta sauce began FLYING off of the shelf! During the Great Depression, Assunta made her dreams come true as she fought her way through a man's world to bring her pasta sauce to the forefront. I love success stories like this! You, like me, have probably seen/eaten/cooked with Ragu for a lifetime – never knowing the story of the beginnings of Ragu!
Now, I ask you dear friends What will you do while Chorizo Mouth Party Lasagna Rolls bake for 45 minutes in the oven? I mean, Assunta gave us the terrific gift of TIME! Will you read a magazine, catch up on your social media, go lay down and take a quick nap, help the kids with homework, call your mother or that friend you haven't spoken to in a while? I hope you will visit the campaign landing page to discover the Ragu heritage story!! Please leave me a comment and let me know! I would love to chat with you!
Recipe Inspiration for Chorizo Mouth Party Lasagna Rolls
I think I have told you before that my own mother makes what I consider the best pasta sauce in the world (sorry Assunta – but, she IS my own mother!!) It is a true family tradition! It simmers ALL DAY LONG and the SMELL! AHHHHHH! Anyway, that is what I was thinking about when I was considering putting some lasagna rolls together. But as you know, we have a new baby in our family and I don't have time to make my family's traditional sauce! Besides, I wanted those old family traditions (like AWESOME pasta sauce) combined with something new – lasagna rolled up so that it is easier to serve and easier to save in the freezer (see info below about making for 1-2 people). Please tell me about your own family traditions below in the comment section!
How to make Chorizo Mouth Party Lasagna Rolls for one or two people
I am often told that it is too hard to cook for one or two people. Hogwash, I say. For this recipe, when you are assembling the rolls and placing in the baking dish, use a small oven-proof baking dish for what you will eat right now. Make sure you have some glassware dishes that are meant for the freezer or use the tinfoil disposable freezer/oven ware that is available at your grocery store. Simply assemble the lasagna rolls (as many as you believe you will eat at a time – probably 2 per person per meal). Cover with the sauce and cheese. Freeze. As little air in the package as is possible is best. When you are ready to use, defrost in the fridge for a day and then bake as described below. If you make yourself a salad and a piece of garlic toast, you will have as nice a dinner as you could purchase at a restaurant!
Again, Thank you Ragu for sponsoring this post and inspiring me to share my family traditions.
Submit yourselves, then, to God. Resist the devil, and he will flee from you. ~ James 4:7
Step by Step Photo Instructions: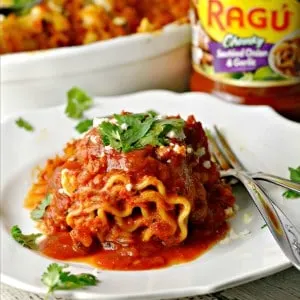 Chorizo Mouth Party Lasagna Rolls
This dish makes everyone happy. Who wouldn't love noodles, chorizo and sauce? Ummm. No one.
Print
Pin
Rate
Ingredients
10

Lasagna Noodles – cooked per package directions to al dente

make sure to salt the water

1

tbs

butter

1

medium onion – chopped

3

cloves

garlic – minced

1-2 9

oz

package of Mexican Chorizo Sausage

the kind that is raw sausage

1 14.5

oz

can diced tomatoes

1 24

oz

Jar Ragu Chunky Sauteed Onion and Garlic flavor Pasta Sauce

8

oz

Ricotta Cheese

about 1/2 standard 15 oz package

1

package Serrano Jamon

Ham

2

Cups

Shredded Mozzarella

Cilantro and Mexican crumbling cheese for garnish
Instructions
Preheat oven to 350. In a large stock pot – prepare 10 Lasagna noodles per package instructions (make sure to salt the water). When done, leave noodles in the water and remove the stock pot from the heat.

While the noodles are cooking, in a stainless steel skillet, melt the butter and then add the chopped onion. Allow to cook over medium heat for 3-4 minutes. Add the minced garlic cloves and the Mexican Chorizo. Cook over medium heat until the Chorizo is cooked through.

Add the can of diced tomatoes and the jar of Ragu Chunky Sauteed Onion and Garlic Flavor Pasta Sauce.

Remove the lasagna noodles from the water using tongs and lay out flat. Spread 1 heaping tsp of Ricotta cheese on each noodle. On top of the Ricotta spread some of the Serrano Ham. Roll up the lasagna noodles and place in an oven proof baking dish.

Top the rolled noodles with the sauce. Gently lift up each noodle roll and allow some of the sauce to run beneath. Sprinkle the shredded Mozzarella over the top and place the baking dish on top of a baking sheet (in case any bubbles over, it wont mess up your oven). Bake for 45 minutes until the sauce is bubbly and the cheese is browned slightly. Just before removing from the oven, set the broiler to finish the cheese if necessary. Garnish with cilantro and Mexican crumbling cheese if desired.
Notes
You can also use ground beef instead of chorizo if you want.
Nutrition
Nutrition Facts
Chorizo Mouth Party Lasagna Rolls
Amount Per Serving
Calories 330
* Percent Daily Values are based on a 2000 calorie diet.