So would you love to have a dish that you could easily feed 6 people OR 60?  This is it!!  As I write this, I am resting from a huge community party held at my house!  It has become a tradition for most of the town to visit my house for chili on Halloween night!  Back when this tradition began, I can distinctly remember making THREE batches and I thought that was a lot of chili. (We ran out of chili that year).  This year, I made 6 batches with meat and 3 batches without.  We had just enough to freeze a few quart bags for later.
This recipe was inspired by a recipe that my boss gave me when I worked at Hospice & Palliative Care Center.  I can remember her saying, "this recipe is so simple and tastes so good you wouldn't be afraid to serve it to any guest".  I took her advise and served it to nearly the whole town! Over the years, I have added a few more ingredients and you will find them here, but the basic recipe is one she told me years ago.
One of the beauties of this recipe – is that if you need a good vegetarian chili – simply leave the meat out.  Do be careful to drain the beans though or the vegetarian chili can be very soupy.
This chili freezes wonderfully – so, if you have leftovers, wait for them to cool and then pour it into freezer bags, seal well and lay flat in the freezer!  What an easy dinner for later in the winter!
Serving suggestions:  lovely with corn bread, corn pudding, mac and cheese, hot dogs, salad, corn chips, sour cream cheese shreds.
Lets Eat Ya'll!
For I know the plans I have for you," declares the LORD, "plans to prosper you and not to harm you, plans to give you hope and a future. ~Jeremiah 29:11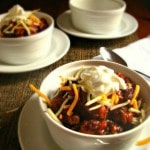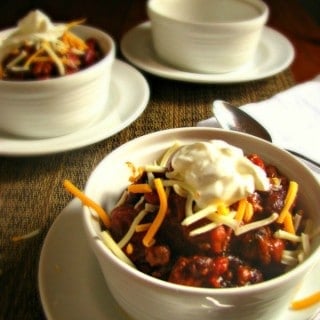 Party Chili
An easy chili recipe that can be increased to feed as many as needed. Leave the meat off for a delicious vegetarian chili. Assemble in the morning and allow the crock pot to slow cook all day long or cook on the stove top in minutes.
Course:
Crockpot, main, Vegetarian
Ingredients
2

Tbs

butter

1

medium onion – chopped

3

cloves

garlic – minced

1

lb

ground beef

1 15.5

oz

can black beans

1 15.5

oz

can Red Beans

1 15.5

oz

can Chili Beans

2 12

oz

can Fire Roasted Diced Tomatoes

1

packet taco seasoning

1

packet Ranch dressing mix

¼

Cup

Brown Sugar

1

tsp

crushed Chipotle Peppers
Instructions
In a skillet on medium heat, melt 2 tbs butter.

Add chopped onions to butter and cook until translucent.

Add the ground beef and brown. As meat comes to a brown color – add the minced garlic. When the meat is browned, pour off the grease.

In a large crock pot or stock pot , add the browned meat, onion and garlic mixture. Open the black beans, discard the extra liquid from the can and add the black beans to the pot. Open the red beans, discard the extra liquid from the can and then add the red beans to the pot. Open the chili beans and add directly to the pot. Open both cans of tomatoes and add directly to the pot. Stir well after each can.

Add the packets of taco seasoning and Ranch dressing mix. Add the brown sugar and crushed Chipotle Peppers and stir well.

If cooking on the stove top, heat on medium heat and serve when heated through. If cooking in a crock pot, pour the ingredients in the pot into the crock pot, place on high and heat for 3 hours (or low for 6 hours).
And now for dessert!   I have ALWAYS been the wicked witch from The Wizard of Oz for Halloween.  You could say that my witch laugh has gained some notoriety among the children in my town.  Lol.  This year, however, I wanted to try something different – and so I was a "sugar skull".  Here is a picture of me with my grandchildren.
Photo credits:  Photo taken by my son, Jason Uselton
OK – well, the photo broke and I am unable to reinsert it – but there WAS a cute picture of me and my grandchildren right here.  lol.  🙂  I'm sorry it isn't here any longer!