Jump to Recipe
***this post was originally posted on Loaves and Dishes on October 26, 2015 and has been republished with NEW information.***  I grew up eating pimento cheese (in the north even!) (My parents were displaced Southerners).  If you are what you eat, then there is a certain portion of me that is rich, salty and cheesy with an occasional red pimento thrown in for fun and acidity.
Today, we are making the Ultimate Southern Pimento Cheese, if you will.  We always purchased that soulless orange supermarket stuff that is a poor cousin of deep rich homemade pimento cheese. No reason for you to do the same thing!
WHAT IS PIMENTO CHEESE?
Making your own is so simple there really is No Need to EVER eat that gloopy store-bought stuff again.
REAL Ultimate Southern Pimento Cheese is a cheese spread that is made from grated cheese, mayonnaise and pimentos.  Most people add a few other ingredients in for flavor, but those three are the basic recipe.
PIMENTO CHEESE EXPERIMENTS…
I will admit, I have been doing Pimento Cheese experimentation for a long long time in search of the Ultimate Southern Pimento Cheese.  Over the years I have probably had 3 or 4 episodes of making one batch after another to try to find just the right recipe.  What I discovered along the way is that making pimento cheese is as varied as families themselves.
WHAT IS A PIMENTO ANYWAY?
A pimento is a preserved red sweet pepper.  The stem, seeds and ribs are removed before it is canned. Pimentos have a slightly sweet vegetable flavor.
Because Pimentos are the basic flavor ingredient for pimento cheese and then other flavors are added.  Some folks like their pimento cheese a little sweet, some like theirs a little  hot, some like blander cheeses, some like sharper cheese.
PIMENTO CHEESE USING CHEESE FOOD (VELVEETA)
In past years, I experimented with what my mom gave me as my aunt's pimento cheese recipe.  Delicious when my aunt made it.  Not that great when I made it.  I think my mom didn't quite know all of the ingredients or something.  All that I am sure of now is that my aunt used some processed cheese food  and it was delicious  but I can't seem to make it that way and have it turn out well.
CAN YOU FREEZE PIMENTO CHEESE?
One question I am asked all the time, "Can this recipe be frozen".  The answer for pimento cheese, unfortunately, is "no".  Pimento Cheese contains mayonnaise and frozen mayonnaise will separate when it thaws.
Separated mayonnaise is not dangerous to eat (to my knowledge), however, it looks so gross that you will not want to eat it.  Please trust me on that one.
HOW LONG DOES PIMENTO CHEESE KEEP?
You can keep pimento cheese at least 1 week as long as you keep it well refrigerated.  It may last longer, but honestly, you will eat it all before a week passes.
HOW LONG CAN PIMENTO CHEESE SIT OUT BEFORE IT GOES BAD?
According to the US Department of Agriculture, mayonnaise can sit out at room temp for 8 hours but then you must throw it out.  I would say that this is a good rule for pimento cheese as well.
IS PIMENTO CHEESE HEALTHY?
People ask, is Ultimate Southern Pimento Cheese healthy?  The answer is "that depends".  What kind of diet are you on?  If you are on a low carb diet, then this recipe is FOR YOU!  Are you diabetic?  This recipe isn't going to win an award, but at least it doesn't have any frank sugar!
If you are on a low fat and low calorie diet, then this recipe would be for special treats only.
CAN YOU EAT ULTIMATE SOUTHERN PIMENTO CHEESE WHEN YOU ARE PREGNANT?
Again, the answer to eating this pimento cheese when pregnant is going to depend on what kind of pregnancy diet you are on.  The response is going to be the same as the section just above this one.
Important Factors to Know when Making Ultimate Southern Pimento Cheese
The kind of cheese and Mayonnaise is IMPORTANT!  I don't like reading a recipe that says something generic like "add a red wine that you would drink to the sauce" or "use only dry red wine".  Well, I don't drink red wine and I have no idea which one is drinkable or dry and which are not.  It depends on who you are, most wines might be drinkable and to me, they almost all taste dry !  So, let's talk name brands so that we can make the same recipe!
For this recipe – I have named the type of cheese I have used and the Mayonnaise.  Of course, you may choose to use something different but then that is on you.  I can vouch for the kind that I make and the ingredients are listed below. In this case, I found Dukes to work the best.
WHEN MAKING PIMENTO CHEESE….
Drain the pimentos!  Please, for heaven's sakes, drain them very well.  If you don't drain them, your pimento cheese will be soupy and that is yucky.
Do NOT overmix the pimento cheese . Simply  give it a light stir until you see that everything has mixed together. Leaving the cheese in bigger chunks makes for nice flavors in your mouth later and it won't be quite so mushy.
Use the larger pieces of pimento even if you never have before and even if your mom used the tiny chopped pieces.  It gives  your mouth a new flavor to explore and it is nice!
THE HEAT IN THE RECIPE…
The Cayenne in this recipe makes the pimento cheese a little hot.  If you are not that crazy about hot pimento cheese then back off on the Cayenne.  Cut it in half or leave it out altogether.  You will want to add a tiny bit just to give it a little kick.
WHAT TO DO WITH ALL OF THIS PIMENTO CHEESE…
Pimento cheese is meant to be shared.  Please find someone to share a cracker with.  If you eat the entire amount yourself, you will be sorry and your waistline will grow and then you will be upset with me.  Instead, take a loaf of bread to work and let everyone make a sandwich for a snack.  Take a bowl to church and some crackers and let everyone gobble it up.  Mix a tiny bit in your grits and surprise your family with YUM!  What I am getting at here is share the wealth.  You can always make more!
Do not try to freeze Ultimate Southern Pimento Cheese because it won't work and will make a gloopy mess.  Ewwww.
The One Most Important Thing about Ultimate Southern Pimento Cheese
Let it set in the fridge for at least 4 hours before serving.  Overnight if possible.  When you mix up a batch, it is the first time that the ingredients are meeting and they need to get to know each other a little bit.  They will hit it off and eventually marry and  oh my it will be a beautiful thing  but it does take a little time.  Don't rush it.
OH!  AND ONE MORE THING, just let me say this.  Grilled Ultimate Southern Pimento Cheese Sandwiches. That is all.
Photo Instructions for How to Make Ultimate Southern Pimento Cheese
IF YOU ENJOYED ULTIMATE SOUTHERN PIMENTO CHEESE, THEN YOU MIGHT ALSO ENJOY…
Southern Fried Breakfast Potatoes
Homemade Chicken and Drop Dumplings
YA'LL HELP ME OUT…
Please leave me a 5 star 🌟🌟🌟🌟🌟  comment below in the comment section, all right? I would LOVE to know if you made this recipe or even if you are planning to! Of course, head on over to Pinterest, Facebook and Instagram and tag me with some photos of your creation!
I can't wait!
Ya'll know I love your comments!! ❤
THE RECIPE FOR ULTIMATE SOUTHERN PIMENTO CHEESE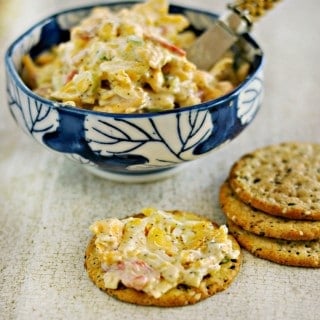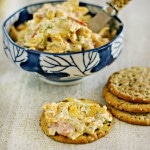 Ultimate Southern Pimento Cheese
A simple and easy recipe for ultimate southern pimento cheese
Keyword:
Pimento Cheese, Southern Pimento Cheese
Ingredients
4

oz

1/2 block white VERY SHARP cheddar cheese (I used Cabots Extra Sharp) (DO NOT USE PRESHREDDED CHEESE)

4

oz

1/2 block orange creamy sharp cheese (I used Hellavagood Sharp) (DO NOT USE PRESHREDDED CHEESE)

½

CUP

Mayonnaise

I used Dukes – it is slightly sweet and I think works best for pimento cheese – otherwise, I am a Hellmans girl

½

cup

pimento slices – if you can't find – then the chopped is ok.- drain well!

3

stalks of green onion – chopped

use the white and green parts

½

tsp

kosher salt

NOT table salt – kosher salt

1 ½

tsp

ground black pepper

½

tsp

hot sauce

I used Franks

¼

tsp

Ground Cayenne Pepper
Instructions
Grate the cheeses with a hand grater on the largest holes available. Place the cheese in a large bowl.

Add all of the ingredients to the bowl. Use a rubber spatula and gently mix all ingredients together. Do not over mix – you don't want all of your cheese breaking.

Put plastic wrap over the top and place in the fridge for at least 4 hours. Overnight is better as this allows the flavors to marry and get to know each other better.

Serve on sandwiches, as a grilled cheese, in your grits, on crackers, on a baked potato, on celery or other veggies – you name it!
Recipe Notes
Easy recipe for pimento cheese
Nutrition Facts
Ultimate Southern Pimento Cheese
Amount Per Serving
Calories 350
* Percent Daily Values are based on a 2000 calorie diet.
A VERSE TO SHARE
"Johnny, why did you start breaking the crayons in the class crayon box?"  "I didn't start it, Bill started it!  He is the one who said, 'Ya'll can break the crayons if you want to', it wasn't ME who started it! I'm just doing what Bill said we could do!"
What would the teacher say in this scenario?  What would the other kids in the class say?  Wouldn't breaking the crayons STILL be wrong?  I think so.  I am certain that you think so too.
A WRONG IS STILL A WRONG…
After all, a wrong is still a wrong and it doesn't matter WHO first set the practice in place, does it?
In the end, we have a box of broken crayons with everyone crying, right?
THE WORLD STAGE…
I've heard something like this on the world stage recently and I just wanted to point out the fallacy of the argument.  Regardless if you like Johnny or not, if you believe that we all have to be responsible for our own actions then you MUST believe that Johnny has to stop breaking the crayons.  It is in everyone's best interest, after all.  Right?
I'm going to suggest that you apply this standard to things in your community, county, state, country and world.
When something is wrong, it is wrong.  It doesn't matter who started doing wrong first.  What matters is that you and me and our leaders do what is right. It makes a difference if we take up the cause of the oppressed, the fatherless and the widows because that is what we are called to do.
Isaiah 1: 17
Learn to do right; seek justice.
    Defend the oppressed.
Take up the cause of the fatherless;
    plead the case of the widow.