This Steak Rub Recipe has your ho-hum steaks tasting like the best steak house ever! Easy and tasty! Because, it's the Best Steak Seasoning Recipe – Homemade Steak Rub EVER!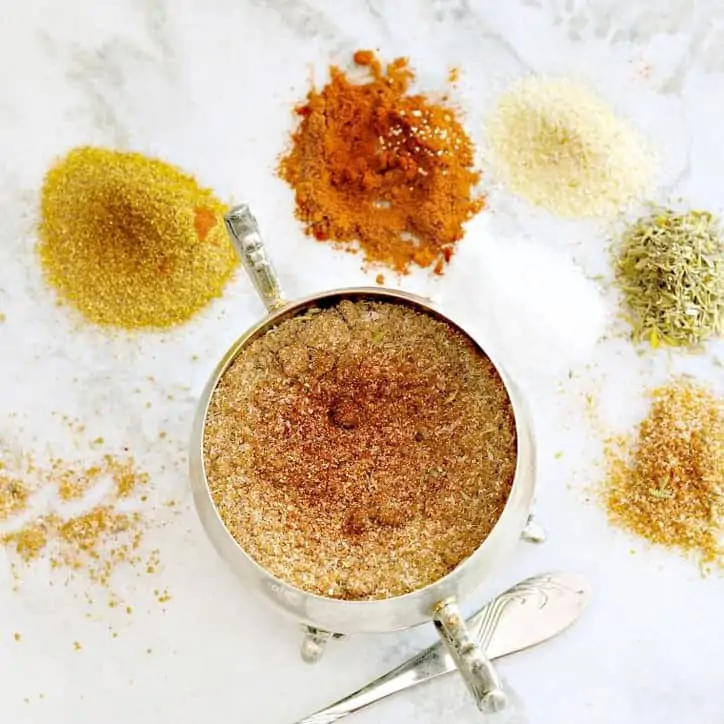 WHY THIS RECIPE WORKS…
Great balance of salty and sweet in this spice blend.
Onion and Garlic powders, hello rub recipe!
A touch of heat with the cayenne
It actually IS the best mix of it's kind!
Here's How It's Done
STEP 1. Measure out all of the seasonings and combine all ingredients into a small bowl.
STEP 2. Mix together and rub onto the steak. This season a steak just right! Place it in the refrigerator for several hours.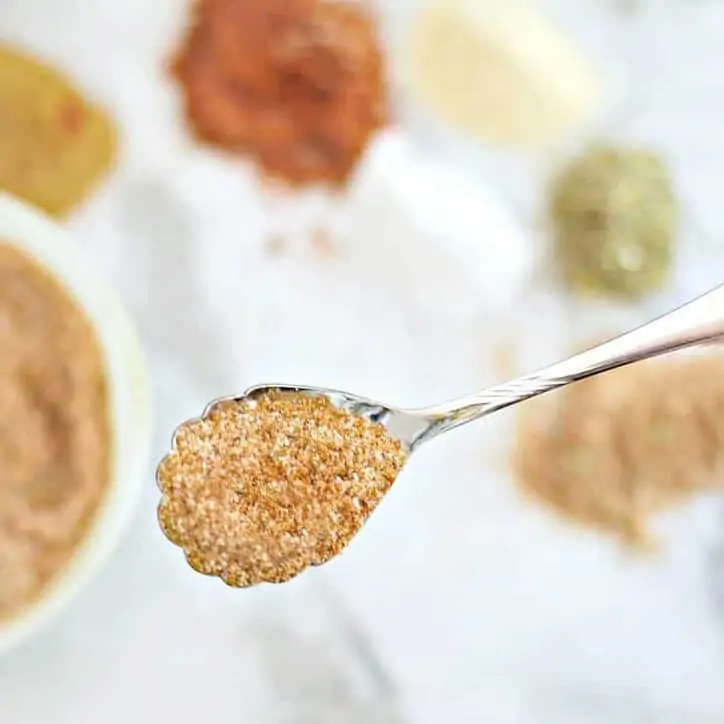 Frequently Asked Questions (FAQ's)
WHAT MAKES A GREAT STEAK RUB? How Do You Make Steak Flavorful?
We Need the basic "all good" components for a perfect homemade steak:
These steaks are flavorful and delicious! I do recommend a steak that has a slightly higher fat content.
Of course, Ribeye's are awesome, but a breakfast steak cut would work for this as well. For this rub, avoid the sirloins and other low fat content steaks.
What Seasoning is Good on Steaks?
You'll want a seasoning that combines all of the essential elements listed above. Therefore, THIS is a terrific seasoning!
How Do You Season Steaks Before Cooking?
Mix up the seasoning according to the recipe the day before you plan to cook the steaks. Using 2 Tbs or more per side, rub and massage this onto the steak. Once both sides are coated, wrap the steak in plastic wrap and set it on a plate in the refrigerator for 6-24 hours. THEN grill, pan fry or use your favored method to cook.
How Do You Rub a Steak?
You'll want to go ahead and mix up this seasoning mix, then gently pat the seasoning down into the steak and rub it in like you would rub lotion onto your hands.
How Long Do You Leave Dry Rub On a Steak?
You'll want to leave your dry rub in place and on the steak for 6-24 hours before cooking. This gives time for the flavors to meld and for some of the water to be drawn from the meat because of the kosher salt giving just the right tenderness to your steak. No worries, it won't be dry!
How Do I Season Steaks Before Grilling?
You'll want to assemble this dry rub and work it into your steaks 6-24 hours before grilling. This makes a perfect seasoning for the grill master!
Is The TYPE OF SALT IS IMPORTANT?
Also here is an important note, please make sure to use KOSHER SALT and not table salt or sea salt or Himalayan pink salt or any other kind of salt! Kosher salt is what works.
Hope that helps! If you use a different salt then your rub will be TOO SALTY and you will then think I am crazy and leave me comments that I won't understand on the recipe.
Just for fun – here is my artsy attempt at food photography. I know. I know. At least I am funny, right? Don't answer.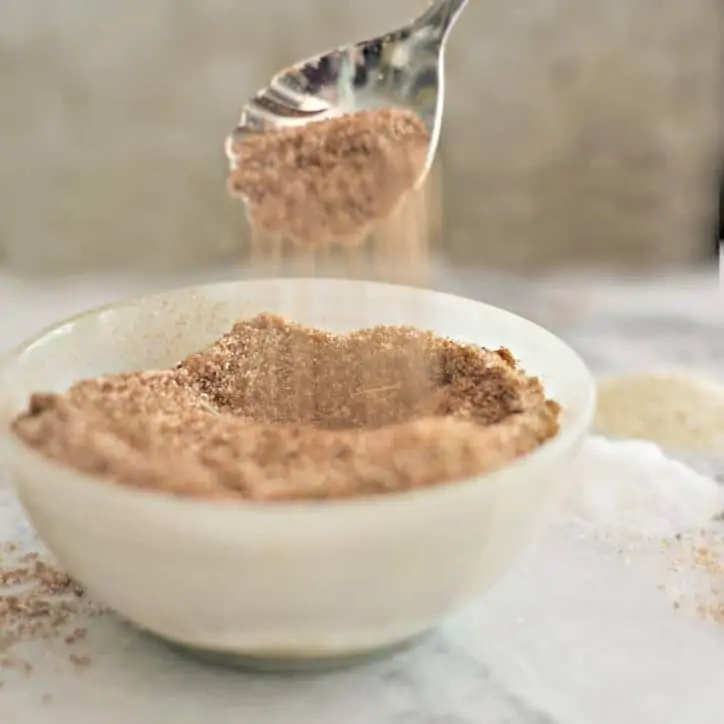 WHAT DOES KOSHER SALT DO?
And for the food nerdy, like me: The Kosher Salt will draw some of the moisture out of your steak. So don't be surprised, when you unwrap your steak, you will notice that there is a lot of moisture in the plastic wrap!
That is what Kosher salt does! That is the way it is supposed to be. NO WORRIES, It will be juicy and moist once cooked.
WHAT KIND OF BEEF CAN I USE THIS ON?
Use this on…
Skirt Steak
Beef Tenderloin
Brisket
Beef Ribs (all types)
Rib Eyes
Strip Steaks
NY Strip Steaks
ANY CUT of Beef that you will eat as a steak.
The USDA reviews all kinds of cuts in this article! Enjoy!
HOW SHOULD I COOK MY STEAKS?
You should cook your steaks however your heart desires. Our favorites are…
If You Enjoyed This Recipe, I Hope You Will Also Check Out..
11 Smart Ways to Save Money on Herbs and Spices!
There's No Jerk Here Jerk Chicken!
YA'LL HELP ME OUT…
Please leave me a 5 star 🌟🌟🌟🌟🌟 comment below in the comment section, all right? I would LOVE to know if you made this recipe or even if you are planning to! Of course, head on over to Pinterest, Facebook and Instagram and tag me with some photos of your creation!
I can't wait!
Ya'll know I love your comments!! ❤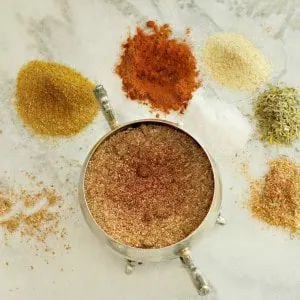 The Best Steak Rub & Seasoning Recipe
This is a simple recipe for a dry spice rub for steaks
Print
Pin
Rate
Ingredients
2

Tbs

Kosher Salt

2 ½

Tbs

Packed Brown Sugar

1

tsp

crushed cayenne pepper

2

tsp

smoked paprika

1

tsp

garlic powder

1

tsp

onion powder

½

tsp

dried thyme

1

tsp

black pepper

½

tsp

cumin

4

– 6oz beef steaks with higher fat content
Instructions
Mix all of the ingredients together (except the steaks). Make sure there are no lumps or clumps (brown sugar likes to do that). Take a large pinch of the spice mix between your first three fingers and thumb of your right hand (about ½ tsp or so). Sprinkle the mix over the one side of the steak with your right hand and then with your left hand pat and rub the spice mix gently onto one side of the steaks. Turn the steak over and repeat. Repeat for the other steaks. You may save any remaining spice mixture as long as you haven't contaminated the mix with any of the juices from your steak. Store in a zip lock bag or glass jar with lid.

Once each side of each steak has been seasoned with the spice mix, wrap the steaks individually in plastic wrap. Place the steaks on a plate and put into the refrigerator. Allow to set for 6 hours – 24 hours before cooking.

When ready to prepare, remove from the fridge 30 minutes before cooking and remove the plastic wrap. Grill or pan fry as usual. Allow to rest for 10 minutes before serving.
Notes
You can use either plain paprika or smoked paprika, whichever one you have.
Make sure to use Kosher salt. If you need to use table salt instead, then use only 1/2 what's called for in the recipe.
Feel free to amp up the onion and garlic powder or the brown sugar according to taste.
Nutrition
Nutrition Facts
The Best Steak Rub & Seasoning Recipe
Amount Per Serving
Calories 510
Calories from Fat 288
% Daily Value*
Fat 32g49%
Cholesterol 138mg46%
Sodium 3610mg150%
Potassium 657mg19%
Carbohydrates 10g3%
Protein 46g92%
Vitamin A 714IU14%
Vitamin C 1mg1%
Calcium 22mg2%
Iron 5mg28%
* Percent Daily Values are based on a 2000 calorie diet.
***This post originally appeared on Loaves and Dishes on August 16, 2015 and has been revamped with new information that includes "why this recipe works", "step by step photo instructions", frequently asked questions, updated recipe card with nutrition information and equipment. ***
A VERSE TO SHARE:
He heals the brokenhearted and binds up their wounds ~ Psalms 147:3