***This recipe for Stuffed Barbecue Flank Steak Roll Ups is an entry into BUDWEISER SAUCES ULTIMATE BLOGGER RECIPE CHALLENGE-FREEDOM RESERVE recipe contest and it is a BANGING good recipe too! Budweiser sent me free sauces and marinades to use in the creation of this recipe, the post, recipe and descriptions are all my own thoughts, ya'll know how I am.****
You never know where you will find inspiration for something, right? Today's recipe is inspired by the butcher at my local grocery store who said that flank steaks are wonderful rolled up around all kinds of things and then, Stuffed Barbecue Flank Steak Roll Ups happened.
WHAT IS FLANK STEAK?
Flank Steak is a belly cut of beef. Typically, this cut of beef is pretty tough unless you treat it appropriately. So, the moral of that short story? Fix your flank steak just like this recipe.
CUT FLANK STEAK AGAINST THE GRAIN.
A few weeks ago one of the newsletter readers asked what it means to cut meat against the grain after that week's hot cooking tip about that very thing. In response to that question, here is a quick video so that you can see what that means.
Please disregard the very dark kitchen (this is why I can't do cooking videos in my own kitchen as you'll soon see in my YouTube Channel. lol).
HOW DOES STUFFED BARBECUE FLANK STEAK ROLL UPS TASTE?
Firstly, the Budweiser marinade is a wonderland of tasty goodness AND it comes in its own super nice zip top bag that makes the marinade so simple to use. All you have to do is to open the bag and put the meat inside, zip it shut and put it back in the fridge. What could be easier than that?
The taste? Awesome. You'll love it and it flavored this flank steak superbly!
WILL MY FAMILY AND GUESTS LIKE THIS DISH?
There is one answer to that question: Yes. This dish looks like heaven and tastes even better. When my three grown children and their spouses sat down to this meal, no one said a word for at least 10 minutes. They couldn't talk because their yappers were full!
Around here, that is a miracle. This is a very loud crowd when we are together.
The best part about this recipe? It is something new that we don't eat everyday, but the ingredients are familiar and no one has to wonder, "Am I going to like that thing?". The answer is a resounding, "YES!"
WHERE CAN I FIND THESE BARBECUE SAUCES AND MARINADES?
You can find some of these amazing sauces on Amazon and possibly in your local stores. The following is an affiliate link to Amazon so that you can click the picture you can go checkout some premium Budweiser Sauces! If you purchase through this link, I do receive a commission. Which, by the way, Thank You!!
TIPS AND TRICKS FOR STUFFED BARBECUE FLANK STEAK ROLL UPS
Make sure that your flank steak is completely flat before placing it into the marinade bag so that the marinade can completely cover the meat.

You will want to marinate the steak for at least 6 hours, but 24 hours is going to work the best.

It is a TRICK to roll the steak up with all of the stuffing in there because the stuffing wants to squirt out. Use your patience, roll slowly and roll the thing as tightly as you can without squishing everything out onto the counter.

No worries, save what does squirt out and we will put it on top of the steak rolls before we bake them.

Be careful pushing the skewers through the meat, it is a little tough and I don't want you jabbing your fingers.

When you sear the meat, get your pan good and hot, set the meat on there and leave it alone. If you touch it, you will think that it is sticking to the pan. In fact, it is. No worries, it will release as it sears. Give it the set amount of time to do its searing work.

Make sure to remove the skewer before serving the flank steaks
IF YOU ENJOYED THIS BARBECUE FLANK STEAK ROLL UP, YOU MIGHT ALSO ENJOY…..
Easy Steak and Cheese Sandwich
Homemade Chicken and Dumplings
Ultimate Southern Pimento Cheese
YOU CAN CHECK OUT BUDWEISER AT THE FOLLOWING PLACES:
Hey! Join the fun and check out Budweiser Sauces on Budweiser's social media channels and use the hashtags #BudweiserSauce, #BudweiserBBQSauce, #KingOfSauces when you recreate these dishes! It'll be fun and I'll be looking for your recipes!
YOU CAN CHECK OUT BUDWEISER HERE….
YA'LL HELP ME OUT NOW, YA HEAR?
Please leave me a 5 star 🌟🌟🌟🌟🌟 comment below in the comment section, all right? I would LOVE to know if you made this recipe or even if you are planning to! Of course, head on over to Pinterest, Facebook and Instagram and tag me with some photos of your creation!
I can't wait!
Ya'll know I love your comments!! ❤
THE RECIPE FOR BARBECUE FLANK STEAK ROLL UPS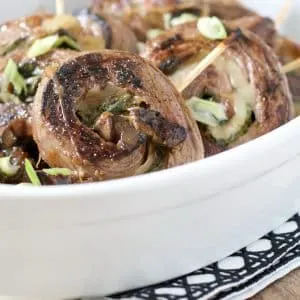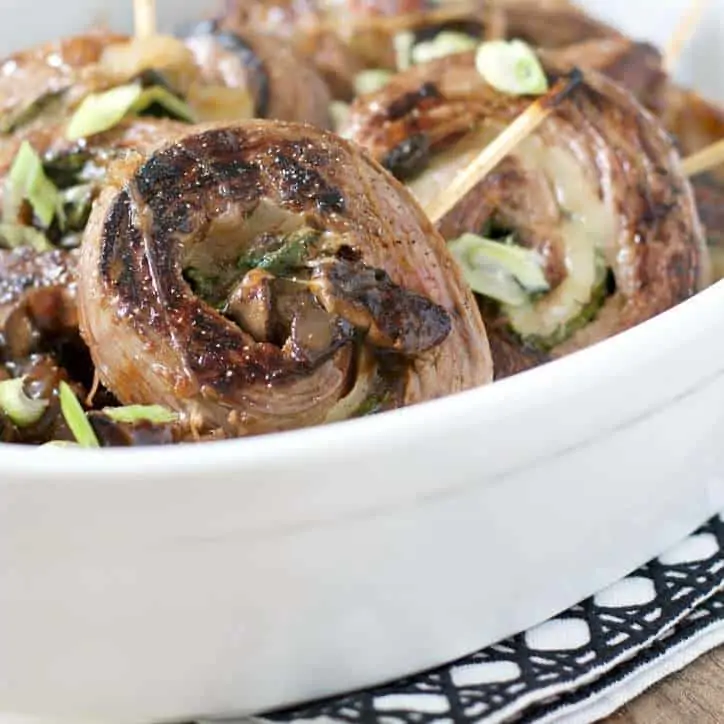 STUFFED BARBECUE FLANK STEAK ROLL UPS
This is a recipe using Budweiser Premium Barbecue Sauce for a delish change up in flank steak rolls
Print
Pin
Rate
Ingredients
2 - 3

lb

flank steak

1

Budweiser Sizzling Steakhouse Marinade

1

Tbs

vegetable oil

1

Vidalia Onion

chopped

4

cloves

garlic

minced

1 8

oz

package Baby bella mushrooms

chopped

½

Cup

Budweiser Barbecue Sauce

Sweet and Spicy

¾

tsp

kosher salt

½

tsp

ground black pepper

4

oz

baby spinach

8

slices

provolone

1

Tbs

bacon grease
Instructions
24 hours before you plan to serve the steak rolls, place the flank steak into the Budweiser Sizzling Steakhouse Marinade bag, seal and refrigerate.

1 hour before dinner, preheat the oven to 350

In a 9 inch skillet, heat 1 Tbs vegetable oil over medium heat and add the vidalia onion and garlic and heat until the onion is soft.

Add the baby bella mushrooms to the onion garlic mixture and continue to cook over medium heat until the mushrooms become soft and lose their water. Add the Budweiser Sweet and Spicy barbecue sauce and heat until it bubbles through and becomes thicker. Then, turn the heat off and remove the pan from the burner to cool.

Remove the flank steak from the marinade and salt and pepper both sides of the flank steak.

Use a meat pounder to pound out any part of the meat that is significantly thicker than the rest. Try for the most uniform thickness possible (plus it works out aggression to pound the heck out of that meat).

Spoon the mushroom mix across the surface of the flank steak and then lay the baby spinach on top of the mushroom mix. Place the provolone cheese even across the surface as well.

Starting at the small end of the steak, roll it up so that the grain runs horizontally. Roll the steak as tightly as you can and make sure that the cheese stays inside the roll up.

Place long skewers through the meat every 1 inch (these will become your cutting guides).

Using a very sharp knife cut through the steak between the skewers so that you have 1 inch disks. Reserve any of the mushroom and spinach that may squeeze out of your roll up.

Reheat the skillet again over medium heat using 1 Tbs bacon grease. When the oil is hot, brown the flank steak disks well on one side (about 2 minutes) and then the other side (about 1 minute) and place into a baking dish laying flat.

You know all the stuff that is on your cutting board where a bunch of the mushrooms and sauce stuff squeezed out of the roll up while you were rolling it? Spoon that delicious mess over the top of the roll ups before you bake them, there's no point in wasting that good stuff.

Bake at 350 for 10-15 minutes until the steaks are as done as you like.
Notes
Simple and delicious barbecue flank steak recipe
Nutrition
Nutrition Facts
STUFFED BARBECUE FLANK STEAK ROLL UPS
Amount Per Serving
Calories 280
* Percent Daily Values are based on a 2000 calorie diet.
A VERSE TO SHARE
2 Corinthians 5:7
We live by faith and not by sight.
Amen