***This recipe for Marinated Pork Chops originally appeared at Loaves and Dishes on April 28, 2015 and I have updated the post with NEW information on June 9, 2018***
Did you ever eat the BEST Pork Chop of your life and then decide that you needed to have another and try to make one at home? Me TOO! That is exactly what happened to me on Saturday night! That is why you are looking at Marinated Pork Chops on Loaves and Dishes on Tuesday!
Sometime about Tuesday of last week I told Mr Loaves and Dishes that I just KNEW that he wanted to take me out on a date on Saturday – to some place nice! Guess what? He didn't seemed surprised at all! (Ok, well, maybe a little).
We ended up going to River Birch Lodge and whoot whoot – and wow! Terrific food! I had the pork chop and oh man! So good! I totally recommend checking this place out the next time you are in Winston Salem, NC.
HOW LONG DO YOU KEEP MARINATED PORK CHOPS IN THE FRIDGE?
Here is the BEST NEWS OF ALL! The only thing required of you for these delicious pork chops is to put them in a plastic reseal-able bag with the tasty marinade at least 6 hours before you plan to eat them. The day before is fine too.
Put all the stuff in the bag.
Swish it around and plunk it in the fridge.
Then when you are ready to eat, simply get them out and grill them or frying pan them till done.
Easy and Delish. Your family will look at you with love and admiration!
Get outta here – they would do that anyway! But it never hurts to ply them with marinated pork chops too!
WHAT ARE THE BEST SEASONINGS FOR PORK CHOP MARINADE?
Like most things that you want to season, Pork Chops are best with a mixture of the following:
Salt
Acid
Heat
Sweet
Therefore, ,my recipe calls for mustard, cumin, cayenne, thyme, sugar, lemon juice and salt and pepper.  Simple.
HOW LONG SHOULD MARINATED PORK CHOPS COOK?
IF BAKING…
If you choose to bake your pork chops (and they are the typical thin cut 1/2 inch size) , preheat your oven to 350 and bake on a sheet pan for about 30 minutes.  Simply check at that point and see if they are still pink inside, if so, bake about 5 minutes longer and then allow to rest on the counter top with a piece of tin foil tented over the top for about 5-10 minutes.
WHEN PAN FRYING….
Fry your pork chops and they are the typical 1/2 inch cut thickness, you will want to fry over medium heat in a few tablespoons of oil on one side for about 5 minutes and then flip and fry on the other side for about 5 minutes.  Check for doneness and if pink, cook for a little longer.  Remove from the heat, allow to rest with a piece of tin foil tented over the top.
BY GRILLING….
Grill your pork chops over medium heat and if they are the typical 1/2 inch thickness, grill for about 8 minutes on one side and 3 minutes on the other.  Check for doneness and if no juices are clear and meat is cooked through, tent with aluminum foil and set on counter to rest.
IN A CROCK POT
Place crock pot on low and serve in 6-8 hours
UNDER PRESSURE IN A PRESSURE COOKER OR INSTANT POT
High pressure for 15 minutes and then allow to naturally release.
Serving suggestions for Marinated Pork Chops
I'll tell you what I served marinated pork chops with and you can make up your own mind.  I served them with some
a salad and some crusty bread.  YUM!  Way too many carbs and oh so so wonderful.
IF YOU ENJOYED MARINATED PORK CHOPS, YOU MIGHT ALSO ENJOY…
The Secret to Perfect Old Fashioned Pinto Beans
Southern Fried Potatoes and Onions
A VERSE TO SHARE
The LORD is with me; I will not be afraid. What can man do to me?  ~ Psalms 118:6
YA'LL HELP ME OUT…
Please leave me a 5 star 🌟🌟🌟🌟🌟  comment below in the comment section, all right? I would LOVE to know if you made this recipe or even if you are planning to! Of course, head on over to Pinterest, Facebook and Instagram and tag me with some photos of your creation!
I can't wait!
Ya'll know I love your comments!! ❤
THE RECIPE FOR MARINATED PORK CHOPS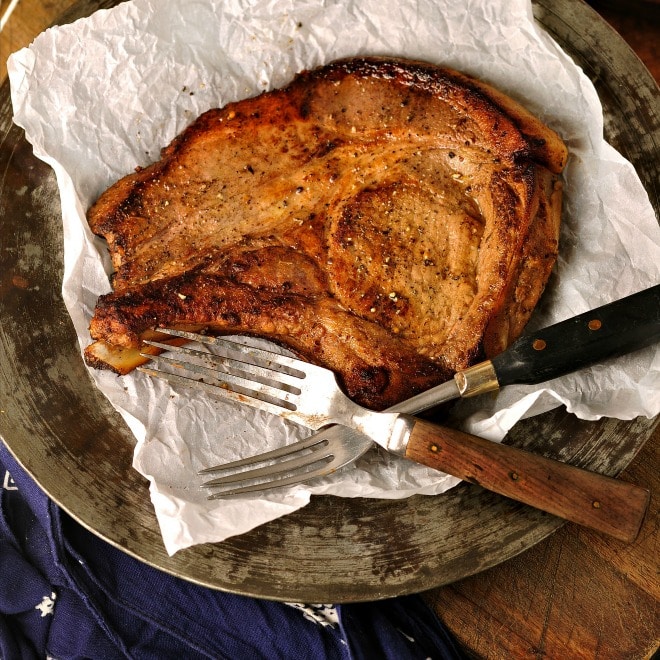 Marinated Pork Chops
Marinated Pork Chops - simple and delicious
Ingredients
¾

Cup

Vegetable Oil

you can use Olive oil – or any kind of oil you like – but I was running low on Olive Oil and this is what I had available.

1/3

Cup

Braggs Amino Acid

Use Soy Sauce if you don't have Braggs – but you should really get some Braggs – and they don't pay me to say that either.

1

Tbs

brown sugar

¼

Cup

Rice Vinegar

you can use regular white vinegar.

2

tbs

A1 Sauce

1

Tbs

lemon juice

1

tbs

of really good whole seed mustard

1

tsp

salt

1

tsp

pepper

1

tsp

dried thyme

1

tsp

cumin

¼

tsp

cayenne

4

bone in pork chops
Instructions
Put all ingredients in a re-sealable plastic bag. Seal well, swish the ingredients around and place in the fridge at least 6 hours before you plan to use

Remove from the fridge, remove the pork chops from the liquid and throw the liquid away. Do not use the marinade to baste the chops with during cooking – this could make someone sick. Grill or pan fry the chops. Yum!
Recipe Notes
A simple recipe for pork chop marinade