I have actually dreamed about this Four Cheese Pasta Bake. Yeah, I know. That little statement probably gives you some insight into stuff you might not really want to know about me and my slightly junky and cookbook filled brain. Unless you have plopped yourself down in a comfy restaurant booth after a long day when the weather is gray and rainy and your mental forecast looks just as dim and enjoyed a similar dish to this, you can't imagine the comfort and relief that comes with that first hot and creamy bite of Four Cheese Pasta Bake. Am I telling too much? Probably. I usually do. But, if you are like me, sometimes you need a dish that is promised to be hot in your belly and delicious on your tongue in ways that can't be compared to anything else! I hope you will hang with me here for a recipe that will send you to comfort food heaven.
It is time for the recipe express lane. If you want to know the tips and tricks for this recipe or if you want to talk more about the essence of comfort food, or if you want to know where I've been and why this is the first and only recipe this week, then please hang on with me through the recipe and a few pictures and we will chat. For you recipe seekers, Here you go….
THE RECIPE FOR FOUR CHEESE PASTA BAKE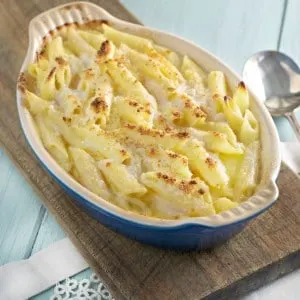 Four Cheese Pasta Bake
A delicious and creamy pasta that will fill all your desires for comfort food immediately!
Print
Pin
Rate
Ingredients
1

lb

of Penne Pasta cooked per box instructions

1

stick of unsalted sweet cream butter

1

clove

of garlic minced

1 8

oz

block of cream cheese - cut into one inch blocks

1

Cup

grated Parmesan Cheese

the real kind is best

½

Cup

grated Fontina Cheese

½

Cup

grated Gruyere Cheese

1

Cup

of cream

Salt and pepper to taste
Instructions
Preheat oven to Broil. Cook pasta per package instructions and only cook to the al-dente level. You want a little spring in your pasta.

In a medium sized sauce pot on top of the stove over medium heat, melt the one stick of butter. Allow the garlic to be in the sauce pan while the butter melts. When the butter starts to bubble a little - allow it to bubble for a minute before adding any other ingredients. Once the butter has bubbled for a minute, you may add all of the other cheeses and the cream all at once. Stir frequently until all of the cheese melts. It will take a while for the cream cheese to melt - just be patient, it will get there. Stir often so that cheese do not burn or stick to the bottom of the pan. The melted cheese should be the consistency of a thick egg nog. If you are finding that it is too thick, add a little more cream or you can substitute milk.

By the time the cheeses are melted well, the pasta should be done. Drain the pasta and take the cheese off of the burner. Place single servings of the pasta into individual sized baking dishes or into large ramekins. Pour the sauce over the noodles so that each dish receives an equal amount of cheese. Use a fork and move the noodles around to ensure that the sauce coats all of the noodles. Sprinkle Parmesan over the top and place in the oven under broil. Allow to broil for a minute or two until the top becomes slightly brown and bubbly. Remove from the oven and serve immediately with a crusty italian style garlic bread and a fresh green salad. You may garnish with green onion or parsley.
Notes
Choose the best cheese you can for this recipe because it makes for the most intense flavor.
Browning the top is important as this ads a tiny crunchy and a delicious flavor.
Nutrition
Nutrition Facts
Four Cheese Pasta Bake
Amount Per Serving
Calories 330
* Percent Daily Values are based on a 2000 calorie diet.
Tips and Tricks for FOUR CHEESE PASTA BAKE
It takes some time for cream cheese to melt – so, don't get your panties in a wad over it. Just know – it takes time. You can soften it in the microwave first if you want – that usually helps. You can help it along by mashing it some with a wooden spoon as it heats in the pan – that usually helps too. Sometimes it is still a little lumpy and a firm whisking can help – takes out your aggressions anyway.

You will want the sauce to be slightly thinner than what you think it should be before putting it in the oven – the oven thickens it a tiny bit.

Serve this dish PIPING HOT – as in crackling and sizzling. It is good as a left over but nothing beats it hot out of the oven. Especially if you have had a bad day.
RECIPE INSPIRATION FOR FOUR CHEESE PASTA BAKE
This recipe is inspired by the Four Cheese Formagi that is served up piping hot at my local Piccolo Milano's restaurant in Walnut Cove, NC. Seriously, if you have a chance, try it out. YUM! Hands down, favorite dish there! But – I can't always go to Piccolo Milano's and thus, I had to figure out my own recipe! This is as close as I could get.
WHY IS FOUR CHEESE PASTA BAKE THE FIRST RECIPE ALL WEEK?
I don't even want to tell you this. Some stuff came up this week that got in the way of the blog. I beg your eternal mercies and goodness! I know I mentionedl that I was going last weekend to see my near life long girlfriends! I did and we talked and ate and talked and ate and then we did a little shopping and then we talked and ate some MORE! I was delighted to share THIS recipe with my friends when Heidi and I cooked on Saturday night for the crowd.
Here is a picture that my friend Laura took of us with her "selfie stick". Anyway, you will remember Laura from THIS POST. (PHOTO CREDIT – LAURA B LYNCH!)
Then, on Monday it was my precious and valued day off ( I am so lucky to be able to keep my beloved grandbaby on my Monday off). Instead of cooking up a few things for the blog and taking pictures of food while I watch the baby, I took pictures of the baby himself!!! Don't you love tiny hands and feet?? So precious!
My normal work day routine is to jump up out of the bed drag myself from under the covers WAY early in the morning and cook and write. My sweet hubby laughs when he gets up at 5:30 and I already have three things coming out of the oven and the photo studio is burning bright. He says that the light is so bright that it looks like a space shuttle is taking off in there. This week though, I just couldn't get up at 4 am. I ran out of gas.
Then, on Wednesday, we TREKKED more than 2 hours from home in search of a Craigslist deal. And WOW! I got a great deal! I can't wait to show you the results of that deal! I went looking for a new lens for my camera and ended up with a new lens AND a new camera! So excited!
Hopefully, we will all be enjoying those photos in coming posts. I do have to admit though, in researching the camera, I am now drooling over the Nikon D4s or the new flagship D5. Maybe one day.
For now though, we will just enjoy our Four Cheese Pasta which soothes the ragged soul – not kidding. One bite, soul soothed. For me anyway. How about you? Is there a food out there like that for you? I know my sweet hubby feels that way about the Chocolate Pie – you can find that recipe HERE. My youngest daughter feels that way about anything with White Sauce on it – you can find that recipe HERE. Tell me all about your comfort food, I want to know!!! Chat me up in the comment section – you can find that down on the bottom of the page here and we can swap stories of ragged days. Lol. Thanks for reading!