I am in a silly mood today – and that goes great with Garlic Bacon Bok Choy, because I mean, just say the word "Garlic Bacon Bok Choy". Doesn't that make you laugh a little? If not, maybe you should have the week I've had – everything gets funny when you are tired. What isn't funny is the taste of this dish. Garlic Bacon Bok Choy heaven!
I know, recipe seekers, you are here for the recipe, just scroll another click or two – but I have something to share first, my charge to my Bok Choy Recruits…..
Wendi says to the Bok Choy, "Now, Bok Choy, here you are getting your marching orders for the day. You have a job recruits, get in that pan and be your beautiful natural selves! I am not going to do much to you because you are perfect as you are! Now, I command you, go make people happy! And here is a Haiku to help you…."
Delicious Bok Choy
Garlic Bacon Spark the Pan
You Get In My Mouth!
~from Wendi
You might also enjoy Vegetarian Buffalo Sliders and How To Cook Bacon in the Oven on a Rack! Garlic Ginger Paste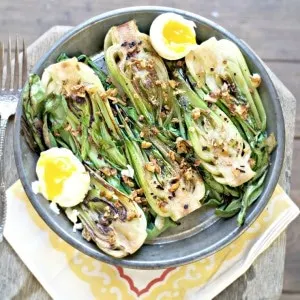 Garlic Bacon Bok Choy
If you enjoy this recipe, please check out my other ones at www.loavesanddishes.net
Print
Pin
Rate
Ingredients
2

strips bacon - cooked crispy and chopped

2

lbs

Bok Choy

2

Tbs

vegetable Oil

4

clove

garlic - minced

1

tsp

fresh ginger - grated

¼

tsp

crushed red pepper

2

Tbs

soy sauce

½

tsp

sesame Oil

salt to taste
Instructions
Cook your bacon and set it aside. Heat 2 tbs vegetable oil in a skillet over medium high heat on the stove top. While that is heating prepare your Bok Choy (I like simply cutting it in half after washing it well - but you may want to peel the individual leaves off and cook them that way - either way is fine). As the oil heats, add the garlic and fresh ginger to the pan and allow it to cook for about a minute and then add the bok choy. Cook the bok choy for about 1-2 minutes per side until it starts to wilt. Add the red peppers (I used chipotle pepper, but red peppers is fine). Stir a couple more times and remove from the heat.

Plate the bok choy and dress with the soy sauce and sesame oil. Sprinkle the cooked garlic pieces over the top. Crumble the bacon you cooked earlier and sprinkle over the top.
Notes
Keep in mind that this recipe works for baby bok choy the best. Large adult bok choy is BIG and won't fit in the pan as easily.
Nutrition
Nutrition Facts
Garlic Bacon Bok Choy
Amount Per Serving
Calories 150
* Percent Daily Values are based on a 2000 calorie diet.
TIPS AND TRICKS FOR GARLIC BACON BOK CHOY
This is such a simple recipe that there really aren't many tricks or tips – just make sure that you have all of your ingredients ready before you start because this goes fast and your actual cooking time will be something like 5 minutes or less.

If you have never tried Bok Choy it is a Chinese Cabbage and has a light and lovely flavor. The addition of the garlic, ginger and the sesame oil – YUM! And you know, everything is better with bacon! If you are vegan or vegetarian – you can just leave the bacon off.

I like my Bok Choy a little more crunchy – you might like yours wilted a little more – you can always add a tbs of water and put a lid on your pan for about 30 secs and that will steam it to a softer consistency.

Salt – let me just say salt. Salt is a magic ingredient. If you think that your Bok Choy is a little bitter – just add salt and the bitterness goes away like magic.
OK Dear Friend. I'm heading out the door to spend the weekend with my college girlfriends for our annual Girls Weekend. I can't wait. Maybe next week I'll have some fun pictures to share. I hope that you have a wonderful weekend too. What are your plans?
God will meet all your needs ~ Phillipians 4:9