This post sponsored by Bird's Eye.
Have you ever thought about this? My oldest child (almost 28) loved to be rocked until he was about 3 or 4 years old. At some point, I have no idea when, he didn't ask to be rocked any more. There was a "very last time". One day, he asked to be rocked and then I never rocked him again. I didn't even know it was the last time. I didn't get to celebrate his growing in this way. I didn't have the opportunity to mourn the passing of our rocking time together. It simply passed into "what was" without any fanfare whatsoever. Sometimes I think I would like to do it again, just one more time. Do you know what happens when the mother of a 28 year old electrician tries to wrestle her son into being rocked??? Lol. Me either. I'm pretty sure he would just look at me and say, "MOM!?!" and laugh, wonder how many of my screws were loose and suggest to my husband that I make an appointment with the doctor. Vegetarian Buffalo Sliders and some musings on "the last time" and Birds Eye Flavor Full follow if you just click on through.
This post is sponsored by Birds Eye Flavor Full, however, the opinions, story, recipe – all good and bad – are my very own opinion. You only have me to blame. You haven't known me to be politically correct yet, have you?
Anyway, I've been trying to pay attention and notice when those "last times" are getting close (after three kids who span over ten years, you learn these things). I am trying to appreciate the way my life is NOW, knowing it will change again sooner than I really want it to. I can imagine, you are thinking, "what in the world does that have to do with cooking?" I came here to read about Vegetarian Buffalo Sliders not about musings on an empty nest. I promise, I'm getting there. Hang with me, OK?
Well, here's the thing, I still have one more teenager at home. Because of things that have happened ( I won't go into here), she isn't driving on her own yet – not for another month. So, as mom, I get to take her all kinds of places. I actually enjoy it. When my son and other daughter were younger, I didn't enjoy this stuff as much. I had a lot to do, you know, things in my own life that I needed to finish rather than carting them all over the world. It was kind of an imposition. Now, however, as an older mama, I have realized, this part is over way too soon. Enjoy it. There will be time to do my own stuff later. THIS is what is important.
Which brings me to where we are now. Youngest daughter is in theatre and she is playing this weekend in Arthur Miller's, "The Crucible" as Mary. She, her friends and their lovely theatre teacher, Christina Holland have practiced relentlessly for weeks and we are down to THE FINAL few days before the show. Ms. Holland is having the kids stay pretty late this week and practice. Because I can not bare to think about hungry kids, (I am a mama, after all). I offered to fix dinner for everyone for these long practice nights.
What I didn't know when I volunteered was how many kids are VEGETARIANS!!! I had already planned a menu and purchased the food (mostly meat based) when I found out that about half of the kids wouldn't eat what I planned to prepare. What to do? Improvise, is what you do! (Just like theatre! – See! Cooking IS an ART! I am an artist and SO ARE YOU!!)
When you are feeding 25 kids for 5 nights, the easier, the better. I need foods that can be prepared ahead and kept warm in crockpots so that I can run out the door when my day shift is over. I had already planned for "Buffalo Chicken Sliders" with "fixins" that included some new FANTASTIC Birdseye Flavor Full Broccoli and Cauliflower. Now, I needed an alternative to "Chicken" for the Vegetarian version. I have to say, it turned out pretty good.
RECIPE INSPIRATION FOR VEGETARIAN BUFFALO SLIDERS
I am pretty sure that I told ya'll already, I was a lacto-ovo vegetarian (dairy and eggs) long before it was popular. In fact, that is how I got the recipe for Tennessee Onions. Anyway, back then I quickly learned how to create recipes out of beans and tofu. Cause, you know,….. protein.
DID THE KIDS EAT THE BIRDSEYE FLAVOR FULL BROCCOLI AND CAULIFLOWER?
You bet they did! I really do have to admit, having the Birdseye Flavor Full veggies made things SO MUCH EASIER AND AFFORDABLE! First, I bought 5 packages at my local grocery for $10 (tax and all). Can you believe that? What a deal! I was able to heat all of those packages and put them in a warm crockpot in less than 30 minutes and had a hot veggie to serve as a side to my Vegetarian and Regular Buffalo Sliders.
Guess what else? THE KIDS ATE THEM! Kids WILL eat their veggies!!! A whole cast of theatre kids did! I bet your kids will to. And,…. I mixed the broccoli and cauliflower together – because I thought, "Ranch goes with Buffalo" and guess what? It DID! They LOVED it!
Vegetarian Buffalo Sliders and some musings on "the last time" and Birds Eye Flavor Full
I was proud to be able to serve veggies with their dinner and Birdseye made that so convenient with their unexpected flavors.
So, anyway, I said all of that to say this… my youngest will have one more year of high school. Then, there won't be any more high school plays. There won't be any more late practices that require me to be running back and forth to the school. I've learned from my older two, that having my house full of teenagers is a blessing. All too soon they will be off on their own – and my life will be changing again. So, I'm appreciating THIS season and savoring each little part. I'm not sure when it will be the last time that I have the chance to feed a full play cast for a week. This could be it!? At any rate, if it is, I'll know that the kids liked what they ate and that it wasn't too hard for me to prepare any of it – especially with microwavable veggies from the Birdseye Flavor Full series. Thanks Birdseye!
Do your kids eat their veggies? What do you do to encourage them to do so? Is it a struggle? I can remember trying to force the kids to eat – that never worked to well and it made dinner time horrible. No one likes that. See the comments section? Way on down there at the bottom of the post? Leave me a comment and let me know what you did! I'll pass along the info!
If you have any questions about any of the recipes on my site, please leave a comment and I will respond as quickly as humanly possible. These comments go directly to my cell phone and I will answer right away!
I pray that you will be safe and well till we meet again. Thanks for visiting!
Give thanks in all circumstances, for this is God's will for you in Christ Jesus. ~Thesselonians 5:18
HERE ARE PHOTOS OF KIDS WHO EAT THEIR VEGGIES!
PROCESS PHOTOS FOR VEGETARIAN BUFFALO SLIDERS
THE RECIPE for Vegetarian Buffalo Sliders and some musings on "the last time" and Birds Eye Flavor Full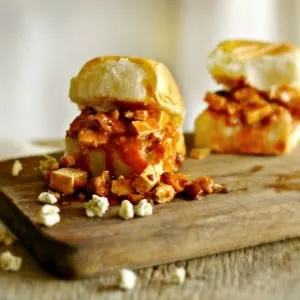 Vegetarian Buffalo Sliders and some musings on "the last time" and Birds Eye Flavor Full
This dish certainly draws a crowd, no need to worry about that. Spunky, tangy and the perfect buffalo taste for your vegetarian crowd.
Print
Pin
Rate
Ingredients
1

lbs

extra firm Tofu – cut into small cubes

1

head of cauliflower – roasted

directions below

2

tbs

vegetable oil

per baking sheet

Salt and pepper to taste

½

bottle Franks wing Sauce

½

stick unsalted butter

4 TBS

1

can of red kidney beans

Blue Cheese for Garnish
Instructions
to Roast a head of cauliflower – preheat oven to 350. Cut cauliflower into florets and then slice the florets into ¼ inch thick slices. Pieces will break off – that is ok.

Place cauliflower on a large rimmed baking sheet – do not allow pieces to touch – depending on the size of the head of cauliflower – may require two baking sheets.

pour the 2 tbs of vegetable oil over the cauliflower. Sprinkle with salt and pepper. With your hands mix the oil and cauliflower very well.

Bake in the oven for 20 minutes until cauliflower has some crusty edges.

In a large sauce pot over medium heat on the stove top, mix the Tofu, Franks Wing Sauce, butter and kidney beans together and heat until butter is melted. Add the Cauliflower when it comes out of the oven. When the sauce is bubbly, serve over small buns and top with blue cheese.
Notes
Make sure to choose the correct tofu, or it can just turn to mush and that's not a good look for any slider.
Nutrition
Nutrition Facts
Vegetarian Buffalo Sliders and some musings on "the last time" and Birds Eye Flavor Full
Amount Per Serving
Calories 220
* Percent Daily Values are based on a 2000 calorie diet.
HERE IS A FUN GAME: DO YOU SEE MY CAT PROBLEM IN THIS PICTURE? LOL