Free, tasty, easy to keep, flavorful and always ready to use, bacon grease is the perfect accompaniment for a cook's kitchen. I'll show you how to save bacon grease and you'll be so glad I did!
Bacon grease works in so many recipes! It's great for cooking eggs, vegetables and it makes a grilled cheese sandwich perfectly! Once you see how easy it is to save bacon grease, you'll be addicted!

WHY THIS RECIPE WORKS
Makes use of ALL of that expensive bacon
Adds flavor to so many dishes!

Is an easy way to be resourceful!
Let's move on with your questions….
WHY SAVE BACON GREASE?
Bacon is expensive and bacon fat is a terrific oil to cook all kinds of things in. So why not make use of the free oil that the bacon gives?
IS IT GOOD TO SAVE BACON GREASE?
Yes, it is very good to save bacon grease! Bacon used to be a cheap breakfast meat but these days, the thicker meatier cuts can cost as much as a good cut of steak per pound!
Saving the bacon grease saves you money and makes use of ALL of that expensive bacon.
WHAT DO YOU SAVE BACON GREASE IN?
In my kitchen, I use these jelly jars. I like them because…
The lids fit tightly

I only put a small amount in so that I am sure to use it up before it goes bad.

They wash up easily and I can reuse for all kinds of things
You can click the photo of the jelly jar to go straight through to Amazon. I am an amazon affiliate and if you choose to purchase, I will receive a commission (so THANK YOU!). The commission does not affect your purchase price and it helps continue to fund this website.
Of course, you can always just get a specialized jar for this, already has a strainer in it!
WHERE DO I KEEP MY BACON GREASE?
Once you pour the bacon grease off into the jelly jar, simply put the lid on it and put it in the refrigerator.
HOW TO USE BACON GREASE FOR COOKING
We keep our bacon grease in a jelly jar in the refrigerator and then when ready to use, simply dip out with a teaspoon to use.
Bacon grease kept in the refrigerator stays soft and is easy to dip out.
DOES BACON GREASE GO BAD?
Yes, bacon grease can go bad (rancid). This is more likely if there are pieces of bacon in the grease so be as careful as you can with straining your bacon grease.
HOW LONG IS BACON GREASE GOOD FOR?
Make sure to remove pieces of bacon and then keep covered and refrigerated, bacon grease will be good for about 6 months.
CAN YOU FREEZE BACON GREASE?
Yes, you can freeze bacon grease and it will be good for about a year.
WHAT RECIPES CAN I USE BACON GREASE IN?
I fully recommend adding bacon grease instead of butter to many canned vegetables. It adds a ton of flavor.
Try it in…
How to Cook Canned Corn on the Stove
How to Cook Canned Green Beans
Slow Cooker Green Beans and Bacon
If you enjoy this Bacon Recipe, you might also enjoy….
How To Cook Bacon on a Rack in the Oven
Slow Cooker Green Beans and Bacon
HERE'S HOW TO GET A LOT OF BACON GREASE AT ONCE!
Check out this post on how to cook bacon in the oven on a rack! That makes a lot of bacon grease at once. Be careful. Grease is HOT!
LET'S SEE HOW THIS IS DONE.
First cook your bacon. You will be left with grease and bits of bacon. Find something to put the grease in.
Gently pour the bacon grease into your container being careful not to get the bits of bacon into your jar (or as little as possible) because these will go bad first and can cause your grease to become rancid.
Put the lid on the jar and place it in the refrigerator.
YA'LL BE SWEET AND HELP ME OUT, OK?
Leave me a 5 STAR 🌟🌟🌟🌟🌟 Comment below. If you made this recipe, I would love for you to share it with me on social media or just email me at wendi(at sign)loavesanddishes.net. Reader comments are the best. I answer right back!
Ya'll MAKE MY DAY when you leave me a comment 🌟🌟🌟🌟🌟 or send me an email!
Join me on social media by clicking the links at the top of the page!
THE RECIPE FOR HOW TO SAVE BACON GREASE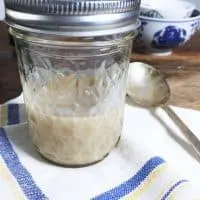 How to Save Bacon Grease
This recipe gives you complete instructions on the proper way to save and store bacon grease.
Print
Pin
Rate
Instructions
Cook bacon to desired crispiness in a skillet over medium heat on the stovetop

Allow the grease to cool but not to become fully hard.

Gently pour the grease out of the pan being careful not to include bits of bacon.

Wipe off the outside of the jar if any spilled down the edges

Place jar in the refrigerator
Notes
Use a fine mesh kitchen strainer to pour the grease through if you don't think you can pour it without getting pieces of bacon into the container
If the grease has become thick, you can reheat on the stove top OR scoop out with a spoon and put in your grease container.
Use the bacon grease within 6 months if keeping in the refrigerator.
Nutrition
Nutrition Facts
How to Save Bacon Grease
Amount Per Serving
Calories 130
* Percent Daily Values are based on a 2000 calorie diet.