Ever needed to know how many cups in a Can of Canned Beef Broth so that you can make your recipe? Here's the info and a lot more great information you might need about broth too!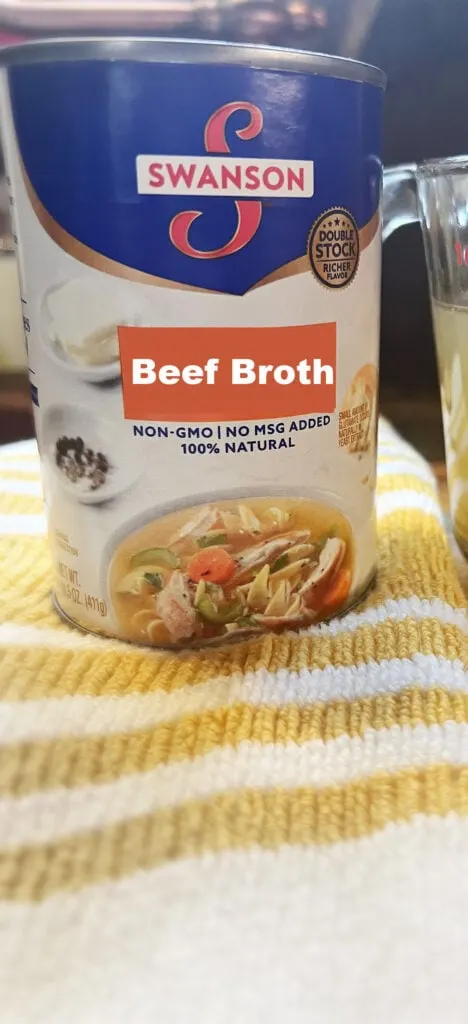 How Many Cups Are In a Can of Broth
There are about 2 cups of broth in a single 14.5 fluid ounces in a can of beef stock. Of course, the size of the can makes a difference, so make sure you have the 14.5 ounce size! It's the same number of cups of beef broth in that can too.
What is Broth
There are about 2 cups of broth in a single 14.5 fluid ounces in a can of beef stock. Of course, the size of the can makes a difference, so make sure you have the 14.5 ounce size! It's the same number of cups of beef broth in that can too.
Broth is a caramel color liquid made by a simple recipe of slowly simmering a mixture of meat, vegetables and bones (usually including bones and other connective tissue) in water. This creates a stock or broth like you would buy at the grocery stores.
Stock (or Broth) can be considered quite good for you with a daily value of amino acids providing nutrient rich fluid. Lots of folks talk about benefits for joint health and what a benefit for weight loss effort but we only discuss those things under the advice of a physician, right?
You may have heard of the recent excitement surrounding beef bone broth although, I'm not giving any general nutrition advice on this website. Folks are loving simmering this up in their slow cooker! It usually involves marrow bones (the larger bones with marrow in the center), vegetables and sometimes the meat on the bones.
Stock or Broth is used in any number of serving of food and recipes! It's so versatile and has a richer mouthfeel than water in recipes, you'll be tickled to learn how to use it!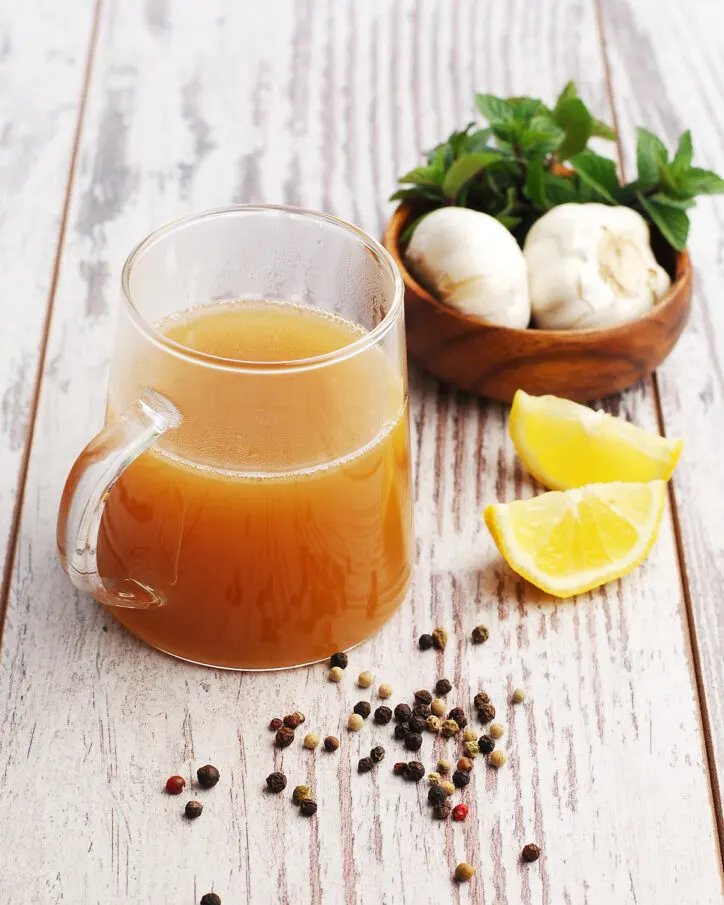 What is the Difference Between Stock and Broth
Technically, stock is made from bones and broth is made from the meat. That said, in this article, I typically use them interchangeably for discussion purposes.
How Do I Use Broth
Broth and stock are an easy a kitchen staple (and you can preserving chicken stock easily too) and make excellent substitutes in some of your favorite recipes! You'll find that most savory recipes using water will turn into DELICIOUS RECIPES by substituting broth (particularly homemade broth) for the water.
As an example, use broth instead of water to make rice! Use broth instead of water in soups! You can even substitute broth for the water in recipes like hamburger helper and taco packet tacos!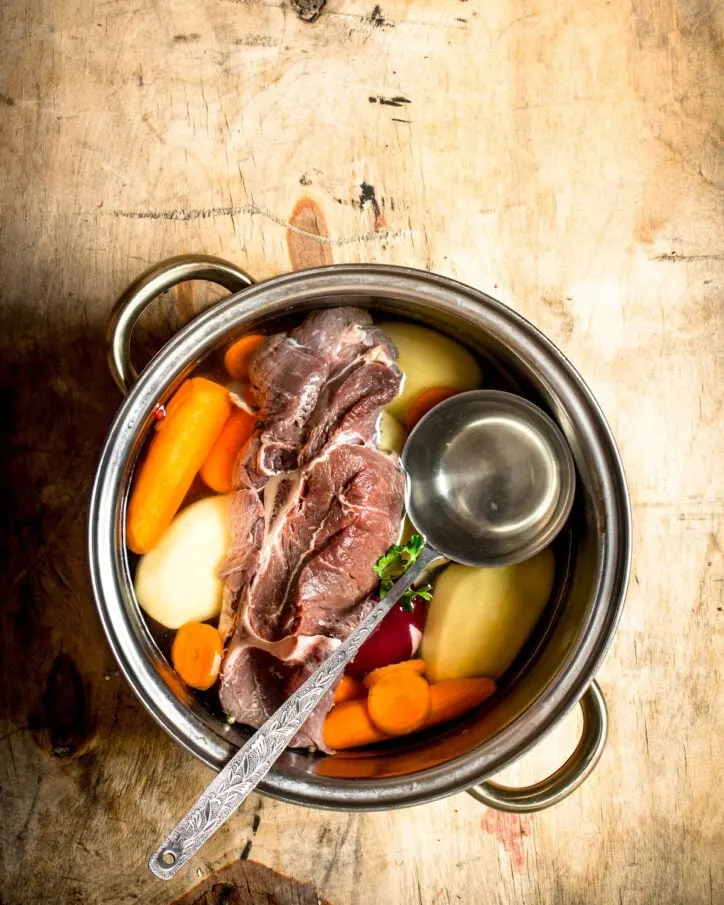 How to Make Homemade Beef Broth
Homemade Beef stock is made similarly to chicken and vegetable stock. In a large stock pot, simmer beef meat and bones with aromatic vegetables and spices and herbs (like black pepper and sea salt) in cold water. For beef bone broth, you'll often find the recipe includes roasting meaty bones with bone marrow in a roasting pan first before adding to the vegetable stock.
An easy beef stock recipe using short ribs or grass-fed beef bones with those collagen-rich bones will deliver a dark brown unctuous cup of broth with delicious natural flavor and exceptional nutritional values!
How to Use Leftover Broth
If you have leftover broth you can use it in recipes like you would use a can of beef broth. You can Freeze the leftovers in zip style plastic bags or in ice cube trays.
How long does a homemade stock last in the fridge
beef broth, like any kind of stock will keep in an airtight container in the fridge for about 5 days once opened.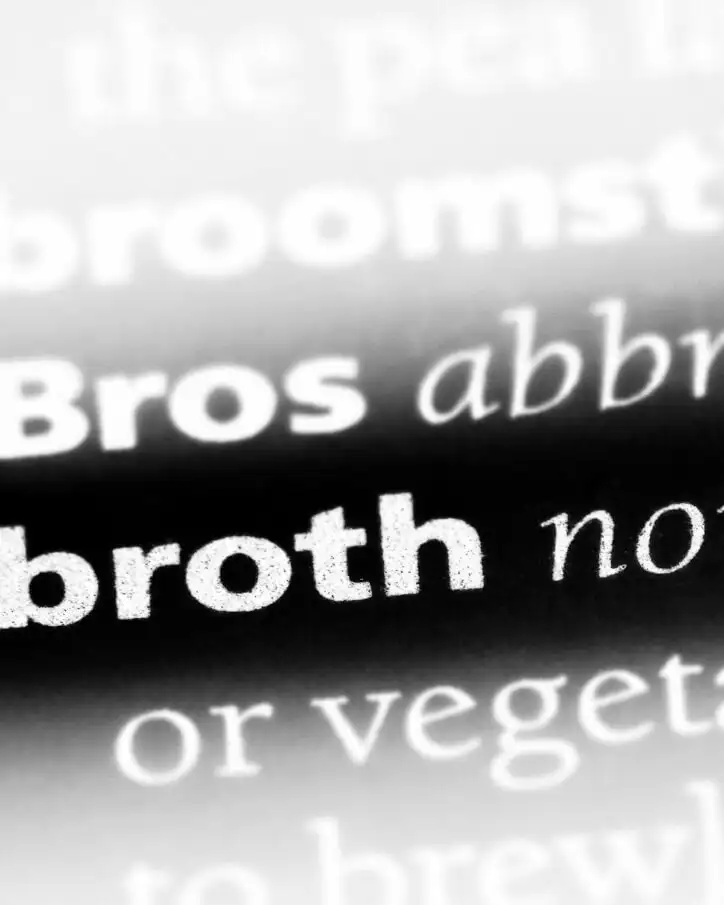 Can I Freeze Broth
Yes! You can freeze broth! Simply put in a freezer safe container (like a zip top bag), remove as much air as possible before closing and then freeze for up to 6 months!
Frequently Asked Questions (FAQ's)
How Long Does Broth Last?
Broth will last in the fridge in an airtight container for 5 days.
Is Bone Broth Different Than Stock?
Yes, they are different in how they are made but the flavor isn't appreciably different.
What Can I Use As a Substitute for Broth
If you don't have any broth and can't make some quickly, you can certainly use beef bouillon cubes, chicken bouillon or a vegetable broth (you can quickly make this with some carrots, celery and onion powder).
My favorite broth substitute, however, is Better than Bouillon Concentrate. It's easy to use, comes in a LOT of flavors and gives a tone of rich flavors to any savory dish you are making. Simply add a small spoonful to your dish and stir with a slotted spoon to mix in well.
How to Use Broth in Recipes
The good news is that broth can easily be added to many recipes that call for water or for you to cook something in water. You'll notice that rice cooked in a cup of beef broth has magnificent flavor!
Watch Me Make Bone Broth
Beef Broth Recipe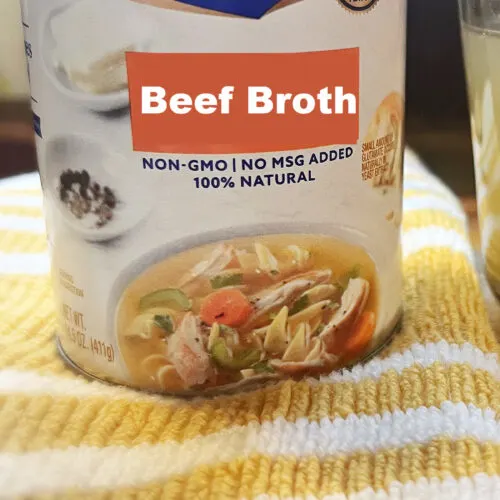 Homemade Beef Broth
This is a quick inexpensive recipe for some homemade chicken broth that you can make using leftover pieces of chicken and veggies to enrich your savory dish or to add to a soup!
Print
Pin
Rate
Ingredients
4

Cups

water

1

carrot

chopped

1

onion

chopped

2

stalks

celery

chopped

1/2

pound

Beef Bones with Meat

1/2

tsp

salt
Instructions
In a saucepan add all of the ingredients over medium low heat. Bring to a simmer and reduce heat to low.

Simmer for an hour or two. Don't stir. If the water level decreases gently add enough water to bring it back to the level you had before. You shouldn't lose much if you are simmering.

Use a ladle to dip the broth from the top being careful not to disturb the meat or the veggies. This will result in the clearest possible broth. If you don't mind a cloudy broth, then it won't hurt to disturb the veggies and meat. Once you have removed as much of the liquid as possible, you can throw out the remaining veggies and meat.

Allow the broth to sit until room temperature. You may find that fat accumulates on the top. As it hardens you can scoop it out and set aside for a different use at a different time or throw it out.
Notes
This is a very basic recipe for beef broth and there are many ways to have variations.
If you don't like the veggies used or want to use a different veggie, that is perfectly acceptable. That will yield different flavors which is also ok. You could add anything from garlic to bay leaves to peppers to virtually any vegetable.
Feel free to add other spices, again, I only added salt to keep this the most basic recipe possible. I've had friends who add nutmeg, cloves and other flavorings. Perfectly fine.
I also know someone who only uses meat and salt. No other additions at all. That too is acceptable although less flavorful.
Here's are some ways to have broth on hand at a moments notice. Keep a gallon size zip top bag in the front of your freezer. Whenever you have a celery top or a carrot end or an onion top or (you are getting the idea, right?), Throw it in the bag. How about you took some meat off of a beef bone and now that is left over? Throw those in the bag with the veggies. Then on a day when you will be home for a couple of hours, throw those in a sauce pan together, cover with water, add some salt and let it simmer. Instant tasty homemade broth! You didn't spend a penny for it and its about 1000% better than store-bought, I promise!
PRO TIP – Want to have some seriously good broth, very easily? Add in a tsp of Better than Bouillon, it's terrific, adds a ton of flavor and always comes out perfectly! It is a bit salty, so don't add salt until you taste.
Nutrition
Nutrition Facts
Homemade Beef Broth
Amount Per Serving (1 cup)
Calories 79
Calories from Fat 36
% Daily Value*
Fat 4g6%
Cholesterol 20mg7%
Sodium 349mg15%
Potassium 192mg5%
Carbohydrates 5g2%
Protein 6g12%
Vitamin A 2676IU54%
Vitamin C 4mg5%
Calcium 30mg3%
Iron 0.4mg2%
* Percent Daily Values are based on a 2000 calorie diet.