SO! By this point I am going to assume that you have already made your own chicken stock and are ready for preserving chicken stock! If you haven't, then please proceed to my instructions for how to make an easy chicken stock. You can find those instructions right HERE.
Preserving chicken stock is EASY!
There are two main methods that I use. Number one is freezing. Just pour the chicken stock you have into labeled zippered plastic freezer bags and make sure it is sealed well. Then lay gently in a flat position in the freezer (so that it freezes flat and is easy to stack). Allow to freeze. Thaw and use when needed. You can also freeze some in ice cube trays so that you have small amounts of stock when needed as well. Just put your cubes in a zipper freezer bag and BAM they are ready to use!
The second method – and the method that I prefer is canning the stock. This does require a pressure canner, jars and some other equipment, but if you are a canner – you already know about those equipment needs.
In order to can chicken stock, simply follow these instructions (these instructions come for the Ball Blue Book of Canning: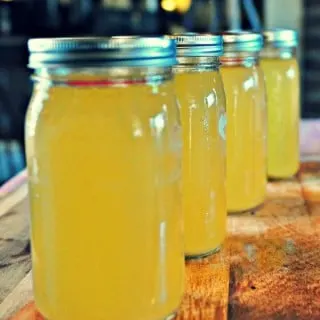 Preserving Chicken Stock
Follow these instructions in order to preserve Chicken stock by canning.
Print
Pin
Rate
Ingredients
Chicken stock as prepared HERE

or use your own recipe

Quart

or Pint sized canning jars

Lids

Rings
Instructions
Prepare the weighted – guage pressure canner, jars and lids for 30 minutes before the stock is ready.

Ladle the hot stock into hot jars leaving 1 inch of head space. Wipe the rim with a wet paper towel. Center the lid on the jar, screw the band on to finger tip tight.

Place the jars in the canner. Adjust the water level, lock the lid and bring to a boil over medium high heat. Vent the steam for 10 minutes. Close the vent. Continue heating to 10lbs of pressure. Process pint jars for 20 mins and quart jars for 25 mins.

Turn off the heat, let the pressure return to 0. Wait another 2 minutes then you may open the vent. Remove the canner lid. Wait for 10 minutes and then remove the jars, cool and store.
Notes
If you are not able to get the fat off of the top, it will appear as a gray skim over the top of the canned stock. It's nothing to worry about, it just doesn't look as nice but it won't hurt you.
Nutrition
Nutrition Facts
Preserving Chicken Stock
Amount Per Serving
Calories 100
* Percent Daily Values are based on a 2000 calorie diet.