To Make Delicious & hearty mashed potatoes, you have to know How To Boil Potatoes! Let me show you how, it's as easy as boiling water!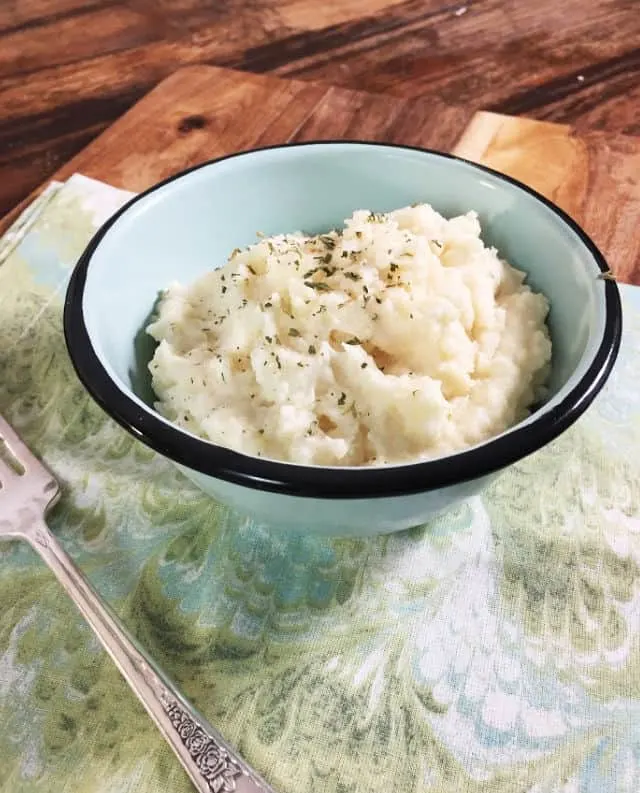 How to Boil Potatoes for Mashing
Want to know how to boil potatoes so that you will have fluffy delicious mashed potatoes? It's super easy! These mashed potatoes are hearty and filling and I will show you how to make them but first, let's boil those potatoes!
Here's What You'll Need: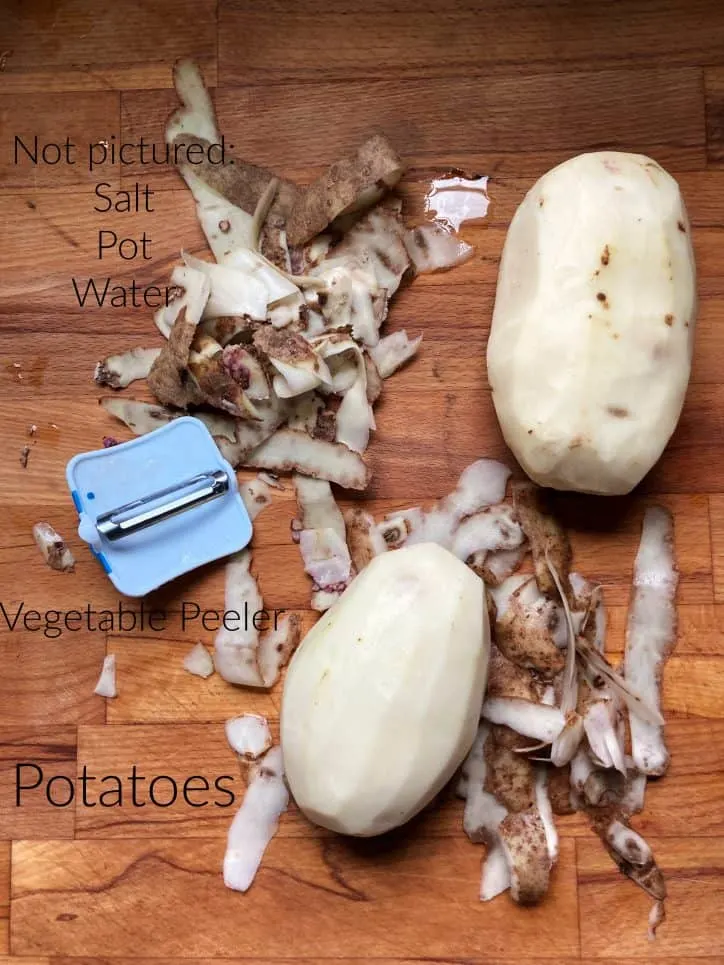 Potatoes – These are russet potatoes but you can use other kinds too, if you use red or yukon golds, you don't have to peel them!
Vegetable Peeler – Make sure it's sharp
Water – Tap water is fine.
Salt – I prefer kosher salt but any table salt is fine
A Pot – make sure that you use the right size for the amount of potatoes. The potatoes shouldn't be piled on one another.
It's Easier Than You Think!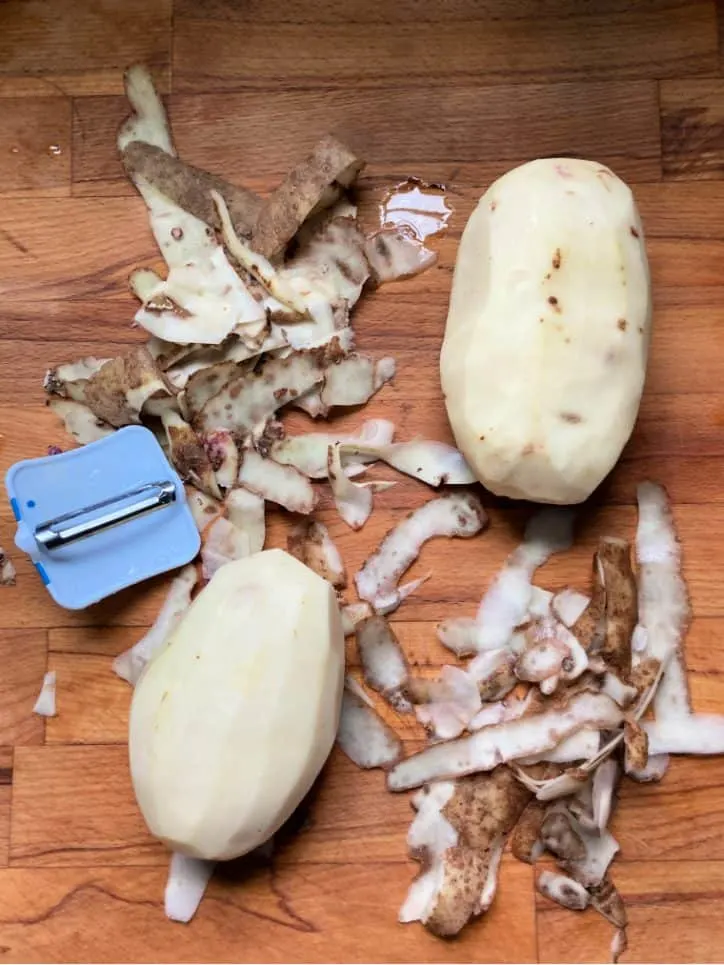 You'll LOVE how EASY this is and it SAVES money, and tastes great!
Here's an Overview of How To Make This!
Wash and peel your potatoes.
Cut the potatoes
Fill a pot with water
Add potatoes
Add Salt
Boil potatoes for 10-15 minutes
Drain the water
Mash the potatoes
Frequently Asked Questions (FAQ's)
How long does it take to boil potatoes?
It takes about 15-25 minutes depending on the type and size of the potatoes. Larger chunks of potatoes takes more time to cook than smaller ones.

Can you parboil potatoes for mashing?
Yes, you can parboil potatoes for mashed potatoes but I wouldn't recommend it because of the extra work that it would take. If you are wanting to make mashed potatoes ahead of time for a large group or event you can. All you need to do is make the ahead of time and then reheat them or keep them in a crockpot on low.
How do you prepare potatoes for boiling?

You should wash your potatoes first. This is important because potatoes are dirty. Then peel them if you want the peel off. Cut them into 1-2 inch cubes and boil them for 10-15 minutes.
Do you boil water before adding potatoes?
You can or you can add the potatoes before the water starts boiling. It's up to you and both ways will cook the potatoes the same. Make sure that you use cold water if you are adding the potatoes before the boiling starts. Starting with cold water will make the potatoes cook more evenly.
What kind of potatoes should I use?
There are several different kinds of potatoes that you can use.
Yukon Gold and Red potatoes have thinner skin and can be boiled and mashed with the skin on them.
Russet potatoes can be used for a delicious classic mashed potato. The skin on russets is thicker and you will want to peel most of it off before boiling.
I would not recommend baking potatoes or smaller varieties of potatoes for mashing.
Do not use sweet potatoes for this recipe. That would require different ingredients.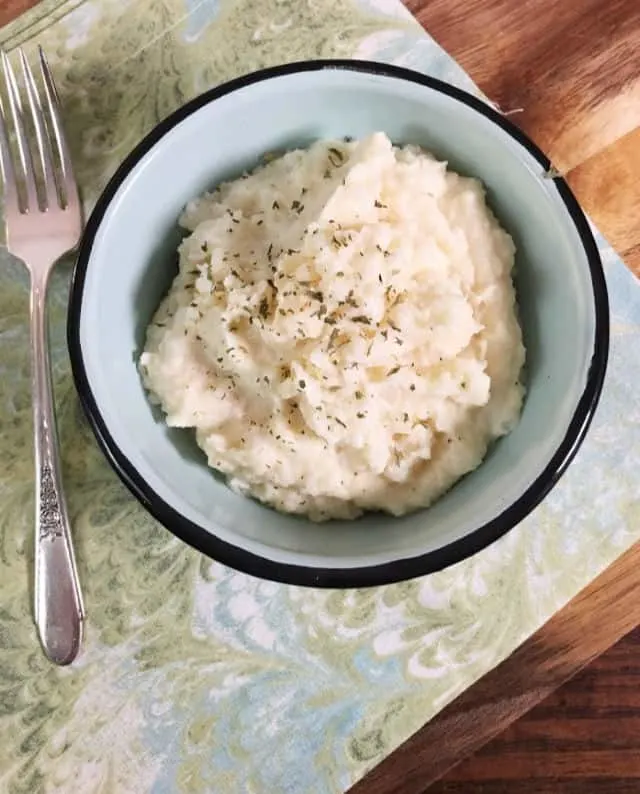 Tips and Tricks
Leave the skin on parts of the potatoes for a more rustic feel and extra fiber and nutrients.
Cut the potatoes evenly so that they cook evenly.
Add your potatoes to the water before they start boiling. This will eliminate possible burns and dealing with hot water.
Here's more than you ever wanted to know about potatoes.
PRO TIP: Make sure you have a good quality peeler! I use a finger peeler because it's easy on my hands and wrists! You wear it like a ring and it's much easier to use!
If You Enjoyed This Potato Recipe, You Might Also Enjoy…
Watch Me Make This Here..
Can You Help Me Out?
Please leave a 5 STAR COMMENT in the comment section below. This helps others to find the recipes at Loaves and Dishes!
I would LOVE to have you as a newsletter reader! Sign up for the newsletter and get HOT COOKING tips (not more than once per week) to your inbox!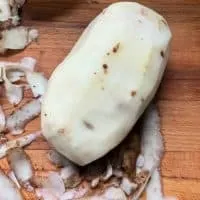 How to Boil Potatoes for Mashing
The recipe will teach you how to boil potatoes for mashing
Print
Pin
Rate
Ingredients
2

Russet Potatoes

fist size

1-3

tbsp

Salt

2-4

Cup

Water
Instructions
Wash and Peel your potatoes.

Cut your potatoes into even chunks. The smaller the chunk the less time they will take to cook and vice versa.

Fill your pot with enough water to cover the potatoes by 2 inches.

Transfer the potatoes to the water.

Place the pot on the stove and turn the stove to medium high heat.

Allow the potatoes to cook for 15-20 minutes. The potatoes are fully cooked when you can easily pass a fork through the potatoe.
Notes
Choose fresh potatoes. Fresh potatoes will not have wrinkles on the skin and the eyes will not be grown out.
Remove any bad spots from the potato when you cut it up.
Cut into the most even sized pieces possible to allow for even cooking.
The potato is done when you can easily pass a fork through the potato.
It takes a lot of salt in the water to season the potatoes.
Don't rinse your potatoes after removing them from the water, you want that starch on the potatoes.
If you are using yukon gold or red potatoes, you do not have to remove the skins as these skins are very thin and mash up easily but they will be visible in the end product.
Russets have a thicker skin and so you want to remove all of that before cooking.
The smaller size chunks that you cut your potatoes into, the quicker they will cook.
Wash your potatoes whether you plan to leave the skin on or not. Potatoes often arrive somewhat dirty to the store and you do not want that dirt in your mashed potatoes.
Nutrition
Nutrition Facts
How to Boil Potatoes for Mashing
Amount Per Serving (0.5 cup)
Calories 84
Calories from Fat 9
% Daily Value*
Fat 1g2%
Sodium 1755mg73%
Potassium 444mg13%
Carbohydrates 19g6%
Protein 2g4%
Vitamin C 6mg7%
Calcium 17mg2%
Iron 1mg6%
* Percent Daily Values are based on a 2000 calorie diet.
Did you ever look closely at the passages surrounding the last supper? You know the story and many of the words if you attend church during communion. However, look closely at the whole passage. Its very interesting.
Mark 14:24
"This is my blood of the covenant, which is poured out for many," he said to them.