Try these buttery, tasty and creamy mashed potatoes and you'll be surprised how quickly they whip up into something delicious! There's no reason at all to use instant potatoes when you can make your family canned mashed potatoes out of REAL potatoes from the can that retain nutrients and vitamins.
Sometimes life gives you about 10 minutes to make supper and on those nights you SHOULD NOT have to suffer through a quickly made sandwich when you can easily have delicious mashed potatoes in no time at all!
WHY THIS RECIPE FOR CANNED MASHED POTATOES WORKS
Canned potatoes are easy to find and already cooked so half the work is already done.

These potatoes retain nutrients and vitamins that instant potatoes can't.

YOU can make a delicious quick dinner and be proud too when these potatoes hit the table.
Let's be clear, I still recommend my classic mashed potato recipe if you have the time and energy to cook up a pot of potatoes. You'll get better taste, less salt and more nutrition from those.
However, NO SHAME! Sometimes we have to use up what's in the pantry or we don't have time to fool with all of that and find ourselves trying to do something a little creative with the can of potatoes we find on our shelves!
Of course, I DO know where you can find another great recipe for "HOW TO COOK CANNED NEW POTATOES". Just sayin…
That said, I have a WHOLE LINE UP of How to cook canned things!
Check out…
HOW TO COOK CANNED PINTO BEANS
HOW TO COOK CANNED GREEN BEANS on the STOVE
HOW TO COOK CANNED CORN ON THE STOVE
And more!
FREQUENTLY ASKED QUESTIONS (FAQ) AND TIPS AND TRICKS
CAN I USE THE CANNED SLICED POTATOES OR THE DICED POTATOES?
Yes, absolutely! You can use either of these. I find the mashing up the whole potatoes or the sliced potatoes is easier than mashing up the diced potatoes.
If you are mashing the diced OR if the results are too lumpy for you, simply mash through the tines on a fork OR use a mixer to whip everything into tip top shape.
WHAT IF I DON'T HAVE SOME OF THE INGREDIENTS FOR CANNED MASHED POTATOES?
No problem! As long as you have at least the butter, milk (or cream) and the salt and pepper, you are GOLD!
CAN I MIX SOME INSTANT POTATOES WITH THESE CANNED MASHED POTATOES?
Of course you CAN! However, it will change how much liquid you need to add to make it just right. You'll have to play that by ear.
LETS SEE HOW THIS IS DONE…
First, open the can and drain off the liquid. Pour the potatoes in the sauce pan. Pour the water into the sauce can.
Heat till boiling, then strain off the water and put the potatoes in a bowl or return to the cooking saucepan. While hot, add the butter and spices.
Add the sour cream and parmesan
Mash well with a potato masher.
Then, they are ready to serve! Don't add milk until you see how the consistency is. If you like your potatoes more loose, then add the milk. Add salt and pepper after you taste and see if they need it or not.
SUPPLIES I USED FOR THIS RECIPE
You will need:
A sauce pan
Kitchen colander or strainer or slotted spoon
Large Bowl
and
A potato masher. You can use a large fork, but that will take forever. A mixer is also useful for this step if you have that.
If you click the photo of the potato masher, it will take you through to Amazon where you can compare prices.
I recommend picking one of these up at your local big box store like Wal-Mart.
This photo is a clickable affiliate link and if you choose to purchase this way, I will receive a commission (Thank you VERY much). I am an Amazon affiliate. The commission I am paid does not change your purchase price at all.
Want to TRY Something REALLY Delicious?
Slather Some of THESE Gravies over the top of these potatoes!
YOU WON'T BE SORRY!
TRY These OTHER Potato Recipes by Loaves and Dishes!
Southern Fried Potatoes and Onions!
The Secret to Au Gratin Potatoes
YA'LL HELP ME OUT NOW, YA HEAR?
Please leave me a 5 star 🌟🌟🌟🌟🌟 comment below in the comment section, all right? I would LOVE to know if you made this recipe or even if you are planning to! Of course, head on over to Pinterest, Facebook and Instagram and tag me with some photos of your creation!
I can't wait!
Ya'll know I love your comments!! ❤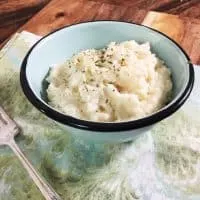 HOW TO MAKE MASHED POTATOES USING CANNED POTATOES
This recipe shows the reader how to make mashed potatoes from canned potatoes
Print
Pin
Rate
Ingredients
1

Can of potatoes

whole, sliced or diced

1

cup

water

2

Tbs

butter

¼

tsp

garlic powder

¼

tsp

onion powder

¼

cup

Grated parmesan cheese

¼

Cup

sour cream

¼-½

cup

milk

using milk depends on how thick or thin you like your potatoes, see notes

Salt and Pepper to taste

Make sure to taste first!
Instructions
Drain the canned potatoes well.

In a medium saucepan over medium heat add the water and the can of potatoes.

Heat the potatoes until the water is bubbling and keep heating till the potatoes are heated through. Turn the heat off.

Drain the potatoes again.

Set the pot back on the hot stovetop and place the butter, garlic and onion powder, parmesan cheese and sour cream into the potatoes. Mash well with a potato masher OR whip with a kitchen mixer.

Once mixed, if too thick, add the milk SLOWLY. Start with ¼ cup and then add by tablespoon fulls until desired consistency is reached.

Taste and add salt and pepper.
Notes
You will want to drain the potatoes because the water in the potatoes doesn't taste that great.
Drain the potatoes a second time because the water you added was simply for heating the potatoes up. You won't need it in the recipe.
If you do not have some of the ingredients, it is ok. As long as you have butter, milk, salt and pepper, you will be fine. Just leave the other ingredients out.
You may need to add more milk than is stated if you don't have sour cream.
It is fine to substitute greek yogurt for the sour cream . Other cheese tastes good too, but I really recommend the parmesan. The kind in the green can is fine.
Try to use whole milk if you have it. Other milks just aren't stout enough. It is fine to substitute evaporated milk directly for the milk in this recipe. You can also substitute heavy cream but you may need to use a little more than what is called for.
Canned potatoes and parmesan cheese are both salty so you may not need to add any salt. But DO add the pepper.
Nutrition
Nutrition Facts
HOW TO MAKE MASHED POTATOES USING CANNED POTATOES
Amount Per Serving
Calories 180
* Percent Daily Values are based on a 2000 calorie diet.
A VERSE TO SHARE
This morning, I had the opportunity to participate in something I've never done. A friend offered that we might write down the negative things that we want to overcome in the new year. Then, we took the list and threw it in the fire.
This was just a symbolic act of "these are the things I will let go of in the New Year", certainly not some kind of other worldly witchcraft kind of move.
We said a prayer asking God to help us to overcome the things on our hearts.
As I sit here now, uploading this post and editing the photos, I can still smell the wood smoke on my clothes and it reminded me that I wanted to look up God's words about letting go of negativity (That's my thing I need to work on). What is yours?
Ususally I share an entire passage that has been working on my mind and heart here, but today, I'm just going to share single verses that address my own "negative" issue. Perhaps that will be uplifting for you too and encourage you to find a way that God's word can support you in your own self improvement project?
Romans 12:2
Do not conform to the pattern of this world, but be transformed by the renewing of your mind. Then you will be able to test and approve what God's will is—his good, pleasing and perfect will.
Jeremiah 29:11
For I know the plans I have for you, declares the Lord, plans for welfare and not for evil, to give you a future and a hope.
I especially LOVE this next one. In fact, I think I will copy it down and stick to the top of my computer so that I see it daily… AND…. I think it would benefit ALL of us to read the passage from which this comes. Pull out your Bible and start reading at Ephesians 5. Keep going until it doesn't speak to you any more.
Ephesians 5:8
For at one time you were darkness, but now you are light in the Lord. Walk as children of light.