Sparkling, clear, clean, tasty and beautiful! Be the Ina Garten of the cooking world by learning to how to boil water!
Knowing how to boil water properly will help you learn to cook better! It's something that everyone needs to know how to do!
WHY THIS RECIPE WORKS
EASY!

Demonstrates how to boil water for many purposes.

Lots of WAYS to do this.
The REASONS WHY you might need to.
HOW IT WORKS
STEP 1.
Pour the cold tap water into an appropriate vessel for the cooking source you will use. For this example, we are on a stove top. Thus, we are putting the drinking water into a medium sized saucepan.
STEP 2.
Heat the water on HIGH HEAT until it comes to a rolling boil.
STEP 3.
Remove the water from the heat and use for the appointed use.
FREQUENTLY ASKED QUESTIONS (FAQ)
Why Do I Need To Boil Water?
Sometimes water is called for in recipes. For example, you will need boiling water for…
What Temperature Does Water Boil At?
Water boils at 212 degrees Fahrenheit. High Altitudes will be different.
How Long Does It Take To Boil Water?
This depends entirely on the AMOUNT of water and the TYPE OF HEAT that you have.
A liter of water on an induction cooktop takes 5 minutes (see video on the recipe card below).
Water on a propane stove 8 minutes.
A liter of water on natural gas 7 minutes
Boiling a liter of water on an electric stovetop 9-10 minutes.
PRO TIP: By the time you collect your supplies, complete the action, and then have the water ready for the use you want, it will take 10-15 minutes for the full process of how to boil water.
WHY DO I NEED TO BOIL WATER FOR AN ADVISORY?
Sometimes, for various reasons, a city will issue a "Boil Water Advisory". This usually happens when there has been some compromise to the local water source.
WHAT IS A BOIL WATER ADVISORY?
This is when the municipality has issued a warning to its citizens to boil before using to make the water safe to consume.
It means that until the municipality has cleared the water source, you must do this before drinking from the tap.
WHY WOULD I BOIL WATER BEFORE DRINKING?
According to the CDC, this is the safest way to protect it against organisms, bacteria, viruses and parasites that occur when the treatment system fails.
HOW LONG DO I NEED TO BOIL WATER?
For a water advisory, you should bring the water to a full rolling boil in a clean container and allow it to cook for one full minute before cooling it for storage.
Store the water in a clean container with a lid.
WHERE CAN I FIND MORE INFORMATION ABOUT BOILING WATER?
You can find the CDC guidelines for how to properly do it for an emergency here:
HOW CAN I BOIL WATER WITHOUT A STOVE?
There are several ways that you can do this without a stove. You can use…
A Microwave,

The Gas Grill,

An open wood fire

On a camp stove.
There's a full resource on How to Set Up an Emergency Kitchen Box HERE.
HOW TO BOIL WATER ON THE STOVE TOP
To do this on the stove top. Check out the recipe card at the bottom of this page.
WILL WATER BOIL FASTER WITH A LID ON THE PAN?
Yes, water does come to temperature quite a bit faster with a lid on the pan!
HOW LONG DOES IT TAKE FOR WATER TO BOIL?
Usually about 10-15 minutes over high flame with a half gallon of water.
HOW CAN I MAKE IT COME TO TEMPERATURE MORE QUICKLY?
Less water with more flame will boil more quickly.
An induction cook top will boil more quickly.
Starting with hotter water will work faster.
Adding some salt to the water helps it go faster.
More surface area (for example, heating water in a skillet vs a saucepan will boil more quickly).
WILL WATER BOIL IF IT HAS OIL IN IT?
Yes, water with oil in it will boil.
CAN WATER BOIL OVER?
Yes, if your saucepan is too small for the amount of water your are boiling and especially if the lid is on, water can boil over.
Use a pan that is about 30% larger than the amount of water you are boiling.
How Do I Know the Water is Boiling?
Steam will be rising from the water
Large bubbles will be rising from the bottom of the pan.
HOW TO BOIL WATER IN THE MICROWAVE
Choose a Microwave Safe Container to boil the water in.

Pour the water into the microwave safe container. DO NOT place a lid on the container.

Place a non metal item into the water. For example, put a bamboo skewer into the water and leaning on the edge of the container. (This allows the heat to escape from the surface of the water so that it doesn't suddenly bubble over when you remove the container from the microwave).

Place your container into the microwave.

Heat for 1 minute.

Stir the bowl of water after 1 minute.

Repeat in 30 sec intervals

When you open the microwave door, any bubbling that is taking place will probably stop. Check the water temperature with a thermometer. Boiling water is 212 degrees.

If you are boiling due to a water advisory, then boil for 1 minute or for 3 minutes at high altitudes.
CAN I BOIL WATER IN THE OVEN?
Absolutely! You can do this in the oven, although this might not be the best use of resources, it can be done.
Place an oven safe dish in the oven.

Pour water into the dish.

Set the oven temp on 225.

Allow water to bake for 15-20 minutes and when you note it bubbling, it is boiling.
PRO TIP: Remember that when you open the oven door, much of the heat escapes and the bubbling may stop so be watching through the oven window instead.
CAN I BOIL WATER ON THE GRILL?
Yes, you can.
This is not the most efficient method, but sometimes a grill is what you have available.
Use a clean grill safe pan.

Set pan onto the grill.

Pour the water into the pan

Heat on High heat until the water begins to boil

If heating for an advisory, allow to boil for 1 full minute or 3 minutes if at higher altitude.
PRO TIP: Be careful removing the pan from the grill, the whole thing will be very hot
CAN I BOIL WATER IN A CROCKPOT?
Water boils at 212 degrees. Generally, a crock pot will cook near 200 degrees or a little more.

What are you trying to do with your crockpot water?

If you want to make tea, that might work. It will take several hours however.

If you are trying to boil water for an advisory, then I wouldn't recommend this method.
TIPS AND TRICKS
Choose a container that is about a third bigger or larger than the amount of water you want to boil.
If you have a lid for the container, put it on. This will help the water boil faster and keep you from losing so much to evaporation. DO NOT put a lid on the boiling container in the microwave.
Put a little more than you actually need in the pan to boil because you WILL lose some to evaporation and you want to have enough left for your purposes when you are done.
If you are doing this in the microwave, understand that super heating can take place. Stir the liquid before removing from the microwave, use a suitable hot pad to protect your hands in case some should boil over.
Remember that boiling makes things VERY HOT and the items you are touching could burn you.
Be sweet and leave me a 5 STAR COMMENT 🌟🌟🌟🌟🌟 below, please. It helps others to find the recipes here at Loaves and Dishes.
Join me on social media and sign up for my newsletter so I can send you the HOT COOKING TIP of the WEEK!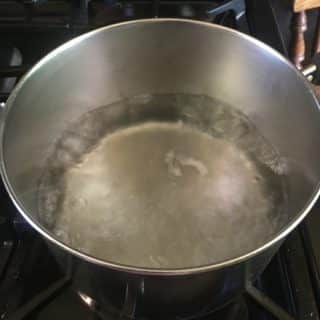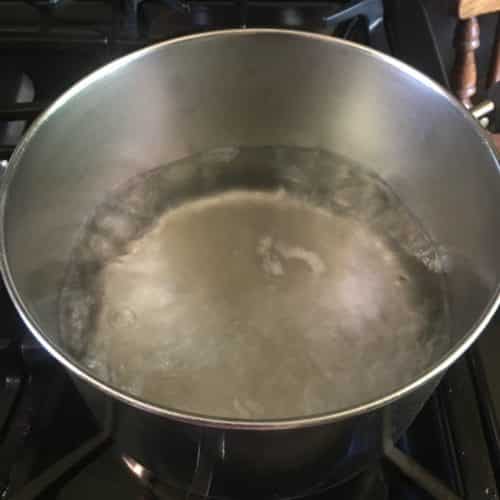 How to Boil Water
Clean, glistening perfect water to use in all your recipes. This is how to do it! You'll be a real Pioneer Woman in the kitchen after this!
Print
Pin
Rate
Instructions
Place the water into a medium sized clean saucepan.

Heat over high heat with the lid on until steam begins to sputter at the sides of the lid.

Remove the lid and watch for boiling to begin (the water will first steam, then simmer with small bubbles popping up to the top and finally large rolling bubbles that you can't stir away will begin). If you are heating water for safety reasons, continue the full rolling boil for 1 full minute, and at higher elevations, 3 full minutes.

Turn the heatsource off and remove the saucepan. Use for intended use.
Notes
Use a pan that is about 30% larger than the water you are boiling. This allows for sputtering and boiling without spilling.
Be careful, water can boil over slightly, especially if the pan isn't large enough and the lid is on.
Use tap water, bottled water for recipes and drinking. If not, use water that has been boiled according to your water advisory.
Be careful, boiling water is hot and so is the steam that rises from it. Use oven mitts.
PRO TIP: A tablespoon of salt will help the water to boil more quickly. Only add salt if it is needed for the recipe like for pasta, potatoes, etc.
Nutrition
Nutrition Facts
How to Boil Water
Amount Per Serving (1 0z)
Calories 1
% Daily Value*
Sodium 23mg1%
Calcium 14mg1%
* Percent Daily Values are based on a 2000 calorie diet.
A VERSE TO SHARE
Something to consider on April Fools Day, eh?
Proverbs 18:2
A fool takes no pleasure in understanding, but only in expressing his opinion.