Mushrooms are easy to freeze and it's a terrific way to save mushrooms that you find on sale! Plus, frozen mushrooms are easy to add to recipes! Learn how to freeze mushrooms and you'll never go without again!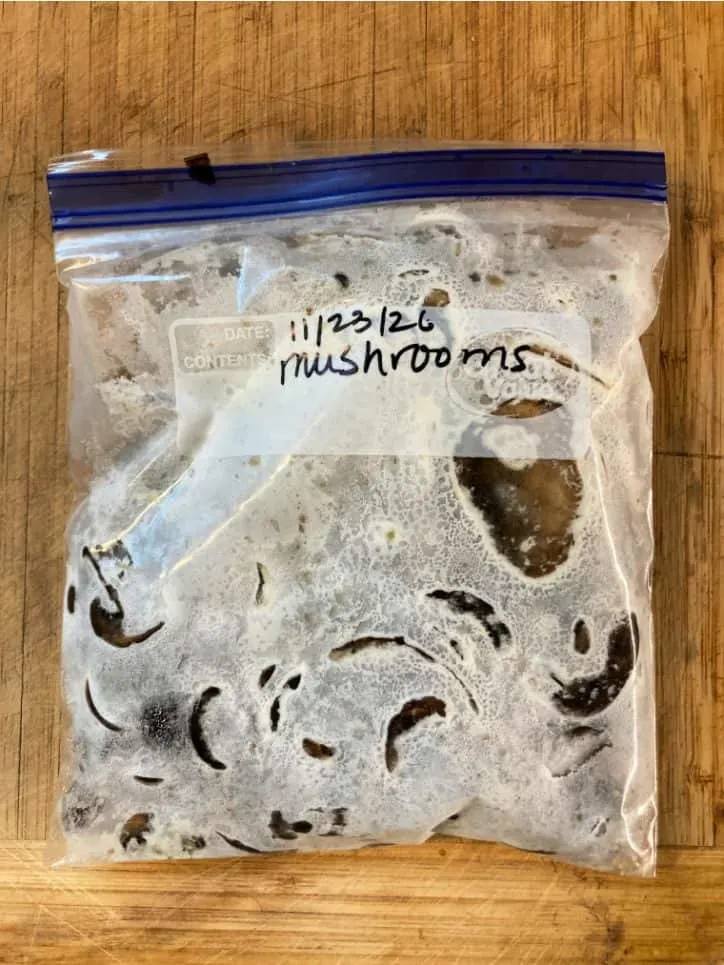 How to Freeze Mushrooms
This process will work with any mushrooms and is the perfect way to preserve that fresh earthy flavor. I have personally done this with shitakes, button, bellas and more!
The secret is to catch them at the height of freshness!
Don't wait until they have gone soft or have squishy places!
Uses For Frozen Mushrooms
We like to use our in:
stir fry
casseroles
made into a sauce for meats.
soups
any dish that has mushrooms incorporated into the dish
***Frozen mushrooms will not work for dishes where the mushroom needs to stand alone as the star of the dish such as stuffed mushrooms or these creamy mushrooms
Here's What You'll Need: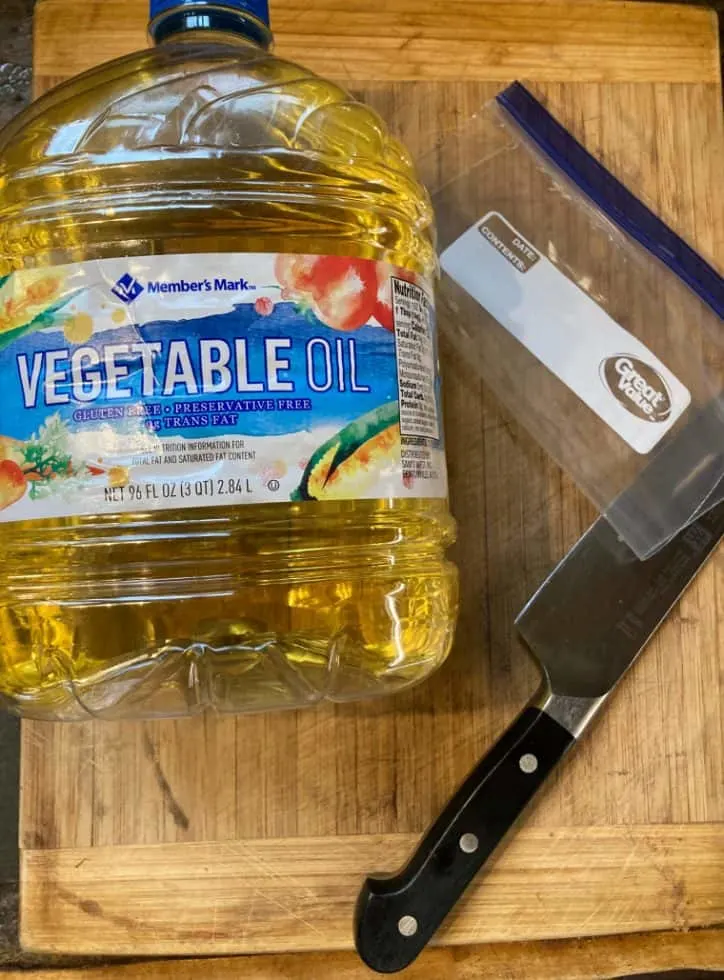 Mushrooms
Salt
Frying Pan
Oil
Stove
Knife and cutting board (depending on the type of mushrooms you have available).
Easy Steps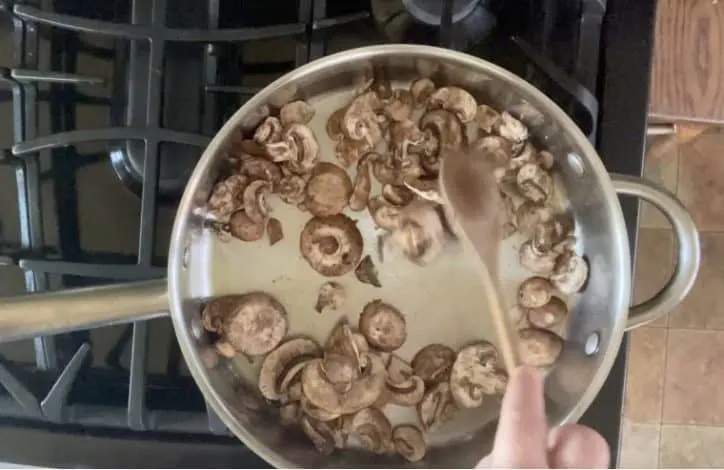 Cut up your mushrooms, then saute lightly in oil over medium heat. Allow to cool.
Place into a freezer safe resealable plastic bag, squeeze out the air.
Place into the freezer.
Frequently Asked Questions (FAQ's)
Can You Freeze Mushrooms For Later Use?
Yes! Of course, just follow the easy and simple instructions in the recipe below!
Can Mushrooms Be Frozen Without Cooking Them?
I've never had a good result when attempting this because the mushrooms become mushy when you thaw them.
Are Mushrooms Good After Freezing Them, Do They Taste The Same?
Frozen Mushrooms will add the same great mushroom flavor to whatever dish you are cooking. You won't want to use them for dishes like stuffed mushroom caps because they need to be cooked first.
How Do I Store Mushrooms Long Term?
Mushrooms keep for quite a while if you remove them from the store package, brush them off with a paper towel and then place them into a paper bag in the fridge. Freezing is the next best option for longer storage.
Can You Freeze Baby Bella Mushrooms?
Yes! Just follow these simple instructions!
How To Preserve Mushrooms?
The best way to keep mushrooms for the long term is to freeze them.
How Long Do Mushrooms Last in the Freezer?
3-6 months.
What Kind of Mushrooms are Best Frozen?
Button, Baby Bella, Shitake or any typical store bought mushroom will work.
Tips and Tricks
Use fresh mushrooms when freezing them. You'll want the freshest product possible for your future dishes!
Slice your mushrooms in 1/4″ to 1/2″ slices for the best result.
Make sure that all of your mushrooms are the same thickness.
Saute them in vegetable oil (or another flavorless oil) so that you won't be adding any flavors to the mushrooms as you probably don't know what dishes you are likely to use them in later.
If You Enjoyed This Post About Freezing Foods, You Might Also Enjoy…
How to Freeze and Thaw Hamburger Buns
Can You Help Me Out?
Please leave a 5 STAR comment in the comment section below. This helps others to find the posts on Loaves and Dishes.
Watch Me, I'll Show You How!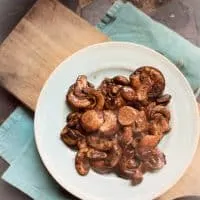 How to Freeze Mushrooms
A quick way to save mushrooms for later! Easy, fast and done in less than 15 minutes!
Print
Pin
Rate
Ingredients
2

tbs

oil

vegetable or olive oil

8

oz

mushrooms

sliced

pinch

kosher salt
Instructions
Heat skillet on the stovetop over medium heat. Add the oil to the pan.

Once the pan is preheated, add the sliced mushrooms all at once.

Heat in the skillet until lightly browned and until the water has been released from the mushrooms.

Remove from the heat and place the mushrooms onto a plate to cool. Once cooled, place into a freezer safe resealable plastic bag. Squeeze out as much air as possible. Place into the freezer.
Notes
Use the freshest mushrooms you can for this recipe. You want your future recipes to have fresh ingredients!
This works for any type of fresh mushroom that you can purchase in the grocery.
If you decide to wash your mushrooms first, be sure that they are completely dry before starting this recipe.
If you do not wash your mushrooms, be sure to brush off any visible dirt with a paper towel.
Check your mushroom label, they may be prewashed. The label will tell you.
The mushrooms will keep in the freezer for a three months.
PRO TIP: Buy your mushrooms on sale and freeze them this way for future recipes. It's a great way to save money!
Nutrition
Nutrition Facts
How to Freeze Mushrooms
Amount Per Serving
Calories 74
Calories from Fat 63
% Daily Value*
Fat 7g11%
Sodium 3mg0%
Potassium 180mg5%
Carbohydrates 2g1%
Protein 2g4%
Vitamin C 1mg1%
Iron 1mg6%
* Percent Daily Values are based on a 2000 calorie diet.
Just sharing the good word…
Matthew 14:19
Then he ordered the crowds to sit down on the grass, and taking the five loaves and the two fish, he looked up to heaven and said a blessing. Then he broke the loaves and gave them to the disciples, and the disciples gave them to the crowds.