***This recipe for Creamy Mushrooms first appeared on Loaves and Dishes on April 19, 2015 and new information has been added!***
Oh MY GOSH – ya'll !!! These creamy mushrooms are to DIE for!! The first bite and you are going to just melt into your seat! I snuck my first bite standing at the stove and melting is not something you should do standing in front of your stove! It ALMOST happened! .
I served these mushrooms as an appetizer for my bookclub. So, they were spooned out and eaten on a plate with whatever everyone else brought to book club. Every bite was gone with exclaimations of "Ooooo that is good!".
When preparing these at home, Mr Loaves and Dishes came in the kitchen and ate one and said, "yep, I'll just eat that for supper". Which, around our house means, "that is very good". I hated to let him know that I am going to carry the whole thing right out the door in a few minutes.
Recipe for Creamy Mushrooms adapted from…
"Marvelous Mushrooms" in the recipe book: Peace Meals. One of my very FAVORITE recipe books, EVER!
Don't forget to subscribe to Loaves and Dishes so that I can send you an email notice when the next recipe posts. I PROMISE to never give (or sell) your email address to anyone else – and I PROMISE not to bug you to death!
Serving suggestions for Creamy Mushrooms:
Serve these mushrooms with something meaty like Pot Roast and some Roasted sweet potatoes!
You might also enjoy Sausage Cheese Stuffed Mushrooms!
YA'LL HELP ME OUT
Please leave me a 5 star 🌟🌟🌟🌟🌟 comment below in the comment section , all right? I would LOVE to know if you made this recipe or even if you are planning to! Of course, head on over to Pinterest, Facebook and Instagram and tag me with some photos of your creation!
I can't wait!
Ya'll know I love your comments!! ❤
THE RECIPE FOR CREAMY MUSHROOMS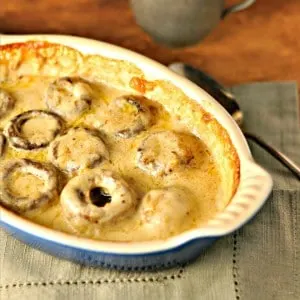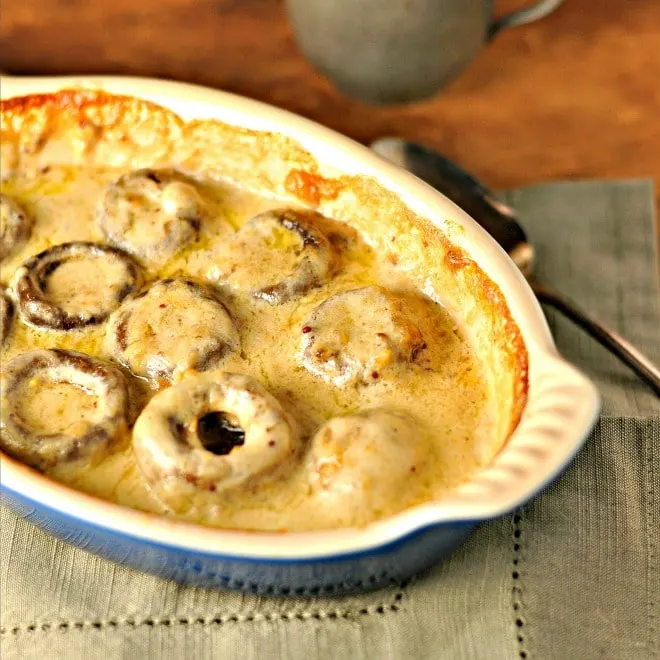 Ingredients
2.5

tbs

unsalted butter

softened

1

tbs

minced yellow onion

2

tsp

good quality Dijon mustard

½

tsp

course salt

Pinch

cayenne pepper

Pinch

of nutmeg

1

tbs

all purpose flour

1 8

oz

carton of button mushrooms with stems removed

½

cup

heavy cream

1

tsp

white pepper
Instructions
Preheat the oven to 375. Mix together the first 7 ingredients. Place the mushrooms in a ½ quart baking dish and spread the butter on top of the mushrooms. No need to be particular, the butter mix will melt. Pour the cream over the top of the mushrooms and then sprinkle the white pepper on top of the mushrooms (use black pepper ½ tsp if you don't have white pepper). Place baking dish on top of a rimmed cookie sheet. Bake uncovered for 45 minutes stirring once or twice while baking. Serve warm.
Nutrition
Nutrition Facts
Creamy Mushrooms
Amount Per Serving
Calories 300
* Percent Daily Values are based on a 2000 calorie diet.
A VERSE TO SHARE
Therefore confess your sins to each other and pray for each other so that you may be healed. The prayer of a righteous man is powerful and effective. ~ James 5:16