Hot steamy soothing canned chicken noodles soup! If it just had something that made it a tiny bit better! Today I'll show you how to make canned chicken noodle soup better!
That hot brothy soup with soft tender noodles and luscious bites of chicken all steaming away in a bowl on a cold winter day is just the perfect ticket! But how can we make canned chicken noodle soup better? I've got the answer for you!

WHY THIS RECIPE WORKS
Uses ingredients you have at home or can easily get.

Makes BIG flavor with little work

Easily adds a BANG of flavor that you need and want!
WHAT'S IN CANNED CHICKEN NOODLE SOUP?
According to the Campbell's website, there's…
Chicken Stock
Noodles
chicken meat
and
Starch, salt, water, yeast and some flavorings and things that I'm not super familiar with.
HOW DO YOU MAKE CANNED CHICKEN NOODLE SOUP?
If you are wanting to simply use the canned chicken noodle soup that you have in the cabinet, it is very easy to make it…
Open the can and pour the contents into a saucepan
Add one can of water
Heat and serve.
But, with a tiny bit of effort, you can make it taste even better!
WHAT WOULD MAKE IT TASTE BETTER?
Lots of things will make your canned chicken noodle soup better. If you aren't comfortable with experimenting, then simply follow my recipe below but for starters….
MEAT
You might have noticed that the chicken in your canned chicken noodle soup is lacking a little! Add some extra meat by using….
Turkey or chicken lunch meat (cut into small pieces)

Canned chicken (drain off the liquid first)

Frozen precooked chicken pieces

Grocery store roasted chicken

Left over chicken from a previous dinner

Cook up some chicken that you have in the fridge and add it to your soup!
NOODLES
We LOVE noodles and sadly, there never seem to be enough in our chicken noodle soup!
Fix that by adding….
Ramen noodles to your soup

Noodles from the refrigerator section at the grocery

Precooked and ready to use pasta from the pasta section of the grocery

Left over spaghetti noodles from a previous dinner

Cook up some pasta noodles to add to your soup
FLAVOR
Flavor can be added several ways, try some from each category…
SEASONING
Add the flavor packet from your chicken ramen noodles

Sprinkle in some poultry seasoning

Garlic Powder

Onion Powder

Cayenne

Dried chives

Bouillon cube

Bouillon concentrate

Salt and pepper

Dash Worcestershire

A sprinkle of soy sauce
FAT
Add a drizzle of olive oil

Tablespoon of butter

Spoonful of bacon grease
GARNISH
A sprinkle of cheese (Parmesan or Cheddar are good choices).

Bacon bits anyone?

Fresh green onion slices

Cracked Black Peppercorns
WHAT IF I ADD STUFF AND NEED MORE LIQUID?
Simply add some chicken broth OR you can add water and then some bouillon.
HOW LONG IS CHICKEN SOUP GOOD FOR?
Once cooked, your chicken soup should be fine if covered and refrigerated for up to 5 days.
CAN I FREEZE CHICKEN SOUP?
Yes, you can freeze chicken noodle soup without any problem, however, the noodles may be much softer and break apart or turn to mush when you reheat it.
WHAT CAN I SERVE WITH MY CANNED CHICKEN NOODLE SOUP?
LET'S SEE HOW THIS IS DONE
First add the canned chicken noodle soup to the saucepan
Then add water and more chicken to the sauce pan
You'll need to add a little extra fat to the soup, so go for butter or bacon grease. Also add a few extra seasonings!
Finally, top it all off with some extra noodles and you'll be set!
Maybe give this Easy Tomato Soup a try!
YA'LL BE SWEET AND HELP ME OUT, OK?
Leave me a 5 STAR 🌟🌟🌟🌟🌟 Comment below. If you made this recipe, I would love for you to share it with me on social media or just email me at wendi(at sign)loavesanddishes.net. Reader comments are the best. I answer right back!
Ya'll MAKE MY DAY when you leave me a comment 🌟🌟🌟🌟🌟 or send me an email!
Join me on social media by clicking the links at the top of the page!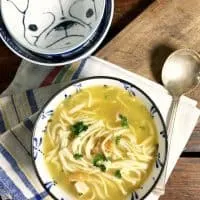 HOW TO MAKE CANNED CHICKEN NOODLE SOUP BETTER
This recipe gives you exact instructions for how to simply make your canned chicken noodle soup taste better and there are LOTS more ideas in the post.
Print
Pin
Rate
Ingredients
2

Cans Chicken Noodle Soup

2

cans

water

½

Cup

prepared chicken pieces

½

cup

prepared noodles

½

tsp

bacon grease

½

tsp

onion powder

½

tsp

garlic powder

¼

tsp

cayenne pepper

salt and pepper to taste
Instructions
Add all of the items to a medium sized saucepan and heat over medium heat until heated through.

Serve hot.

Garnish with fresh or dried parsley or chives. Serve with crackers.
Notes
Make sure that your chicken is fully cooked before adding it to your soup.
There are lots of options for adding more meat to your soup, try lunch meat cut into small pieces, rotisserie chicken, frozen precooked chicken breast, etc.
Try out some other seasonings in your soup! The post gives a complete list.
If you do not have bacon grease, try butter or oil in the same amount.
Nutrition
Nutrition Facts
HOW TO MAKE CANNED CHICKEN NOODLE SOUP BETTER
Amount Per Serving
Calories 150
* Percent Daily Values are based on a 2000 calorie diet.
A VERSE TO SHARE
A few minutes ago a friend of mine called to tell me that her parent was dying. "Everything is shutting down and it's just a matter of time". That's a really hard blow to take, isn't it?
We all know that one day we have to face losing our parents, friends and family. That said, we don't really expect it either.
As a friend, there isn't much you can say that is soothing. "I'm sorry". "This is so hard" and "what can I do to help you" seem somehow trite.
It's good news that God is there for us, even when we don't know what to pray.
Roman's 8: 26-27
In the same way, the Spirit helps us in our weakness. We do not know what we ought to pray for, but the Spirit himself intercedes for us through wordless groans. And he who searches our hearts knows the mind of the Spirit, because the Spirit intercedes for God's people in accordance with the will of God