Bacon? "NO, Thanks"….said no one. Ever. Bacon wrapped hot dogs? Why, yes. You are BRILLIANT, Thank you! 'Cause Bacon is the right answer, all the time!
You might lovingly call this a "heart attack on a hot dog bun", like my youngest daughter did, (as she scarfed one down). You might say, "That's just wrong", like my oldest daughter did, (as she scarfed one down). Like Mr. Loaves and Dishes, you might say, "all of my problems went away there for a second" and then scarf another one down.
WHY THIS RECIPE WORKS
Bacon Wrapped Hot Dogs are SUPER EASY to make!
You can make a WHOLE BUNCH at one time.
They are PERFECT party food!
The bacon is crisp!
NO ONE CARES who the president is when they have a bacon wrapped hot dog in their mouth! So Keep that in Mind!
FAQ: FREQUENTLY ASKED QUESTIONS
What Are Bacon Wrapped Hot Dogs Called?
Bacon Wrapped Hot Dogs are often called "Danger Dogs" or even "Pigs in a Blanket" but usually the pigs in a blanket refer to hot dogs wrapped in breading.
What Toppings Do You Put On Hot Dogs?
This list of toppings for this oven baked hot dog are LONG but include:
Mustard
Ketchup
Mayonnaise
Onions
Cheese
well? Name some things that you enjoy!
HOW LONG DO YOU COOK A BACON WRAPPED HOT DOG?
You only need to bake these hot dogs until the bacon is completely cooked.
Wrap one slice of bacon around one hot dog.
For thin sliced bacon, that is about 20 minutes
Thick sliced bacon, that is about 30 minutes.
You might want to check out how to save bacon grease too!
HOW DO YOU COOK BACON WRAPPED HOT DOGS?
You can fry bacon wrapped hot dogs over medium heat in a skillet, but this is much more difficult than baking them.
Bake a bacon wrapped hot dog and you'll have no problem at all!
You do NOT need a special wire rack for these dogs.
Just secure bacon with a toothpick!
Drain on paper towels.
WHERE DID THE BACON WRAPPED HOT DOGS ORIGINATE?
According to our friends at Wikipedia, Bacon wrapped hot dogs originated with a food vendor in Mexico. (Also called a Danger Dog), I guess we know why.
HOW LONG ARE BACON WRAPPED HOT DOGS GOOD FOR?
Your bacon wrapped hot dog is good for about 2 hours sitting out. Refrigerate and your bacon wrapped hot dog will be good for about 5 days. Believe me, you'll want to eat it right away for the best flavor though.
Can I Have These Bacon Wrapped Hot Dogs on a Keto Diet?
Actually Hot Dogs and some bacon DOES have some carbs so you will have to examine the contents carefully and make your decisions, but generally, yes, you can have these on a low carb diet. Remember hot dog buns are not going to work on Keto.
How Do I Make the Perfect Hot Dog?
Easy! Follow this recipe right at the bottom of this page!
TIPS AND TRICKS FOR BACON WRAPPED HOT DOGS
You can make as many or as few bacon wrapped hot dogs at a time as you like. If you make enough for a BIG GAME party, it might require more baking time – just remember, when the bacon is done, it's done.

Leftover bacon wrapped hot dogs are SUPER DUPER cut up into pork and beans!

Who am I kidding? It's not likely that you will have any leftover. I only did because I had to make enough to experiment with for this blog!

These hot dogs are fully cooked when ready!
If you enjoy this Bacon Recipe, you might also enjoy….
How To Cook Bacon on a Rack in the Oven
Slow Cooker Green Beans and Bacon
WHAT CAN I SERVE WITH MY BACON WRAPPED HOT DOGS?
We enjoy….
All the Secrets to Perfect Pasta Salad.
Southern Green Beans and New Potatoes
or, of course,
A salad and some potato chips!
YA'LL BE SWEET AND HELP ME OUT, OK?
Leave me a 5 STAR 🌟🌟🌟🌟🌟 Comment below. If you made this recipe, I would love for you to share it with me on social media or just email me at wendi(at sign)loavesanddishes.net. Reader comments are the best. I answer right back!
Ya'll MAKE MY DAY when you leave me a comment 🌟🌟🌟🌟🌟 or send me an email!
Join me on social media by clicking the links at the top of the page!
THE RECIPE FOR BACON WRAPPED HOT DOGS.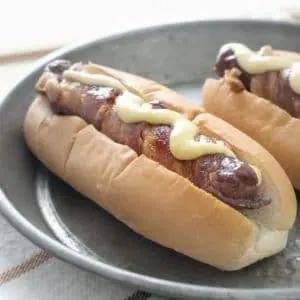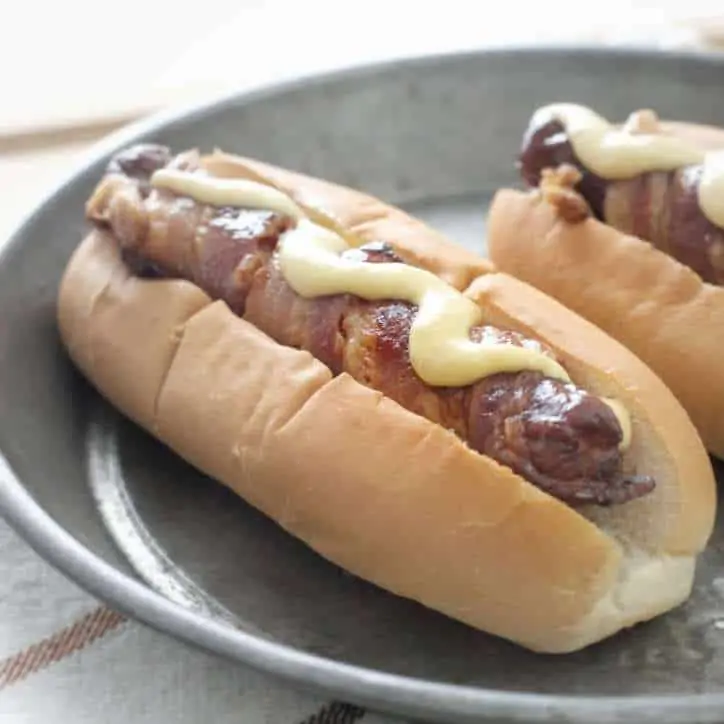 Bacon Wrapped Hot Dogs
Easy and delicious. Ready in about 30 minutes and so wrong it's right!
Print
Pin
Rate
Ingredients
1 8

piece

Package of Good Quality Hot Dogs

8

slices

of bacon - thick cut is best
Instructions
Preheat the oven to 350. Line a baking sheet with aluminum foil or parchment paper.

Wrap each hot dog in a spiral manner with a slice of bacon and secure each end with a toothpick

Bake on center rack in center of oven for about 30-45 minutes until bacon is done.

Serve on hot dog buns with desired condiments.
Notes
Use a good quality all beef hot dog for this recipe.
Make sure you have good quality bacon. Thick sliced is best. If you use thin sliced, then decrease the bake time.
When the bacon is done, this recipe is done!
Nutrition
Nutrition Facts
Bacon Wrapped Hot Dogs
Amount Per Serving
Calories 350
* Percent Daily Values are based on a 2000 calorie diet.
***This post was first published on January 27, 2017 and has since been updated and republished on Loaves and Dishes***
A VERSE TO SHARE
"You need only to be still". I need this advice from Moses almost daily. Do you? So often I work to solve my own problems and between running around aimlessly with my mind turning about 1000 RPMs I can't hear anything. In those instances, things would be so simple if I would only take Moses' instruction to "be still".
In other words, "God's got this".
A little later in this story, God opens the waters and Moses sends his people across. Can you imagine obeying God and crossing the water by walking on the ocean bottom with a wall of water on either side of you? The mental image is overwhelming. Sure enough though, Moses might as well have said, "God's Got this".
Exodus 14: 10-14
As Pharaoh approached, the Israelites looked up, and there were the Egyptians, marching after them. They were terrified and cried out to the Lord. They said to Moses, "Was it because there were no graves in Egypt that you brought us to the desert to die? What have you done to us by bringing us out of Egypt? Didn't we say to you in Egypt, 'Leave us alone; let us serve the Egyptians'? It would have been better for us to serve the Egyptians than to die in the desert!"
Moses answered the people, "Do not be afraid. Stand firm and you will see the deliverance the Lord will bring you today. The Egyptians you see today you will never see again. The Lord will fight for you; you need only to be still."