Creamy, Potato-y, Cheesy and BACON! Can you even THINK of a more comforting dinner dish that Baked Potato Casserole? I didn't think so either!
This casserole, LITERALLY, had my family begging for more and YOUR family will to!
Imagine watching your son eat three gigantic helpings for dinner and then another for dessert? What if your picky daughter ate some and said, "Mom! This is great!"
Why This Recipe Works…
This recipe combines the magic of Steakhouse Baked Potatoes with Bacon, Sour cream and all of your Baked Potato Favorites!
Potatoes are a cooks best friend! Easy and simple starch for dinner. Like Fried Potatoes and Onions!
Easy way to use left overs.
Quick to make!
Here's How It Is Done…
STEP 1.
Chop the baked potatoes into bite sized pieces.
STEP 2.
Grate the cheese, chop the bacon.
PRO TIP – Use precooked bacon or the REAL bacon bacon bits (from the salad dressing area of the store) if you don't want to cook up bacon yourself.
STEP 3.
Cut the broccoli florets from the stalk and blanch them in boiling water.
PRO TIP – Use frozen broccoli florets and you won't have to do any blanching, just add them straight to your casserole.
***If your family doesn't like broccoli, just leave it off!***
STEP 4.
Start layering the cubed baked potatoes, cheese, bacon, broccoli.
STEP 5.
Add the Broccoli layer.
STEP 6.
Make sure that grated cheese is the top layer. Then mix up the wet ingredients and pour those over the top.
PRO TIP: Use a fork and work the wet ingredients down into the layers very carefully.
STEP 7
Bake and ENJOY!
Frequently Asked Questions (FAQ's)
WHAT IS A BAKED POTATO CASSEROLE?
Baked potato casserole includes everything you love to eat in a stuffed baked potato PLUS you get to sneak in some veggies! We won't ever tell!
HOW DO YOU PREPARE A BAKED POTATO CASSEROLE?
So simple, even more uncomplicated than making a loaded baked potato bar because everything is in the casserole dish ahead of time. No mess on the counter as everyone tries to fill their potato!
See how that works? It's all in the casserole dish together.
Just do this….
Bake the potatoes (or use leftover ones)

Parboil the broccoli (boil it lightly on the stove – it turns a lovely green color)

Prepare your baking dish

Chop up the potatoes and spread them in the pan

Sprinkle with salt

Dot butter around

Sprinkle with shredded cheese

Spread the broccoli around

Sprinkle with bacon bits

Shredded cheese again – of course

Top with grated parmesan and more bacon bits if you like (you can't have too much of either of those!).
Do I Need to Cover Baked Potato Casserole or is it Uncovered?
There is no need to cover this casserole, bake it uncovered.
Can I Make Baked Potato Casserole Ahead?
Sure Can! Just assemble and set in the fridge. Bake when you are ready to serve.
How Long Is This Casserole Good For?
This casserole will last for about 5 days if you keep it refrigerated (but no worries, it will be LONG GONE before 5 days are up!).
Don't allow this to sit out on the counter for longer than 2 hours before putting it back in the fridge.
Can I Substitute Ingredients In this Baked Potato Casserole?
Sure! This Casserole is GREAT with anything you would put on a Baked Potato!
Try some of the following:
Sauteed mushrooms
Ranch Dressing
Rotel
Sausage
Cream Cheese
(Use your imagination! If it's good on potatoes, it will be good in this casserole!)
Can I Freeze This Twice Baked Potato Casserole?
Absolutely! Use freezer safe container and freeze for up to three months.
How Do I Reheat this EASY Twice Baked Potato Casserole?
IF Frozen: Allow to thaw and then bake at 350 for 20 minutes.
If Refrigerated: Bake at 350 for 20 minutes. Until hot and bubbling through.
TIPS AND TRICKS FOR TWICE BAKED POTATO CASSEROLE
This recipe is very forgiving and you can adjust it for as few or as many as you need! Just use less amounts (or more) and smaller or bigger baking dishes!
Always estimate the amount of potatoes you need by the number of people. Lay them out on the counter and say to yourself, "One person could eat this much, two people this much", etc until you have the right amount of the number of people you will feed – and then add one or two more.
Use a really flavorful cheese because something sharp will give your casserole the most flavor. I usually recommend Cabots for sharp cheese.
Shortcuts: You can use frozen broccoli florets that are thawed. You can use pre grated cheese. You can use bacon bits that are found in the salad dressing area of your grocery – just make sure they are REAL bacon and not the bac-o-bits which don't actually have any bacon in them at all.
This is a wonderful holiday recipe because you can bake it, take it out of the oven and set it aside and then rewarm again just before serving.
This is excellent reheated on day two as a left over!
When you are baking potatoes for anything, always bake a few extra! They make excellent breakfast hashbrowns and you can use those leftovers here!
More GREAT potato recipes from Loaves and Dishes…
Southern Fried Breakfast Potatoes
YA'LL HELP ME OUT, OK?
Please leave me a comment and 5 STAR ( 🌟 🌟🌟🌟 🌟 ) review, I ALWAYS love to hear from you and your comments MAKE MY DAY! (Plus, it helps me out by letting everyone know that this is the place to find good recipes!)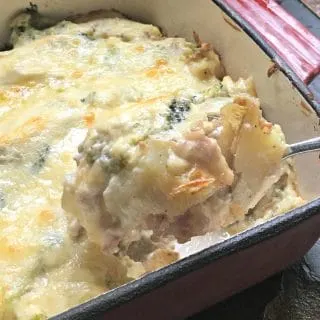 BAKED POTATO CASSEROLE
A SIMPLE DELICIOUS CASSEROLE THAT YOUR FAMILY WILL GOBBLE UP!
Print
Pin
Rate
Ingredients
5

Baked Russet Potatoes

Salt and pepper to taste

3

Tbs

unsalted butter - cut into slices.

2

Cups

Grated Cheddar cheese - divided

1 ½

cups

Broccoli florets blanched till slightly soft

4

slices

bacon - cooked till crunchy and cut into small bits - divided.

1

Cup

Sour Cream

1

Can of Condensed Cream of Celery Soup

½

Cup

whole milk

½

cup

parmesan cheese
Instructions
Preheat the oven to 350.

Prepare a 9x13 baking dish with baking spray or coat with butter.

Cut the baked potatoes up into bite sized pieces and place in the prepared baking dish.

Sprinkle salt and pepper over the potatoes

Dot the butter around the top of the casserole.

Sprinkle half of the grated cheddar cheese over the potatoes

Spread the broccoli florets evenly around the dish.

Sprinkle the bacon bits over the top of the broccoli

In a medium bowl mix the sour cream, soup and milk together and then spread this mixture over the top of the already assembled casserole.

Sprinkle with the remainder of the cheddar cheese

Sprinkle with parmesan cheese.

Top with remaining bacon pieces.

Bake uncovered in preheated oven until bubbly and the corners are golden and crunchy
Notes
To make this for fewer or more people, simply adjust the amount of the ingredients.
Estimate the number of potatoes needed by figuring one good sized potato per person.
Make sure to spray pan with non stick spray so that casserole won't stick.
Reheat at 350 for 20 minutes.
It is fine to make this casserole the day before, just bake before serving.
Make sure to cut the potatoes into bite sized pieces for easy eating.
Substitutions: Feel free to change out the "toppings" to anything you like on a baked potato BUT be sure to leave in the wet ingredients and the cheese. There is a list of ideas in the post.
PRO TIP: To make this recipe MUCH easier, use frozen broccoli and precooked bacon! You'll never taste the difference and then you don't have to fry the bacon or pre blanch the broccoli!
Nutrition
Nutrition Facts
BAKED POTATO CASSEROLE
Amount Per Serving
Calories 355
Calories from Fat 234
% Daily Value*
Fat 26g40%
Cholesterol 69mg23%
Sodium 433mg18%
Potassium 609mg17%
Carbohydrates 17g6%
Protein 15g30%
Vitamin A 775IU16%
Vitamin C 28mg34%
Calcium 368mg37%
Iron 4mg22%
* Percent Daily Values are based on a 2000 calorie diet.
*** This recipe first appeared on the pages of Loaves and Dishes on March 28, 2018 and has been updated with "why this recipe works" ,FAQ's, Related recipes, nutrition information, video and updated recipe instructions.***
A VERSE TO SHARE
Do you worry about things you shouldn't? Do you let the negative opinions of others cloud how you feel about things? Boy I sure do! Although less than I used to.
Sometimes someone will leave a negative comment here or someone will say something truly unkind to me and I inevitably end up repeating it to myself.
That, my friend, is the devil getting in your head. You MUST push him out. God doesn't speak to his children that way and you shouldn't either.
I'll just let Psalms speak for themselves.
Peace be with you my friend…
Psalm 37: 1-2
Do not fret because of those who are evil
or be envious of those who do wrong;
for like the grass they will soon wither,
like green plants they will soon die away