Fresh, green, good for you and easy to cook to perfection are all reasons to eat broccoli. But getting the BEST flavor out of the freezer might be a challenge unless you understand exactly how to cook Frozen Broccoli!
This recipe for frozen broccoli is ready in minutes, inexpensive and best of all, EVERYONE WILL ENJOY EATING IT! There are lots of variations and there is sure to be one that your own family will love. Get everyone eating their veggies today!
WHY THIS RECIPE FOR HOW TO COOK FROZEN BROCCOLI WORKS
It's EASY
This recipe is FAST!
Dinner is ready in MINUTES

Frozen broccoli is available when fresh is out of season

GOOD FOR YOU! You save all of the vitamins, minerals and good for you everything by using frozen broccoli
I'll give you instructions for how to cook frozen broccoli SIX WAYS!
Frozen broccoli is AFFORDABLE!

The frozen kind of broccoli has a super long shelf life!
WHAT IS FROZEN BROCCOLI
Frozen Broccoli has been picked when near ripe and then blanched (cooked very briefly in boiling water) and then quickly frozen thus preserving most of the vitamins and nutrients of the fresh vegetable!
WHAT ARE THE WAYS I CAN COOK FROZEN BROCCOLI?
In general, frozen broccoli can be cooked by:
Boiling,

Steaming,

Roasting

Microwaving,

Stir Fry

Skillet cooking
Other ways you might use frozen broccoli would be in recipes for
Instapot

Crockpot

Pressure Cooker
Because frozen broccoli has already been cooked a tiny bit in the processing, I personally think it is better to use fresh broccoli for these last applications.
Broccoli does tend to become mushy and to fall apart when cooked too long.
HERE'S A VIDEO (COMING SOON) OF WENDI COOKING FROZEN BROCCOLI TO HELP YOU!
THINGS TO UNDERSTAND ABOUT COOKING FROZEN BROCCOLI:
The broccoli has already been cooked.

What we are aiming to do is to add some flavor so that the cooked version isn't so bland.

You will not cook frozen broccoli very LONG at all.
HERE'S MY PRO TIP FOR HOW TO COOK FROZEN BROCCOLI:
Always remember to add flavor to your frozen broccoli WHILE COOKING it, if possible (it's always possible).
RECIPE VARIATIONS FOR ANY OF THE FOLLOWING RECIPES:
All of these spices, herbs, sauces and oils taste good with broccoli and you can pretty safely mix and match:
Oils/fats:
Vegetable oil

Sesame Oil

Olive Oil

Butter
Seasonings:
Season All Salt

Mrs. Dash

Salt

Pepper

Cayenne Pepper

Red Pepper Flakes

Garlic Powder
Onion Powder
Sauces:
IF YOU ENJOY FROZEN BROCCOLI YOU MIGHT ALSO ENJOY THIS CHEESE SAUCE FOR THE TOP:
This is a link to an Best Ever Fettuccini Alfredo recipe, however, just make the sauce and use it for your broccoli or other vegetables! YUM!
OR
You can make your frozen broccoli with pasta by making Best Ever Fettuccini Alfredo (it's EASY!) and add the frozen broccoli to the finished dish! YUM!!!
HOW TO COOK FROZEN BROCCOLI
BOILING
The recipe card at the end of this post gives the instructions for boiling your frozen broccoli so that it will have EXCELLENT flavor.
STEAMING
To steam your broccoli:
Put 1 quart of water into a saucepan and add 1 chicken bouillon cube and 1 tsp salt.

Place the steamer basket over the top of the water and place the frozen broccoli into the steamer basket (be careful not to burn yourself).

Allow the steam to drift through the broccoli until it is completely warmed (5 mins or so).

Remove the broccoli from the steamer and put one pat of butter over the top and sprinkle with garlic salt and pepper.
WHAT IF I DON'T HAVE A STEAMER BASKET TO STEAM BROCCOLI
No worries! You can steam broccoli one of two other ways:
Follow the directions for microwave cooking noted below

Make a steamer out of heavy duty aluminum foil.

Lay three pieces of heavy duty aluminum foil on top of one another and roll up the edges to form a tray large enough to fit on top of your sauce pan

Use a knife and carefully poke holes through the aluminum foil.

Lay the foil on top of the boiling water that is prepared according to the steaming instructions.

Now you have a steamer!
ROASTING
To roast your frozen broccoli
Preheat the oven to 400 degrees.

Put a sheet of aluminum foil in the bottom of a rimmed baking sheet.

Pour 2 Tbs vegetable oil onto the baking sheet.

Place the frozen broccoli onto the tray and toss it around in the oil with your hands until all the pieces are coated with oil

Spread the pieces of frozen broccoli out so that none are touching

Sprinkle with season all salt and pepper

Give your broccoli a dash of Worcestershire sauce (about 2 tbs) (or soy sauce) and garlic powder too (about ½ tsp).

Place the tray in the oven on 400 degrees and roast for 10 minutes then flip the broccoli and roast for another 5 -10 minutes until it is done the way you like.

(when you flip the broccoli it will be dark on the bottom side, that's ok!).
MICROWAVING
Put ¼ cup water and 1 tbs of butter in the bottom of a microwaveable dish.

Place the broccoli you want to cook into the dish.

Sprinkle the broccoli with ½ tsp Season all salt, ½ tsp ground black pepper and ½ tsp garlic powder.

Cover with plastic wrap but leave a small gap where the steam can escape

Microwave on high for 2 minutes and check to see that the broccoli is all hot.

Run again for 30 sec intervals until the broccoli is hot all the way through. Be careful, steam is hot!
STIRFRY
To stirfy frozen broccoli
You really might enjoy the recipe for my Restaurant style chicken fried rice, it really is right on point and you can add frozen broccoli right to it.
But…
If you want to just stir fry the frozen broccoli then….
Heat your pan over medium high heat

Add 2 Tbs sesame oil (OK to use vegetable oil or olive oil instead).

When the oil is hot and glistening on the surface, add the broccoli all at once.

Stir continuously until heated through (about 2 minutes).

Remove from the pan and add your choice of seasoning, but usually salt, pepper, a dash of butter and soy salt are optimal.
COOK FROZEN BROCCOLI IN A SKILLET
Heat your skillet over medium heat

Add 2 Tbs vegetable oil and heat till the surface is glistening

Add the broccoli all at once

Sprinkle ¼ tsp season all salt, pepper, ½ tsp garlic powder and 2 tbs soy sauce over the top.
TOOLS I USE FOR HOW TO COOK FROZEN BROCCOLI
Click the photos for the KITCHEN SPIDER and the STEAMER and you will be taken through to Amazon where you can compare prices and purchase. If you should decide to purchase, first of all, Thank you and secondly, Loaves and Dishes does receive a commission for those purchases as we are an affiliate of Amazon. The commission paid does not affect your purchase price.
THIS KITCHEN SPIDER IS THE EXACT SAME ONE THAT I HAVE AND ALTHOUGH IT LOOKS LIKE IT MIGHT NOT HOLD UP, MINE HAS DONE GREAT.
This is an OXO steamer. I do not have this one, but Oxo is a dependable brand and I would trust this one to hold up for a long time.
WHAT TO SERVE WITH FROZEN BROCCOLI?
You'll be wanting some other dinner suggestions I suspect so how about some EASY Best Ever Fettuccini Alfredo, its creamy and delicious and a SERIOUSLY wonderful dinner with broccoli.
This Mama's most juicy chicken that my daughter shared is a hit and so simply you'll fall out of your chair. If you ask me in the comments below, I'll admit to you what we call that chicken dish at home.
Then there's always these 7 Secrets to the richest most flavorful cowboy baked beans ever that are a super hit at my house.
You might enjoy Broccoli Cheese Casserole for 2 in the crockpot


Need MORE Broccoli Info?
YA'LL HELP ME OUT NOW, YA HEAR?
Please leave me a 5 star 🌟🌟🌟🌟🌟 comment below in the comment section, all right? I would LOVE to know if you made this recipe or even if you are planning to! Of course, head on over to Pinterest, Facebook and Instagram and tag me with some photos of your creation!
I can't wait!
Ya'll know I love your comments!! ❤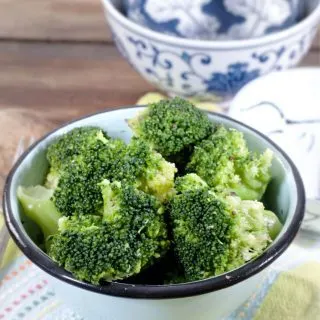 HOW TO COOK FROZEN BROCCOLI
This recipe gives instructions for how to cook frozen broccoli and add a ton of flavor. If you want directions for microwave, roasting, stir frying, steaming or cooking in a skillet, please visit the post at www.loavesanddishes.net
Print
Pin
Rate
Ingredients
1

quart

of water

4

Tbs

Butter

1

tsp

kosher salt

1

tsp

ground black pepper

1

bag frozen broccoli

½

tsp

garlic powder

2

Tbs

soy sauce

More salt and pepper to taste
Instructions
Place the water in a medium sized saucepan on the stove top and heat over medium heat till boiling.

Add the butter, salt and pepper to the water.

Put the frozen broccoli into the water and allow water to come to a boil again.

Remove the broccoli using a large slotted spoon or a kitchen spider as it starts to boil.

Place in a bowl and sprinkle with the garlic powder and soy sauce. Mix well and then taste. Add more salt and pepper as needed to taste.
Notes
Remove the broccoli just as it comes back to a boil.
It is already cooked, we are essentially just heating it back up and adding flavor.
It is important to taste the broccoli and add the soy sauce and salt and pepper.
Lots of times frozen vegetables have no flavor at all.
You can substitute Worcestershire sauce for the soy sauce if you want.
Nutrition
Nutrition Facts
HOW TO COOK FROZEN BROCCOLI
Amount Per Serving
Calories 161
Calories from Fat 108
% Daily Value*
Fat 12g18%
Cholesterol 30mg10%
Sodium 1247mg52%
Potassium 499mg14%
Carbohydrates 11g4%
Protein 5g10%
Vitamin A 1300IU26%
Vitamin C 135.5mg164%
Calcium 82mg8%
Iron 1.4mg8%
* Percent Daily Values are based on a 2000 calorie diet.
A VERSE TO SHARE
I think it is interesting what the Bible has to say about being a hypocrite. As you know, I like to consider Bible verses in terms of what I, myself might be doing that is hypocritical. It is certainly an area to examine.
Matthew 23: 13-15
Woe to you, teachers of the law and Pharisees, you hypocrites! You shut the door of the kingdom of heaven in people's faces. You yourselves do not enter, nor will you let those enter who are trying to.
Woe to you, teachers of the law and Pharisees, you hypocrites! You travel over land and sea to win a single convert, and when you have succeeded, you make them twice as much a child of hell as you are.