Want to know what was 'pon Rocky Top?  Tennessee Onions – that's what, the premier Vidalia Onion Recipe!  You want an exceptional and EASY recipe, right?  Yeah, I thought so!
Back in 1985 +, I was a vegetarian. (Not a very popular diet option in those days) and a friends mom introduced me to this recipe using Vidalia Onions!
My friend's mother didn't know what to fix for a vegetarian and I can distinctly remember this friends mother saying, "I have wracked my brain trying to think what dish I could fix that would be vegetarian and I can't think of anything other than these Tennessee onions to cook for you".  In fact, she had this potato salad!  lol
HERE'S A VIDEO OF WENDI MAKING TENNESSEE ONIONS WITH VIDALIA ONIONS
WHAT TO COOK FOR VEGETARIANS?
What is funny about this whole conversation is that she was standing right in front of the food for a cookout.  It looked like plenty to me. There was hamburger buns to fill with all of the fixings, a salad, green beans, potato chips, potato salad, watermelon and the now famous, Tennessee onions.
I guess she was so disturbed by my vegetarianism that she couldn't see that there were plenty of vegetarian options on her table.  Sometimes things that feel different are a problem for people.  That's important to remember.
The best part of the cookout was that the Tennessee Onions were terrific.  My friend's mom had the recipe from her grandmother (who must have been a genius cook!). These Tennessee Onions couldn't be easier to prepare and oh so tasty!
WHAT IS A DISH OF TENNESSEE ONIONS?
Good question! Sweet Onions like Tennessee Onions are baked Vidalia (or other sweet onions) Onions with butter, cheese, garlic and various herbs.  Tennessee Onions are a creation using sweet onions of  the great grandmother of a good friend of mine.  I have no idea why this onion dish is called Tennessee Onions considering that it is made with Vidalia onions or other sweet onions that come from Georgia?  Who knows – let's just roll with it – OK?
TIPS AND TRICKS FOR Tennessee Onions
Serve Tennessee Onions over hamburgers, over steak, as a side dish at your cookout or even as a "burger option" for your vegetarian friends.
Cut the sweet onions in even thicknesses and separate out the rings
Cut the sweet onions about 1/2 inch thick
Use Vidalia Onions when available.  Texas Sweets will do as well.  Any sweet onion will do in a pinch but Vidalias are the best.
These Tennessee Onions do not make a custard pie like filling, they simply make baked onions with a cheesy topping – YUM!
Use the best quality cheese that you can afford for this – it makes a difference.
Check to see if it needs salt before adding any, cheese and garlic salt are both salty already
EQUIPMENT I USE WHEN MAKING TENNESSEE ONIONS
I don't really use anything special, but if you are taking this to a cookout or a church dinner, it is always nice to have a good portable casserole dish.  I bought this one last year and have really enjoyed the simple snap on lid that makes taking it places super nice! (this is an affiliate link and you can click the photo to go straight through to Amazon.  If you choose to purchase anything by going this route, Loaves and Dishes will receive a very small commission that does not cost you any extra.  10% of any commissions received are tithed by Loaves and Dishes, and thank you!)
IF YOU ENJOYED TENNESSEE ONIONS, YOU MIGHT ALSO ENJOY…
The Secret to Perfect Old Fashioned Pinto Beans
Tennessee Whisky Meatball Sliders
SERVE TENNESSE ONIONS WITH…
So, you are probably wondering what to serve these onions with.  Vidalia onions in this baked Tennessee Onions dish are TERRIFIC with Hangry Hamburgers, Potato Salad and a green caprese salad with a dessert of Banana Pudding
THE RECIPE FOR TENNESSEE ONIONS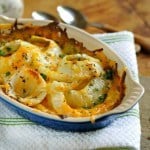 Tennessee Onions
Baked Vidalia Onions with Cheese, Butter and Herbs
Keyword:
Tennessee Onions, Vidalia onion recipe
Ingredients
2-3

Vidalia onions

or any sweet onion will do

½

stick unsalted butter

Garlic salt to taste

Pepper to taste

1

Cup

sharp cheddar cheese

the better quality, the better taste

1

Cup

mozzarella Cheese

½

cup

Parmesan cheese

Fresh oregano or other herbs for garnish
Instructions
Using non-stick cooking spray, prepare a 9x13 baking dish.

Slice the Vidalia onions in 1/4 to 1/2 inch slices and separate the rings.

Lay the rings in the prepared baking dish

Sprinkle the onion rings with garlic salt (about 1 tsp), pepper (about 1/2 tsp).

Cut the butter into pats and place around the dish on top of the onions.

Spread the cheddar and mozzarella cheeses on top of the onions and then top with the grated parmesan cheese.

Bake at 350 uncovered for 30 minutes or until bubbly and the cheese has started to brown (browned cheese bits is one of the best parts!)

Remove from the oven, allow to cool for a few minutes, garnish with some fresh herbs (oregano, chives, thyme all work well) and then serve.
Recipe Video
Recipe Notes
Very easy and simple recipe that is a crowd pleaser!
Nutrition Facts
Tennessee Onions
Amount Per Serving
Calories 180
* Percent Daily Values are based on a 2000 calorie diet.
A VERSE TO SHARE
"Wonder what the Bible says about onions?" is what I looked up in curiosity.  Did you know that one of the things that the Israelites cried over while they were wandering in the dessert was onions?  I can sympathize, I would miss them too.
In Numbers 11, God becomes angry with the people for complaining.  After All, they are safe in the desert and He knows that everything is going to be OK in the end.  The Lord has supplied the people with Manna every single day.
I wonder what Manna tasted like?
That's beside the point. Anyway, the people cried and complained and God became angry and a fire broke out burning part of their camp. Moses had to pray an interventional prayer and the fired died down.
This story reminds me so much of when my own children were small and trying to deal with them.  I'm sure you understand if you have dealt with children.  Let's forego the gory details and just say, "I relate".
I would love to hear your thoughts on this verse or on the recipe.  You can write me directly at wendi(at sign)loavesanddishes.net or just leave a comment here and I'll comment back!
***THIS POST HAS BEEN UPDATED BY WENDI WITH NEW INFORMATION***