Fast, Easy and the QUICKEST way to get Asparagus on the table in a hurry! How to Microwave Asparagus will show you the Best Way to Microwave Asparagus Out there!
Why This Recipe Works
Best Asparagus Recipes there are for the microwave
You can choose between three different ways
Easy
Fast
Delicious!
How It's Done
STEP 1.
Wet the paper towels with a small amount of water (about 2 tablespoons).
STEP 2.
Wrap the asparagus up burrito style in the wet towels.
STEP 3.
Microwave for 4 minutes. Be careful removing because they are hot!
Frequently Asked Questions (FAQ's)
Is It OK to Microwave Asparagus?
Yes, it's fine to microwave Asparagus. You'll want to know exactly how to do so or you'll end up with Asparagus with undercooked or overcooked Asparagus!
Check below for the three best ways to microwave a Asparagus.
How Long to Microwave a Asparagus?
4 minutes and then for 20 second intervals until heated through.
Microwave Vs. Boil, Grill or Steamed?
We prefer boiled, grilled or steamed Asparagus, but really, it's up to you and sometimes getting something to eat RIGHT NOW is more important than flavor.
If you are concerned about boiling water, I can show you how to do that!
Follow the directions below to get a lot of flavor from your microwaved Asparagus!
Can You Eat Asparagus Raw?
Yes, ABSOLUTELY! They taste better cooked first though.
Can you Get Sick From Undercooked Asparagus?
Not unless your Asparagus is out of date, moldy or spoiled in some other way.
Can I Microwave a frozen Asparagus?
Yes, you can. You will need to use the thaw function on your microwave first though. Frozen Asparagus will be much more soft and floppy and you will want to use care in microwaving them.
Do NOT wrap in towel, instead, put in a dish with a few tablespoons of water and microwave for 30 seconds and then 15 second intervals till hot all the way through.
How to Steam Asparagus in the Microwave without a steamer?
The recipe at the bottom of this page will teach you how to do just that. All you need are some paper towels and water.
How to Microwave Asparagus in Water
We do NOT recommend this method, however if you really want to do this method, this is how it's done…
Place Asparagus in a microwave safe bowl and cover with water.

Heat on high for 4 minutes.

Stir the water and

Check temp of water and Asparagus.

Repeat in 20 second intervals until heated through.
CAUTION: The water will be HOT. Be VERY CAREFUL removing it from the microwave. It is BEST to use a fork to remove the Asparagus and THEN allow the water to cool before removing the bowl of water.
PRO TIP: You will add a TON of FLAVOR by cooking the Asparagus in chicken broth instead of water.
How to Microwave Asparagus in a Wet Paper Towel
Check out the recipe below for how to microwave Asparagus in a paper towel.
How to Make Cooked Asparagus Taste Good
The secret to asparagus that tastes good is to cook it correctly (follow the recipe at the bottom of the page) and then, if you want to add more flavor add one or two of these…
Sprinkle with salt and pepper.

Add a pat of butter.

Try Lemon pepper seasoning

Onion powder

Garlic powder

Garlic salt

Worcestershire sauce

Salad dressings like honey mustard, ranch or thousand island.

A dash of brown sugar or honey
How to reheat Asparagus in a microwave
To reheat Asparagus in the microwave,
wrap them in a damp paper towel (wet the paper towel and squeeze as much water back out as you can, then gently pull the paper towel apart to flatten)

Microwave on high for 20 seconds and repeat at 10 second intervals until heated through as you prefer.
How Long Does a Cooked Asparagus Keep?
Cooked Asparagus, if kept covered and refrigerated should be good for 5 days.
Do not allow cooked Asparagus to sit out at room temperature for more than 2 hours.
What To Serve With Microwaved Asparagus?
You'll really love some simple frozen seafood like shrimp or lobster with your asparagus or how about a delicious hamburger?
TIPS & TRICKS for the perfect Microwaved Asparagus
Start with great asparagus! You'll look for spears that are bright green with a slightly purple hue. The bud ends should be well formed and tightly close. The stem ends should not be brown. Here's what the USDA has to say about asparagus!

Use good quality towels, you don't want littletowel hairs coming off on your food.

Try a bite of a raw asparagus, the cooked asparagus should still retain some of this crunch and bright green flavor.

Trim off the last several inches of your asparagus before cooking. The stem end can be quite woody to chew. Personally, I only eat the bud end and the next 3 or so inches, but that's me.

When you purchase your fresh asparagus, bring it home, cut off the last 3 inches of the stem end and put them in a glass of fresh water (like you would flowers). This will help keep it fresh until you are ready to eat them.
If you enjoyed this microwave recipe, you might also enjoy these other microwave recipes…
Microwave Hot Dogs
How to Microwave Corn on the Cob
YA'LL HELP ME OUT, OK?
Please leave me a comment and 5 STAR ( 🌟 🌟🌟🌟 🌟 ) review, I ALWAYS love to hear from you and your comments MAKE MY DAY! (Plus, it helps me out by letting everyone know that this is the place to find good recipes!)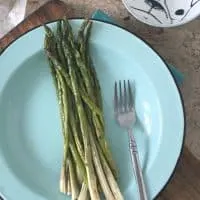 How To Microwave Asparagus
Fast, Easy and Ready in a Minute this microwave asparagus recipe will have you sitting down to dinner with a fresh delicious green side dish.
Print
Pin
Rate
Ingredients
2

Tbs

Water

1

bunch of Asparagus
Instructions
Wet a paper towel with the 2 Tbs of water. Squeeze out any excess water from the paper towel.

Wrap the paper towel around the Asparagus.

Heat on high for 4 minutes.

Check if the Asparagus is hot enough.

Repeat in 20 second intervals until Asparagus is heated through.
Notes
You can use this recipe for as many Asparagus as you like, but wrap them with no more than 8 stalks together.
If you are cooking more Asparagus, increase the time accordingly.
Top your heated Asparagus with a pat of butter, salt, pepper and a squeeze of lemon juice.
You might also like your asparagus topped with salad dressing (personally I like Ranch on mine).
There's an entire list in the post for topping ideas.
PRO TIP: If you want even MORE flavor out of your Asparagus, wet the paper towel with chicken broth instead of water.
Nutrition
Nutrition Facts
How To Microwave Asparagus
Amount Per Serving
Calories 1
Calories from Fat 9
% Daily Value*
Fat 1g2%
Sodium 1mg0%
Carbohydrates 1g0%
Protein 1g2%
Vitamin A 30IU1%
Vitamin C 1mg1%
Iron 1mg6%
* Percent Daily Values are based on a 2000 calorie diet.
A VERSE TO SHARE
There is so much variety in the things we have to eat. I'm so thankful for that!
Even though, I often eat the same things day in and day out, I'm thankful for the variety I COULD eat!
Genesis 1:29
And God said, "Behold, I have given you every plant yielding seed that is on the face of all the earth, and every tree with seed in its fruit. You shall have them for food