READY in JUST 15 MINUTES!!! Juicy, tangy, buttery and BURSTING WITH FLAVOR! How To Cook Frozen Shrimp.
Seasoned to perfection and suiting most tastes, I think you are really going to like this recipe!
Why This Recipe Works…
This is so simple, anyone at all can do it.
Uses frozen shrimp that store for use ANY time!
Make as much or as little as you like!
Perfect for one person or a crowd!
This Is How It Is Done…
STEP 1.
This is what frozen shrimp look like. Run the shrimp under cold water for 5-10 minutes from the faucet first. This will thaw the shrimp.
STEP 2.
Drain the shrimp on a paper towel and pat dry. Mix together the oil and spices. Put the shrimp into the oil mix and place in the fridge for 10 minutes.
STEP 3.
Add the remaining two tablespoons of oil to a large frying pan and heat over high heat until the oil is shimmery and the pan is well heated.
Add the shrimp all at once with the spices. Stir well and cook until shrimp turns pink and the tails curl (about 5 minutes).
STEP 4.
Turn the heat off and squeeze lemon over the top. Serve immediately.
FREQUENTLY ASKED QUESTIONS (FAQ'S)
What Kind Of Shrimp Should I Get?
There are generally three kinds of frozen shrimp…
Breaded pre cooked frozen shrimp – you bake these in the oven per the instructions on the package. Not for this recipe.
Frozen whole precooked shrimp without shells (but still have the tail).
Frozen whole precooked shrimp with the shells.
Whole Frozen Raw shrimp with shells.
For this post we will only deal with numbers 2 ,3 and 4. You can apply any of the instructions to either of those two.
The shrimp with shells will take slightly longer to cook as will the uncooked shrimp.
You may also want to check out our article on "how to cook frozen prawns"!
Do I Need to Defrost the Shrimp?….
The short answer is "yes" you do, but this only takes a few minutes if you run them under cool water.
How Do I Thaw Shrimp?
For either frozen shrimp with shells or without,
Run the shrimp under cold water from the kitchen faucet. OR

Move the shrimp from the freezer to the refrigerator the day before.
DO NOT THAW SHRIMP BY ALLOWING THEM TO SIT OUT ON THE COUNTER. THIS IS NOT A SAFE FOOD PRACTICE.
Can I Thaw My Shrimp In The Microwave?
Actually, you CAN do this, however, you run a BIG risk of cooking the shrimp and making it have a rubbery texture.
If you want to try, then microwave on a low setting in a microwave safe dish for 20-30 secs. Remove, stir and repeat until thawed.
However, I DO NOT RECOMMEND THIS PRACTICE.
How Do I Know That The Shrimp Is Thawed Out Completely?
You'll know that shrimp are thawed with they are soft, pliable, bendable and slightly translucent. They will have a gray color if they are not cooked already.
Can I Cook Shrimp Without Thawing It First…
YES, definitely, you can cook the shrimp without thawing.
Simply follow the instructions below for how to cook shrimp in boiling water.
Can I Eat Shrimp Raw?
No. It really isn't a good idea to eat shrimp raw. Raw shrimp can contain bacteria that leads to illness.
You can refer to this information on safe cooking temps from food safety dot gov.
How To Cook Frozen Shrimp With A Shell…
In order to cook frozen shrimp with a shell, you will first have to thaw the shrimp by following one of the two methods described above.
We recommend the cooking method noted in the recipe box below.
How to Warm or Heat Frozen Cooked Shrimp…
If you JUST want to warm the shrimp, say for dipping in butter…
First, thaw the shrimp by the method above.

Then, bring 3 Cups of water to a boil over high heat in a large saucepan.

Place a colander over the top of the saucepan.

Put the shrimp into the colander so that the steam rises up through the colander to gently heat the shrimp.

Use a spoon to stir the shrimp often.

When the shrimp are warm, they are ready.
How to Cook Frozen Cooked Shrimp
Frozen fully cooked shrimp are already cooked so, you don't need to cook them further.
Mostly what you need is to warm them and give them some flavor.
Follow the instructions in the recipe card below for a GREAT flavor for your shrimp!
How To Cook Frozen Shrimp in the Oven
First, thaw the shrimp as noted above.

Dry the shrimp with a towel (paper towels work fine).

Preheat the oven to 400

Toss the shrimp with 2 tbs of olive oil and the spices noted below.

Scatter the shrimp on a baking sheet so that there is plenty of room between them.

Bake for 6-8 minutes until they turn pink and are more opaque than translucent.

Most people enjoy a little lemon squeezed over the top
How To Cook Frozen Shrimp for Pasta
We love to combine frozen shrimp with Fettuccine AlFredo, it is a real family favorite.
To cook frozen shrimp for pasta, purchase the already cooked frozen shrimp and then warm them up according to the directions noted above.

Place the heated shrimp into the AlFredo Sauce (or whatever sauce you are using for your pasta) and serve over pasta and allow the sauce to heat on low until the shrimp are warmed completely through.
The Recipe For How To Boil Frozen Shrimp
(See below for the preferred method of cooking frozen shrimp)
1 lb of frozen uncooked shrimp in the shell of any size

1 Gallon fresh water

4 Tbs Old Bay Seasoning

1 small carrot, chopped

1 small onion, chopped

2 bay leaves

1 large bowl of ice water

8 Tbs whole salted butter, melted

8 lemon weges
Thaw the shrimp by putting them in a colander and running them under cold tap water until thawed (about 5-10 minutes) or by placing the bag of frozen shrimp from the freezer to the refrigerator the day before.

Bring the water to a boil in a large stock pot on the stove top set on high. Add the Old Bay seasoning, carrot, onion and bay leaves and give it a stir.

Turn the heat off, quickly put the shrimp in the water and have a bowl of ice water standing by.

It will only take a minute or two for the shrimp to turn colors from gray to pink. You'll see that it starts to curl and one or two will float to the top. When that first one or two float, they are all done. Pour them out into the colander and then pour them all into the ice water.

Gently stir the ice water so that all of the shrimp cool quickly.

Serve shrimp with melted butter and lemon wedge.
What Can I Serve With Frozen Shrimp?
Frozen shrimp will go with virtually anything! Our family particularly love it with
If You Enjoyed This Recipe, You Might Also Enjoy…..
How to Cook Canned Green Beans
Or ANY of our Appetizers!!
YA'LL HELP ME OUT, OK?
Be sweet and leave me a 5 STAR COMMENT 🌟🌟🌟🌟🌟 below, please. It helps others to find the recipes here at Loaves and Dishes.
I LOVE to read your comments and I always answer back as soon as I can (often within minutes from my cell phone). Don't forget to join me on social media and sign up for my newsletter so I can send you the HOT COOKING TIP of the WEEK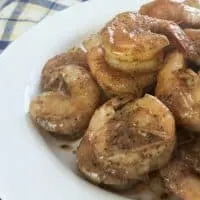 How to Cook Frozen Prawns
Light, Buttery, Perfect and BANGING FLAVOR is what you'll find with this recipe for how to cook frozen prawns. You'll never know that you aren't on the coast! Easy and Ready in less than 15 minutes!
Print
Pin
Rate
Ingredients
1

lb

of frozen peeled and deveined prawns

4

Tbs

cooking oil - divided

½

tsp

garlic powder

½

tsp

onion powder

1

tsp

hot sauce

½

tsp

salt

¼

tsp

ground black pepper

½

lemon
Instructions
Thaw the prawns by either placing in the refrigerator on the day before you plan to use OR by placing into a colander and running under cold tap water for 5-10 minutes.

Dry the prawns with a paper or cloth towel.

Mix TWO tbs of oil with garlic powder, onion powder, hot sauce, salt and pepper in a medium sized bowl and stir the prawns into the bowl. Place the bowl into the refrigerator for 10 minutes.

Heat a large skillet over high heat, add the remaining 2 Tbs of oil. When oil surface is shimmery and the oil is hot (about 2-3 minutes) , add the entire contents of the prawns bowl and reduce the heat to medium high.

Stir the prawns and turn until the prawns turn pink and begin to curl (about 5 minutes). Turn off the heat and squeeze the lemon over the top of the prawns. Serve with any extra lemon.
Notes
It is important to thaw the prawns first before cooking. If you start with frozen prawns, the prawns will cook unevenly.
Add more hot sauce or less hot sauce depending on your tastes. The amount listed will not add much heat, it is for flavor.
Be careful not to overcook the prawns as they do cook quickly. As soon as they turn pink, they are done.
Make a fun change and use lime instead of lemon!
If you are cooking the large size prawns, the cook time will be longer. If you are cooking small prawns, the cook time will be less.
Once you have thawed your prawns, they need to be cooked immediately.
PRO TIP: You'll know the prawns are done when they turn a beautiful pink/red color and begin to curl slightly!
Nutrition
Nutrition Facts
How to Cook Frozen Prawns
Amount Per Serving
Calories 236
Calories from Fat 135
% Daily Value*
Fat 15g23%
Cholesterol 285mg95%
Sodium 1203mg50%
Potassium 109mg3%
Carbohydrates 1g0%
Protein 23g46%
Vitamin C 12.7mg15%
Calcium 168mg17%
Iron 2.5mg14%
* Percent Daily Values are based on a 2000 calorie diet.
***If you have been hanging around Loaves and Dishes for a while, you might know that I am allergic to shrimp. My family was a GREAT help in making this recipe appear here. Thank goodness they all love shrimp and are willing guinea pigs. Especially Mr. Loaves and Dishes!***
When you are thankful…
Colossians 1:12
and giving joyful thanks to the Father, who has qualified you to share in the inheritance of his holy people in the kingdom of light.