I'm asked this several times per week and thought it best to simply write a post to help folks out, "What Does Divided Mean in a Recipe?"
Just this week, I received the following in an email message…
"When a recipe calls for "6 eggs, divided" does that mean I add only the egg whites or the yellows?"
a day later, followed by….
"This recipe says 2 tablespoons of cinnamon divided, how do I do that?"
These are fantastic questions!! This confuses so many people!
You will often see a recipe like the one below that indicates that a certain ingredient is "divided".
Recipe
1 egg
1 Cup All purpose flour, divided
1/2 tsp salt
If you didn't know any better, when the recipe calls for the first part of the flour, you might mistakenly dump the ENTIRE 1 Cup into the mix when some of the flour was to be reserved for flouring the board before rolling out the cookies!
WHAT DOES DIVIDED MEAN IN A RECIPE?
When you see "divided" after an ingredient in the ingredient list, it means that you will use part of that ingredient during one part of the recipe and then another part of that ingredient in another part of the recipe.
This is simply a "clue" to the recipe reader to be watchful when seeing this ingredient in the instructions as you will NOT be adding all of it at the same time.
HERE'S A FUN QUICK VIDEO FROM WENDI ABOUT DIVIDED RECIPE CONTENT
WHY NOT LIST THE INGREDIENT SEPARATELY IN THE LIST FOR EACH USE?
Recipes have conventionally been written only giving each ingredient one time in the list and the word "divided" is simply a way for the recipe writer to let the cook know, you will need this total amount but some will be used at one point in the recipe and the rest at another point.
In today's world of computer programs and computer based recipes, at times the program used for the recipe may not allow the writer to enter an ingredient more than once.
WHAT DOES IT MEAN WHEN IT SAYS THAT THE EGGS ARE DIVIDED?
Eggs may feel like a special case since you are able to separate an egg white from the yolk. However, when the recipe says a certain number of eggs "divided" then that is referring to whole eggs. So, in the recipe above, it means that a few eggs will be added at one point and then a few more at another point in the recipe.
If the recipe calls for separated eggs, then you would separate the yellow from the white and reserve them both individually until called for in the recipe.
That said, usually a recipe will say something like 4 egg whites and not even mention the whole egg if you are only supposed to add either the whites or the yolks.
What Does Divided Mean in a Recipe?
YOU CAN TRY OUT YOUR COOKING SKILLS WITH A FEW OF THESE WEBSITE FAVORITES!
The Secret to Easy Peeling Hard Boiled Eggs
YA'LL HELP ME OUT NOW, YA HEAR?
Please leave me a 5 star 🌟🌟🌟🌟🌟 comment below in the comment section, all right? I would LOVE to know if this article helped you out! Of course, head on over to Pinterest, Facebook and Instagram and tag me in some photos of your creations!
I can't wait!
Ya'll know I love your comments!! ❤
HOW TO MANAGE A RECIPE THAT CALLS FOR A DIVIDED INGREDIENT:
Yield: 1
What Does Divided Mean in a Recipe?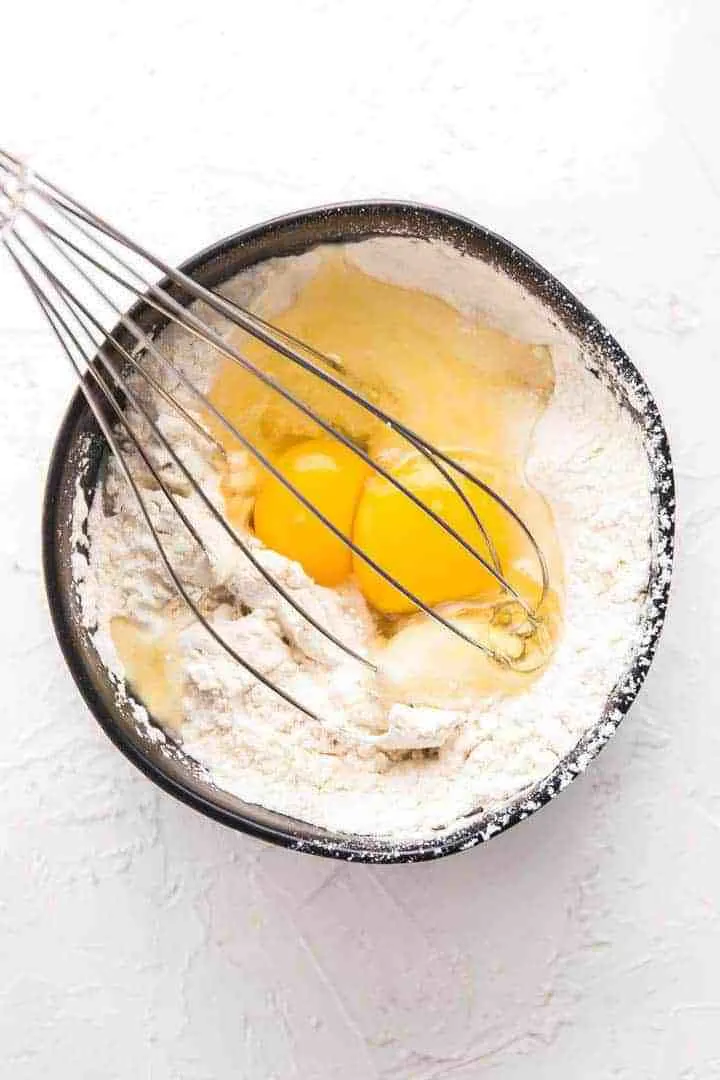 This card explains how to prepare a recipe with "divided" ingredients
Materials
Small bowls for the divided ingredients
Instructions
With any recipe, read all the way through the entire recipe first before doing anything. Imagine yourself cooking the recipe from scratch in your own kitchen. Visualize the pans and utensils you will use at each step. (I know this sounds pretty far out, but believe me, you will be a better cook for doing so).
Notice in the ingredient list if any of the ingredients state "divided". If you see this, when you are laying out your ingredients, go ahead and divide that specific ingredient out into separate bowls or in some way flag yourself so that you will remember to keep it separate.
Make a mental note of the step number in which you will add one part of the ingredient and then the second step number where you will add the other ingredient. This will help you to remember not to add the whole thing at once.
Notes
As with ANY recipe, making a recipe that calls for divided ingredients always works best if you set out the ingredients ahead of time and mentally prepare to cook the recipe.
A VERSE TO SHARE
Have you ever really considered you could improve as a human being? Every thought long and hard about the things that make you a challenge to love?
It probably isn't the best thing to dwell on these but it is good to understand yourself.
In the past few weeks, I've seriously been considering my own issues. Not as a way to condemn myself but as a method of working on my own internal "home improvements" so to speak.
Faults
I've found laziness, intolerance, judgmental, egotistical issues and many other things I need to work on. At this point you are probably saying, "why would you share that, Wendi?"
I don't want you to argue with me or say, "that's not true" because it IS true for what happens under the surface for me. It's ok. We are all guilty of our own negative aspects.
The beauty of the whole thing and the reason I even bring it up is to say, "He Loves me anyway. I am forgiven and loved."
I don't say that as a wholesale way of saying, "I can do whatever I want and I am still forgiven". How tacky and wrong.
It means
Nope, I work on these things and struggle with myself daily because these pieces are me are not what God calls me to be.
What I am saying is, "God sees my struggles, He helps me and He knows I am fallible, He made me this way". He forgives me and so do I. I hope you do forgive yourself too and work towards a better you.
Here is an excerpt from Paul's letter to Timothy talking about the same kind of thing.
1 Timothy 1: 15-17
Here is a trustworthy saying that deserves full acceptance: Christ Jesus came into the world to save sinners—of whom I am the worst. But for that very reason I was shown mercy so that in me, the worst of sinners, Christ Jesus might display his immense patience as an example for those who would believe in him and receive eternal life. Now to the King eternal, immortal, invisible, the only God, be honor and glory for ever and ever. Amen.