I know. I know. This is a family site! What is an alcoholic beverage doing on a family site? Well, let me tell you, sometimes Mama needs a drink! Last Saturday night after the wedding festivities I was certainly ready for something! The whole gang met at Milners (I've told you about that lovely place before) and because my curiosity got the best of me, I ordered a Basil Cucumber Margarita. Definitely the kind of drink you imbibe with your Pinky Out! I felt so swank!
Anyway, I tried to recreate the drink at home – but couldn't remember the ingredients. Instead I created this drink that I am lovingly calling a "Pinky Out". Enter the Express Lane – for you recipe seekers, here it is. For anyone who would like to chat and see a few wedding photos, please join me after this next section for a little girl talk about the recipe and about the wedding.
THE RECIPE FOR THE PINKY OUT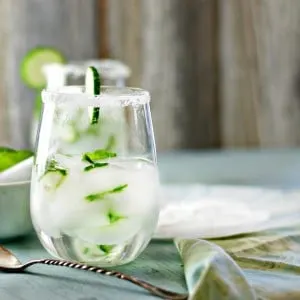 Pinky Out
Don't forget to check out the tips and tricks for this recipe at www.loavesanddishes.net
Print
Pin
Rate
Ingredients
1

oz

Top Shelf Gin

good quality

1

oz

Top Shelf Vodka plus a splash

4

oz

lemon lime soda

7-up, Sprite, Seagrams

4

slices

of cucumber quartered

2

large or 3 medium basil leaves - torn into pieces

sugar for the rim and a tsp extra

Garnish with cucumber slice
Instructions
Apply a water ring around the top rim of your drinking glass and turn the glass upside down into a dish of sugar. Twist so that the sugar adheres to the rim. Turn the glass right side up and gently put ice in the glass about ½ -¾ full.

Add Gin, vodka and soda to the glass and stir gently. Muddle the cucumber and basil in a mortar and pestal with 1 tsp of sugar and a splash of vodka (that means crush it a little). Add this to your drink and stir gently.
Nutrition
Nutrition Facts
Pinky Out
Amount Per Serving
Calories 200
* Percent Daily Values are based on a 2000 calorie diet.
TIPS AND TRICKS FOR THE PINKY OUT
Slice the cucumber thin – makes it easier to muddle. I buy the English Cucumbers – you know the ones wrapped in the plastic wrap. I think they have a better taste and not so many seeds – although you might find a couple now and then.

The flavor of this drink is something that will make you say, "Hmmmm". The taste is green. Did you ever taste the color green before? This is it. On the first sip I thought, "This needs more sugar", then on the second sip I thought, "Nope, that's perfect". So, give it a sip or two before you decide.

This is not a sweet, guzzle it down drink. No siree. This is a "have a sip" and "think awhile" drink. The Pinky Out is pretty refreshing – but also a little strong – so sipping only please. This is the kind of drink that is perfect if you have been stressed out for weeks and now….. now, finally, you can relax.

Don't be sassy – don't try to eat the cucumber out of the bottom of the drink. Eww.

WARNING – this is a very relaxing beverage- not kidding. Do NOT try to operate any heavy machinery (this includes your car) after drinking a Pinky Out. You have three choices when drinking a Pinky Out 1) Let someone else drive you home. 2) just stay the night 3) fix it at home and stay there. Those are your choices.

When I say, "Top Shelf" – what I mean is choose a good quality liquor. You pay for the less expensive varieties in other ways. Trust me.
OTHER STUFF BESIDES A PINKY OUT
My dear friends, last Saturday was a lovely lovely day. The weather cooperated and it was cool but not cold. It was overcast but not rainy. The guests all found the tiny chapel. Everyone who was expected arrived. There was no unexpected drama. The Groom and his men were handsome. The Bride and her ladies were beautiful. It was a terrific and perfect day.
I didn't share this before, we had originally planned a spring wedding but the planning for that combined with the bride trying to finish her last semester of college and the groom trying to find his first permanent job simply became too much. Instead, we opted for a tiny family only wedding at our church's chapel. I think it was perfect. This allowed the Bride and Groom to really be themselves without so much pomp and circumstance and more fun instead.
The music was provided by my younger daughter and a friend of hers and was simply beautiful. The wedding ceremony was performed by the minister who pastored our family when Sarah was small. The photos were taken by a new and good friend of mine, Ann Scharf. The bride arranged all of the flowers. My daughter-in-law fixed everyone's hair. My son made sure that everything in and around the house went smoothly. My sweet hubby kept everyone in good cheer. After the wedding, we all relaxed a bit and then headed off to Milner's for dinner. The groom's mother made a cake that was WOW! Beautiful and tasty too! I still have a tiny piece in the fridge that I am coveting – perhaps it will be dessert today after lunch.
Sarah's Aunts and Uncles even traveled from Tennessee to be here. What a joy. Sarah's Aunts and Uncles are not actually related to us by blood – they are my "near life long" friends from college. Better friends were never had by anyone. Period. I am the truly the most lucky girl alive to have such special people in my life and my children are too.
So, with that, I'll share a few photos. Go make yourself a "Pinky Out", have a sip and enjoy these with me. Under each photo, I'll describe what you are seeing. Thanks for enduring my photo album here. That's how I know we are friends!
I would love to hear about your special occasion too! Tell me how you decided to celebrate? Fun moments? Things you did or made yourself? Special food on your buffet? Have a picture to share? That would be terrific! Anyway, the comment section is down at the bottom of this page and I would love to hear from you!