Southern Tomato Gravy is a ridiculously good sauce for all kinds of wonderful southern dishes. It's so creamy, tasty, smooth and it smells heavenly! It's basically impossible not to like it.
No, I did not grow up eating southern tomato gravy. I sure wish that I had though. It is an extremely addicting forever favorite. I dare you to tell me otherwise once you've tried it.
This awesome deep south dish can be used on
biscuits,
steaks,
pork chops,
eggs,
asparagus….
a piece of rubber.
Seriously, Tomato Gravy is that good!
I showed you how to make my famous Sausage Gravy some time ago and it's time for another gravy recipe. Now we also have Sawmill Gravy! Yum!
WHY THIS RECIPE WORKS
You can use canned tomatoes and therefore, it's good all year long.
If you have fresh tomatoes, that works too.
Its simple and comes together in minutes.
WHAT IS THE HISTORY OF TOMATO GRAVY?
Since I first posted this recipe back in 2015, many readers have written in to tell me that their relatives made this recipe because of an overabundance of summer tomatoes that needed to be used. Makes sense to me! I've also read that tomato gravy dates back to the early 1800's.
HOW DO YOU USE SOUTHERN TOMATO GRAVY?
Tomato gravy is good on EVERYTHING! I have tried Tomato Gravy as a sauce for a steak, to go with green beans, over creamy grits, accompanying asparagus, on top of eggs and simply slathered on a good old fashioned Buttermilk Biscuit!
FAQ: FREQUENTLY ASKED QUESTIONS:
IS TOMATO GRAVY AND RED GRAVY THE SAME THING?
Nope, tomato gravy is made from tomatoes and red gravy is also called red eye gravy and is made from coffee. They are completely different.
WHAT ARE SOME THINGS THAT I CAN ADD TO MY TOMATO GRAVY?
Tomato gravy works perfectly with…
Bacon crumbled up in it.
Served over rice.
A little extra milk added for more creaminess
Make it using Rotel tomatoes for extra spice
Leave off the onions if you want
Serve over pasta!
Yummy over shrimp and grits!
Eat with chicken or sausage!
How about a meatball?
CAN I FREEZE TOMATO GRAVY?
Tomato gravy can be frozen, but the when you thaw it the consistency is quite different and is unappetizing so I don't recommend it. Much better to take a few minutes and make some fresh.
HOW LONG IS TOMATO GRAVY GOOD FOR?
Tomato gravy can stay out on the counter for about 2 hours and then you need to wrap it up tightly and place it in the refrigerator. It will be good for reheating for about 5 days.
HOW CAN I REHEAT MY TOMATO GRAVY?
Just pour it into a saucepan or a frying pan, add a little milk, cream, stock or water and gently stir and heat until it is heated through.
HOW CAN I THICKEN MY TOMATO GRAVY?
You thicken your tomato gravy just like you would thicken any gravy.
In a separate cup whisk together 1 Tbs corn starch with 1 Tbs cold water. It will begin to look like milk.
Add this to your hot gravy and stir and then wait for 2 minutes because it takes a minute for the thickener to develop. Repeat until your gravy is as thick as you like.
HOW DO I MAKE RESTAURANT QUALITY TOMATO GRAVY…
The secret to tomato gravy that is just like a fancy restaurant is during step three, stop before adding the cheese and final butter and press through a small kitchen sieve to remove the bits of tomato, shallot and garlic that remain and THEN add the butter and parmesan.
However, I LIKE little chunks of tomato, shallot and garlic.
I mean I REALLY LIKE those. Besides, it seems a waste to throw those out when they taste so good. So, I left them in. In your kitchen, you be the boss. Try it both ways and see what you think.
RECIPE TIPS FOR SOUTHERN TOMATO GRAVY
This recipe for Southern Tomato gravy is pretty loose, for example, you can sub out ½ an onion for the shallot. You could use another type of diced tomato from plain to another flavored one.

Be careful taste testing because it is EASY to burn your tongue. Ask me how I know. 🙂

When you add salt and taste, make sure to stir the gravy and cook for a little bit to allow the salt time to melt.
LET'S SEE HOW THIS IS DONE…
First, melt the butter and bacon grease. Then add the garlic and shallot (or onion if that is what you are using). As well as the flour.
Then add the tomatoes (fresh or canned, depending on what you are using)
Then smash the tomatoes in the pan to release the juices…
Then add the other ingredients to the pan..
Then heat until thickened to the thickness you prefer
YA'LL, HELP ME OUT, OK?
Please leave me a 5 star 🌟🌟🌟🌟🌟 comment below in the comment section, all right? I would LOVE to know if you made this recipe or even if you are planning to! Of course, head on over to Pinterest, Facebook and Instagram and tag me with some photos of your creation!
I can't wait!
Ya'll know I love your comments!! ❤
Try Some Of Loaves and Dishes OTHER Fantastic Gravies!
How to Make Gravy without Drippings
How To Make Gravy with Cornstarch
YA'LL HELP ME OUT, OK?
I need your help! Please leave me a 5 STAR 🌟🌟🌟🌟🌟 in the comments below! A 5 STAR 🌟🌟🌟🌟🌟 review lets the internet know that THIS IS THE PLACE for wonderful comfort food!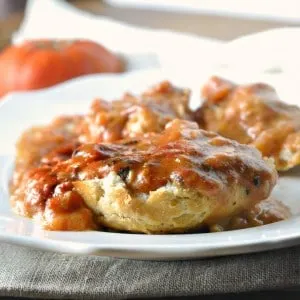 Southern Tomato Gravy
To read about this recipe such as recipe tips and information about recipe inspiration or for more great recipes, visit www.loavesanddishes.net
Print
Pin
Rate
Ingredients
2

Tbs

sweet cream unsalted butter

divided

1

tbs

bacon grease

1

shallot minced

1

clove

garlic minced

1

tsp

Kosher salt

divided

1

Tbs

all purpose flour

1 14.5

oz

can Fire Roasted Diced Tomatoes with garlic

1/4

Cup

Heavy Cream

½

tsp

brown sugar

salt and pepper to taste

¼

cup

grated fresh parmigiano reggiano cheese

Fresh cracked black pepper
Instructions
In a stainless steel frying pan melt 1 Tbs butter on the stove top over medium heat and add the 1 Tbs bacon grease. When melted add the shallot and garlic and cook until fragrant and starting to brown (about 3 minutes or so).

Add ½ tsp salt to the frying pan. Add 1 Tbs flour to the pan and cook over medium heat for 1-2 minutes (this allows the raw flour taste to cook out of the flour).

Add the can of tomatoes all at once with the water from the can. Use a potato masher and smash and crush the tomatoes some until the sauce is the desired "lumpiness" that you will like. Stir and heat until thickened and bubbly. Add the cream. Add brown sugar and return to bubble. Taste and add salt and pepper to taste. Turn off the burner and add the other tbs of butter as well as the grated cheese. Stir to melt. As soon as melted, serve. Garnish with fresh cracked black pepper.
Notes
If using fresh tomato, smash the tomatoes and then strain off the seeds.
Use the best canned tomatoes you can for this recipe, it really makes a difference.
It is fine to substitute a 1/2 onion for the shallot.
Use milk if you need to instead of cream.
It is ok to use chicken stock instead of milk or cream if you do not want creamy tomato gravy
Always use real butter
For restaurant quality tomato gravy, strain the gravy through a fine sieve kitchen strainer before adding the final butter and cream. This will remove any tiny bits of tomato and shallot, etc. and leave a thin fine liquid for your gravy.
If you want to thicken your gravy more,in a separate cup whisk together 1 Tbs corn starch with 1 Tbs cold water. It will begin to look like milk. Add this to your hot gravy and stir. Repeat until your gravy is as thick as you like.
Nutrition
Nutrition Facts
Southern Tomato Gravy
Amount Per Serving
Calories 220
* Percent Daily Values are based on a 2000 calorie diet.
***This post has been revamped to add more information from it's original post on 12/29/15***
A VERSE TO SHARE
These two verses from Proverbs say everything, and it doesn't even require a commentary from me…
Proverbs 18: 12-13
Before a downfall the heart is haughty,
but humility comes before honor.
To answer before listening—
that is folly and shame.