Easy Chicken Stock is SO EASY to make.  Once you start making your own easy chicken stock, you will wonder why in the world you ever wanted to pay so much money for premade stock.  The taste is so much better too!
For this easy chicken stock, you will need 4 lbs of chicken.  This can be chicken you would normally eat (breasts, legs, thighs, etc.), or it can be chicken you wouldn't normally cook with (which is what I use).  I keep a zippered freezer bag in the freezer in my kitchen.  When I come upon a chicken piece that I am not going to use (wing tips, backs, the little bag of goodies from a whole hen, skin, etc.), I just put the pieces in that bag.  Once I have 4 lbs, then I know I have enough for a big pot of stock.
Please note that you can cut this recipe in half if you do not plan to preserve your stock by freezing or canning – because honestly – fresh chicken stock doesn't last long in the fridge.  However, if you are going to the trouble of making stock – I would recommend preserving some too. If you are planning to preserve your stock, please proceed to my blog post about Preserving Chicken Stock! (thanks!).
The King will reply, 'I tell you the truth, whatever you did for one of the least of these brothers of mine, you did for me.'  ~ Matthew 25:40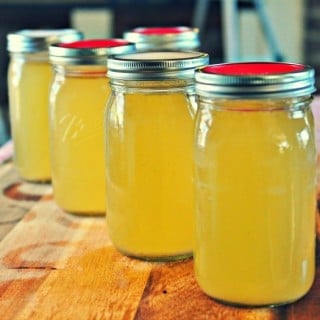 Easy Chicken Stock
This recipe for easy chicken stock is simple, delicious and economical
Ingredients
4

lbs

chicken pieces

16

Cups

of water

3

celery stocks

2

medium onions quartered

½

head of garlic

10

whole black peppercorns

2

bay leaves

1

Tbs

salt
Instructions
In a large stainless steel stock pot, combine chicken and water. Bring to a boil over medium-high heat. Add the celery, onions, peppercorns, bay leaves and salt. Reduce heat and boil gently for 2 hours or until the chicken is tender.

Using a slotted spoon, remove the chicken and reserve it for another use.

Remove the celery, onion and garlic with slotted spoon and discard – do not worry about removing every piece, the sieve will catch the remainder.

Strain the stock through a cheesecloth lined sieve.

Cool until fat solidifies, then skim the fat from the stock.

Your stock is now ready to use or to preserve.
Nutrition Facts
Easy Chicken Stock
Amount Per Serving
Calories 100
* Percent Daily Values are based on a 2000 calorie diet.