Tender Chicken, lovely homemade flavor, ready in minutes and easy to adjust to your tastes! These pressure cooker chicken and dumplings don't have to just be for Sunday dinner anymore! Your family will bang the table for more every single time!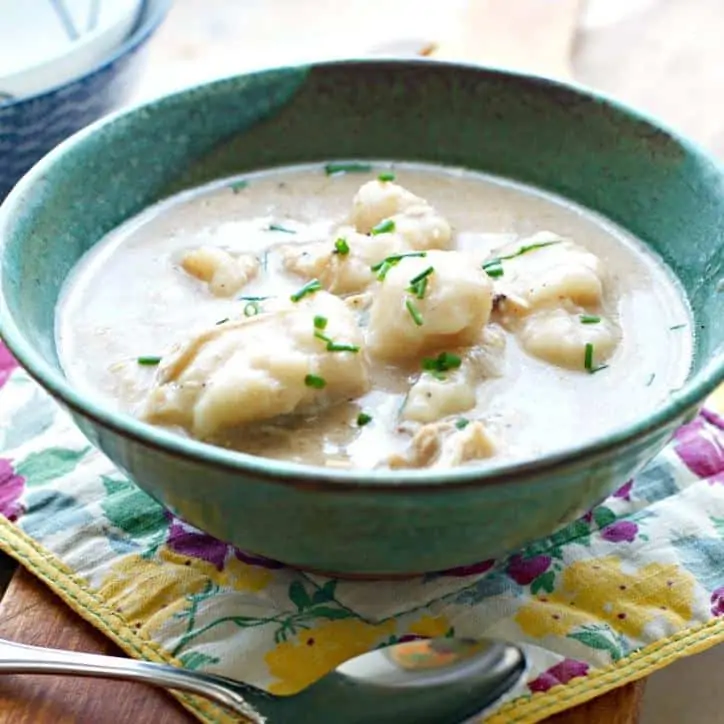 Easy Chicken and Dumplings
Nothing could be easier than cooking up supper in the pressure cooker! Just throw it in and turn it on (or turn on the burner, if yours is like mine).
Then, roll out the biscuit dough, cut into strips and throw in the bubbling pot!
Easy peasy!
Add veggies if you like, leave out if you don't!

Here's What You'll Need
2 lbs Chicken (I like to use thighs, but it's up to you).
Chicken stock (or stock concentrate + water)
Garlic Powder
Onion Powder
Bisquick
Milk
Salt/Pepper
Celery and Onions
Butter or Bacon grease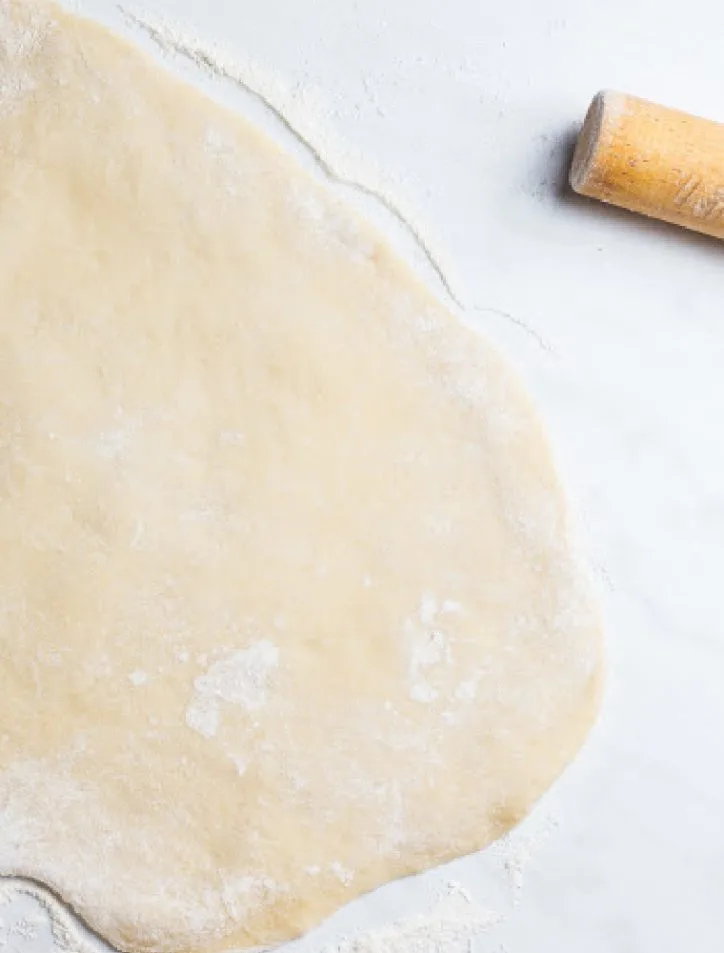 Here's How It's Done
Cook the chicken in the pressure cooker for 8 minutes at full pressure and allow natural release. Then shred it.
Saute the celery and onions, add the chicken stock, spices, milk and the shredded chicken back to the pot.
Mix up your biscuit dough, roll out and cut into strips. Add to the boiling stock and cook till done.
What To Serve With Chicken and Dumplings?
We love a simple dinner of just a big ol bowl of chicken and dumplings, but if not, then serve as either a main dish with collards and corn bread or as a side dish with ham, biscuits and pintos!
Frequently Asked Questions (FAQ's)
Can You Make Chicken and Dumplings in a Pressure Cooker?
You can make the entire dish in a stove top pressure cooker, but you only cook the chicken under pressure, everything else uses the cooked chicken in the pot.
What Kind Of Chicken to Use?
I prefer the boneless skinless thighs, but any kind of chicken will work, you'll just want to remove the skin and bones and shred before turning into chicken and dumplings.
How Long Does This Take
Start to finish is less than an hour. If you can move right along, you can be done in 30 minutes.
How Long Does Chicken and Dumplings Last?
Covered in the fridge, they last about 4-5 days. The noodles start to break up and break down after 24 hours.
Can I Freeze Chicken and Dumplings?
You CAN freeze chicken and dumplings, but the dumplings want to dissolve after they've been frozen.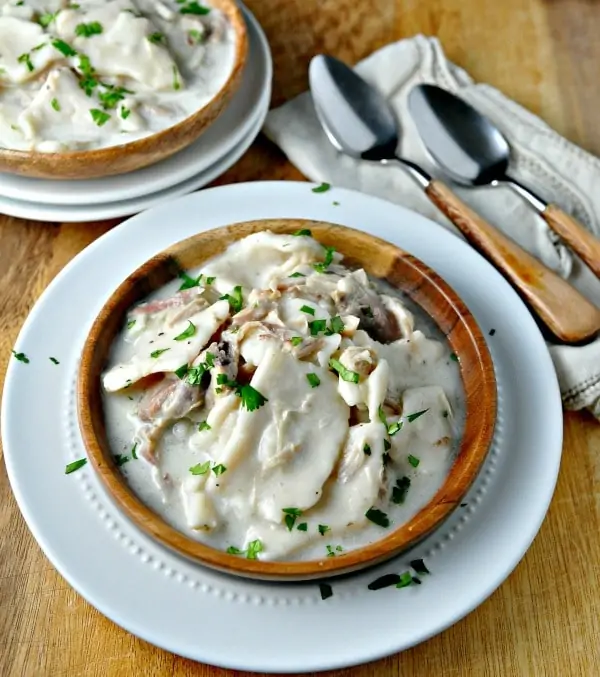 Tips and Tricks
The chicken is super hot after pressure cooking, remove with tongs and shred with a fork.
Its fine to use either chicken stock, stock concentrate or bouillon cubes. If using bouillon cubes, do not add salt until tasting.
If milk is an issue for you, milk substitutes work well in this recipe.
If yours is not thick enough after cooking with the noodles, you can always thicken by mixing 2 Tbs of cornstarch with 2 tbs cool water, mix till thick like milk and then add to the hot dish. Stir and allow to thicken.
The video of this recipe does not include onion and celery and instead uses onion powder and celery seed. The recipe tastes much better with the addition of actual celery and onion however, if you do not have either, the granulated powder is an acceptable substitute.
Offer fresh cracked black pepper when serving.
You can substitute canned biscuits for the Bisquick biscuits, cut them into four pieces and add to the boiling liquid (it does have a different taste when prepared this way).
PRO TIP: If you watch the video, you'll see me adding bacon grease. This adds a smoky flavor that can't be beat and I use it instead of butter. Butter is fine, but bacon grease is even better.
Watch Me Make It
Would You Do Me a Favor?
Please leave a 5 STAR comment in the comment section below (the little stars appear above the comment blocks). This helps others to find the recipes at Loaves and Dishes.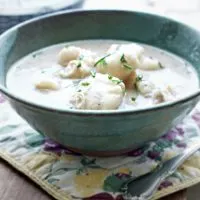 Pressure Cooker Chicken and Dumplings
Tender Chicken, lovely homemade flavor, ready in minutes and easy to adjust to your tastes! These pressure cooker chicken and dumplings don't have to just be for Sunday dinner anymore! Your family will bang the table for more every single time!
Print
Pin
Rate
Ingredients
For pressure cooking the chicken
2

lbs

chicken

boneless skinless breast & thighs work best

3

stalks

celery

chopped small or use celery seed 1 tsp

2

medium

onion

chopped small or use onion powder 1 tsp

1

bay

leaf

optional

2

tsp

salt

kosher

1

tsp

pepper

ground

2

cloves

garlic

minced or 2 tsp garlic powder

1/2

cup

water

use chicken stock for more flavor
For biscuits
21/4

cups

baking mix (Bisquick)

plus extra for dusting the board

2/3

cup

milk

prefer whole milk
For putting it all together
8

cups

chicken stock

OK to use chicken stock concentrate and water or bouillon and water. See notes below.

1/2

Cup

milk

Could take as much as 1 cup

4

tbs

butter

prefer real butter but butter substitute will work
Instructions
In the pressure cooker, place the chicken, celery, onion, bay leaf, salt, pepper and garlic. ***see notes section about salt and pepper if using bouillon cubes later*** Add 1/2 cup of water and seal the lid. Bring to full pressure on the stove top. (If using an Instant pot, set for 8 minutes at full pressure). Hold at full pressure for 8 minutes and allow a natural release.

After natural release, remove the chicken and the bay leaf (discard bay leaf) and place chicken on cutting board. Using two forks, shred the chicken. Remove any bones, cartilage and skin if you have those and then place the shredded chicken back into the pan. Use a large stock pot or dutch oven if you don't have a pressure cooker that you can place onto the stove (i.e. instant pot).

Add the chicken stock to the pot. It should cover the chicken by a couple of inches. Bring to a boil.

While the stock pot is coming to a boil, make your dumplings. Mix the baking mix and the milk together in a large bowl using a spatula. Dust a large board or your counter with baking mix and turn out onto the board. Knead, adding enough baking mix as needed to keep the dough from sticking to your hands and the board. Knead until soft and pliable. Sprinkle the board well with bisquick flour and roll out into a thin sheet 1/8 inch thick (about). Use a table knife turned upside down to cut the dough into 1-2 inch wide strips.

Once the stock is boiling, add the dough to the pot in strips a few at the time. You'll notice that they sink immediately and then float to the top. Soon the top will be covered with a mat of dumplings. Gently, using a rubber spatula, open a spot in the dumplings to add more until you have added all of your dumplings to the pot. Allow to gently boil for 1-2 minutes and then set the temp on medium low and allow to cook for 10 or so minutes. Use your spatula to spoon the hot soup over the top of the dumplings as they cook. During this time, add the milk and butter.

The chicken and dumplings are ready when the noodles begin to sink and when tasted are done throughout.
Nutrition
Nutrition Facts
Pressure Cooker Chicken and Dumplings
Amount Per Serving
Calories 628
Calories from Fat 270
% Daily Value*
Fat 30g46%
Cholesterol 68mg23%
Sodium 2047mg85%
Potassium 618mg18%
Carbohydrates 63g21%
Protein 24g48%
Vitamin A 390IU8%
Vitamin C 4mg5%
Calcium 212mg21%
Iron 3mg17%
* Percent Daily Values are based on a 2000 calorie diet.