I know, I know – in a world of respectable accomplishments, like the ones you people are doing every day, this seems like the itty bittiest of things to be excited about. However, in MY life, this is a BIG THING. It is HUGE! I have pulled off a dog-gone close recipe for a Pumpkin Cinnamon Soup Copycat! As I am working on this, I am like a mad scientist in my teeny tiny kitchen hollering "EUREKA!!! I'VE FOUND IT!! I DID IT!!" There are kitchen utensils, spices and kitchen towels lying EVERYWHERE – even the dog is afraid to come anywhere near the kitchen. I know. I know. You are embarrassed for me – as you probably should be – but it is what it is.
Some weeks ago, my son Stephen chose to go to a delicious new "great for foodies" restaurant in Christiansburg, Virginia for his birthday. What a total TREAT! I felt as if it were MY birthday when I read the menu. Our server was exceptional. The digs. Oh WOW! THE DIGS! A beautiful old mansion sitting on top of a hill. Perfect. It is perfect really.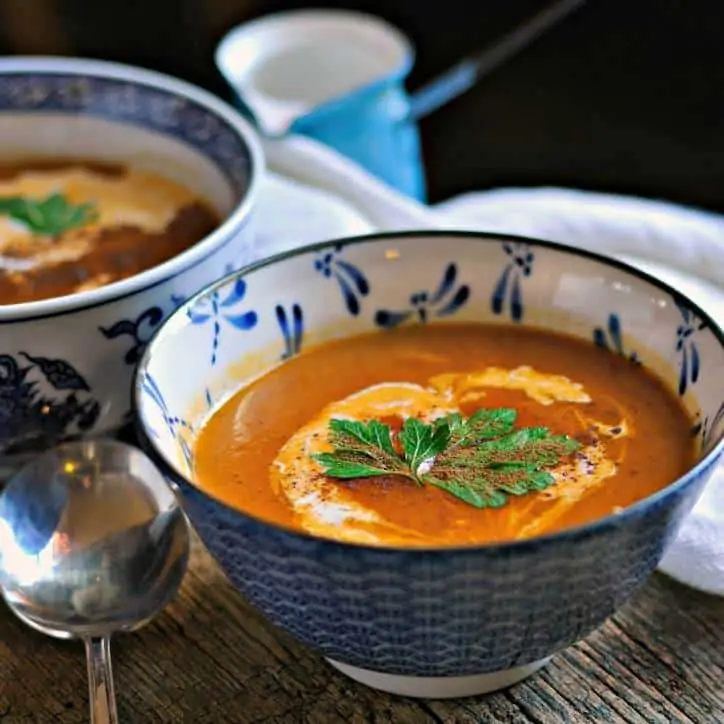 The chef of The Summit is, according to their website (and buddy, I believe it too), one of the "Best Chefs in America". You can read all about the restaurant, the menu and see lovely photos RIGHT HERE ON THEIR WEBSITE. I encourage you, if you are ANYWHERE in the vicinity of Christiansburg, VA – Go. Check. Out. This. Restaurant. One thing – I did NOT say it was inexpensive. Then again, I can't imagine a better deal on what is probably the BEST food I have EVER eaten (and that is saying something).
While we waited for our meal, the chef sent out a cup of complimentary pumpkin cinnamon soup (Not Pumpkin Cinnamon Soup Copycat). I have to admit, when our server brought out our soup I was a little leery. I am not a fan of pumpkin soup. At all. However, I am very food ADVENTUROUS and will try nearly anything (except seafood – allergies – you know).
I took one sip and said completely out loud "OH MY GOSH!" quickly followed by "THAT IS GOOD!". Our table became very quiet – which is a sign that something is very badly wrong OR everyone is eating. Nothing was wrong. Everything was RIGHT! This soup. THIS SOUP IS OH SO RIGHT!
After much friendly chatter with our server, I asked if the chef would possibly share the recipe or even just the ingredients so that I could pull off a poor imitation at home. The answer, sadly, was "no".
One thing that has never-ever been said about me is, "OH she takes a "No" really well". (laughing). So – armed with a boatload of determination AND a whole bunch of frozen pumpkin puree that I put up some time ago, I began to experiment. What a crazy road that is too. Thus we have Pumpkin Cinnamon Copycat! YAY!
As a total aside – I really do wish that I had a picture of the pumpkin that delivered this delicious pumpkin puree. My friend, Judy – Clay's mom of the famous "Clays Famous Three Bean Casserole" – brought me a FOURTY POUND (not kidding) pumpkin during the fall before last. It took me three whole days (in the evening after work) of butchering that poor pumpkin to finally get it all roasted, pureed and frozen. THREE DAYS! If I ever run out of frozen pumpkin – I will freeze some more for posterities sake on the blog. But – I still have plenty more – so, you will just have to wait for that. If you want to know how to do it – just email me and I'll tell you. Honestly though – canned pumpkin puree is a God-send.
So, anyway, back on the road and out of the weeds – this recipe for Pumpkin Cinnamon Soup Copycat – is the result of mad kitchen experimentation. My hubby and I agree that it is pretty darn close to the original in taste. My daughter, Sandy, says, "Mom, he is a famous chef, I am sure he doesn't use the same ingredients that you have hanging around here in our kitchen". To that, I say, "you are most likely right" but I'll also say, "it tastes about the same regardless".
My mother always said that, "Imitation is the highest form of flattery" and that is definitely what this is. The HIGHEST form of flattery. Hat's off chef. You are a super star. We WILL be back as soon as we can. Now – if I can ever figure out how to cut and cook a handcut filet like I had that night…. WHOOT WHOOT! (Really though, I'll just leave that to you, chef). Lol.
So – what I really want to know is…. Where is YOUR favorite restaurant – and what do you get to eat there? Why do you like going there? What is your favorite dish? Please please – scroll on down to the comments area of this page and leave me a comment. I LOVE COMMENTS!! I promise to respond RIGHT AWAY as soon as I can. These things go right to my cell phone and I'll know pretty quickly if you leave a comment.
You might also want to try Butternut Squash Soup
We did not follow cleverly invented stories when we told you about the power and coming of our Lord Jesus Christ, but we were eyewitnesses of his majesty. ~ 2 Peter 1:16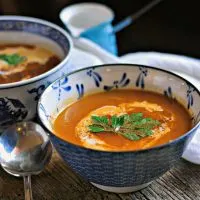 Pumpkin Cinnamon Soup Copycat
Pumpkin Cinnamon Soup is a warm, middle eastern feeling soup that will cause you to crinkle your toes it is so surprisingly good.
Print
Pin
Rate
Ingredients
2

tbs

unsalted butter

1

large

fist size – or equivalent amount shallot - minced

6

cups

chicken broth

if you can make your own or get the fresh from the supermarket – that is the best.

2

cups

pumpkin puree

not pumpkin pie filling

1 ½

tsp

salt

1

tsp

cinnamon

1 ½

tsp

cumin

½

tsp

nutmeg

½

tsp

white pepper

2

tsp

raw sugar

1

chicken bullion cube

½

tsp

garlic powder

6

oz

tomato paste

½

cup

cream

Juice of ½ lemon

Cream

parsley, cinnamon sprinkles for garnish
Instructions
In a heavy stock pot, over medium heat, melt the butter. When melted, add the minced shallot and cook till translucent – about 2-3 minutes. Add the chicken broth and the pumpkin puree and mix well with a wooden spoon. Heat until heated through.

If you have an immersion blender, blend the mixture until the shallots are completely blended/pureed and there are no lumps or strings in the pumpkin. If (like me) you only have a regular blender, pour the mixture into the blender and blend on a medium high speed until smooth and then return to the stock pot and return to medium heat.

Add the remaining items (except the lemon juice and the garnish) one at a time and mixing well after each addition. It takes some stirring to incorporate the tomato paste and you have to give the bullion cube a few minutes to dissolve – just keep stirring. Adjust heat as needed so that the soup doesn't boil. Simmer is ok.

When all is added and the soup is completely hot throughout and simmering, add the lemon juice, stir and turn the heat off.

Serve in individual bowls, garnish with cream, parsley and a sprinkle of cinnamon.
Notes
You'll want to hold off on the tomato ingredients, but trust me, don't do it.
Nutrition
Nutrition Facts
Pumpkin Cinnamon Soup Copycat
Amount Per Serving
Calories 280
* Percent Daily Values are based on a 2000 calorie diet.