Jump to Recipe
Sometime before I dashed out the front door hollering over my shoulder to my husband, "Oh my GOSH, it's  my MOM, It is an emergency and she needs me!" and a "Don't forget to feed the dog because I don't know when I'll be back", I bought the most beautiful butternut squash you EVER saw!  I had a vision right in the grocery store of Roasted Butternut Squash Soup.
That poor squash sat on the kitchen counter for, oh I don't know, a couple of weeks.  Is this the best thing for a butternut squash?  Probably not. I know, I know.  Consequently, you, my faithful, wonderful and sweet readers sat patiently by too…. Waiting…. Waiting…. Waiting….
Somewhere near Christmas (which really didn't happen in our family this year) there was a short break in the near daily emergencies.  Finding center, I turned off my cell phone, went to my happy place (the kitchen), turned UP the volume on the Pandora and cooked up a storm.  This soup is the result.
PLEASE DO ME A FAVOR WITH ROASTED BUTTERNUT SQUASH SOUP
Please do me a favor, honor you with this soup.  YOU are the best and YOU deserve to be the guest of honor today.  We can conclude that you may take a little time for you with this soup.
This is PEACE soup – SOLITUDE soup and BE STILL AND KNOW soup.  Make up a big ol steaming pot of roasted butternut squash soup, curl up with your favorite quilt, put on some calming music and hunker down. Furthermore, Get warm.  Finally, don't come out till you feel good and rested (a glass of wine helps too).  
QUESTIONS YOU MIGHT ASK ABOUT ROASTED BUTTERNUT SQUASH SOUP.
You might say, "but I have no idea how to make a roasted butternut squash soup", have no fears, because I'm fixing to show you with LOTS of pictures.  
WHAT SPICES ARE GOOD TO ADD TO ROASTED BUTTERNUT SQUASH SOUP?
Here is another likely question, "what spices are good to add to a roasted butternut squash soup".  The answer to that might surprise you.  Like everything else about cooking – don't go one note. Go whole symphony!  
HOW DO YOU PREPARE ROASTED BUTTERNUT SQUASH SOUP?
While you can also ask, "but how do you prepare a butternut squash for soup"?  I've got that covered too – including pictures!  Therefore, fear no more.  Go get your squash!
I'm going to give it my best effort to be more thorough with preparation photos for you here.  Hence, I think that will go a long way to answering your most probing questions.  Of course, I'm right here – simply an email or website comment away – I would love to help you with your soup!  
HERE IS HOW TO MAKE ROASTED BUTTERNUT SQUASH SOUP IN PHOTOS: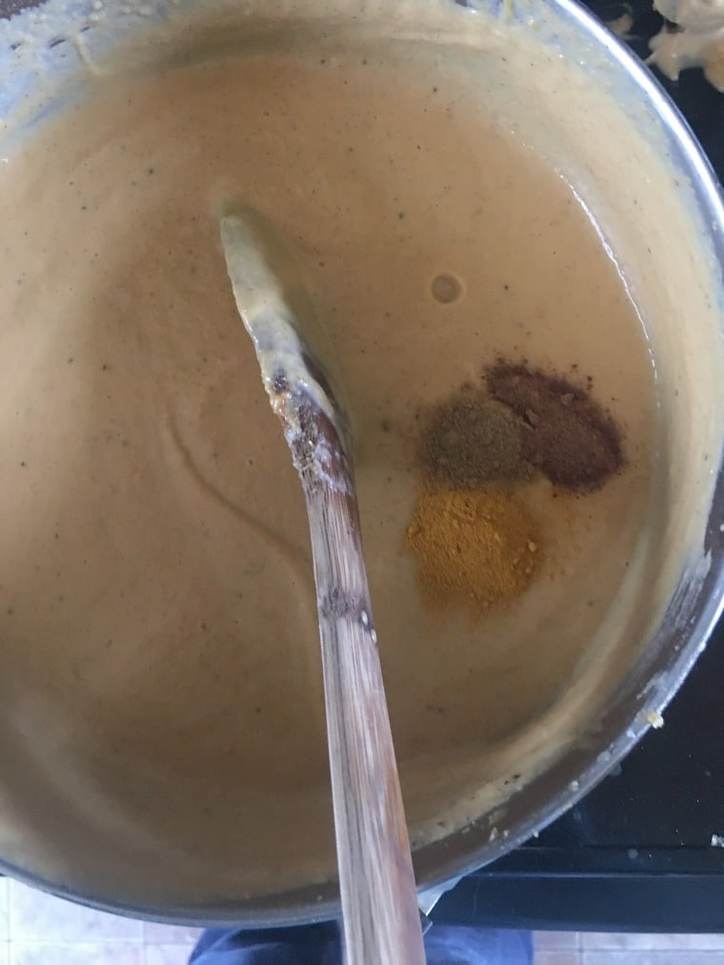 Add the spicesd
TIPS AND TRICKS FOR ROASTED BUTTERNUT SQUASH SOUP
If you have never prepared a butternut squash, you are in for a surprise!  You might be thinking that it is like cutting through a pumpkin, but it is NOT!  It is HARD to cut through.  Seriously hard.  Be CAREFUL!  This is one of those times when you could cut yourself if you aren't careful.  If you are a very young person reading this column, go get an adult to do this job.  If you are an adult who has never wielded a sharp knife, go get someone who has.
When doing the squash, cut the vine end off FIRST.  That makes the whole job a little easier.  If you are worried about it rolling away – you could cut a flat spot on one of the bulgy sides and that will hold it stable.  It won't mess up the squash roasting, don't worry about it.
When scooping out the guts of the squash – DO NOT GET THE SKIN IN YOUR SOUP! It is tough and not tasty at all.
This recipe, as written will turn out pretty darn thick – depending on your squash – some are more liquidy than others when broken down.  If yours is too thick for your liking, just thin it down with some chicken stock or vegetable stock.
I like a little cream poured in mine, you might like that too.  I also liked cinnamon sprinkled on the top.  Just see what you like.  Be the ROYALTY of your own kitchen! 🙂
IF YOU ENJOYED ROASTED BUTTERNUT SQUASH SOUP, YOU MIGHT ALSO ENJOY…
Easy Homemade  Chicken Noodle Soup
and
Homemade Creamy Mushroom Soup from Scratch
and
and
and
RECIPE FOR ROASTED BUTTERNUT SQUASH SOUP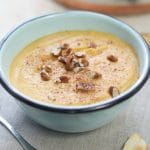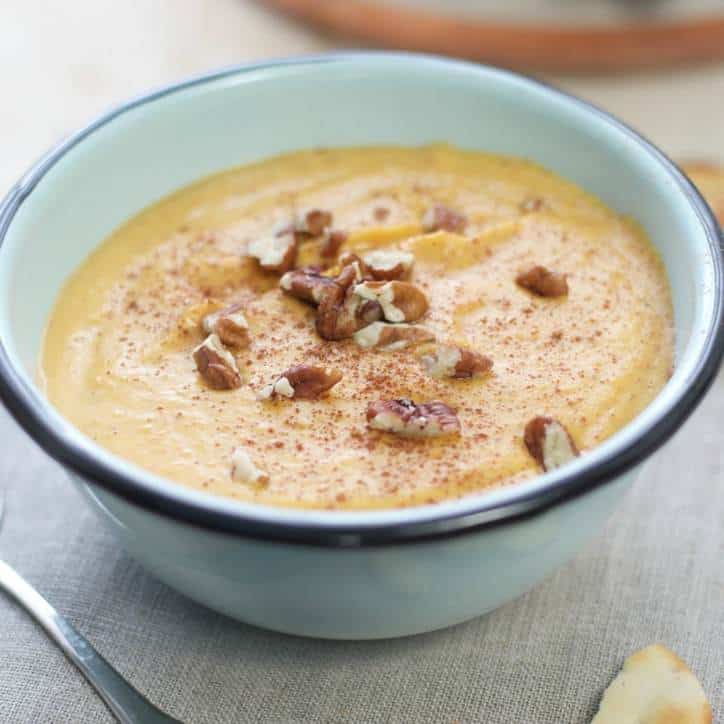 Roasted Butternut Squash Soup
This simple recipe is for an easy roasted butternut squash soup. The post contains complete step by step instructions.
Keyword:
Roasted butternut squash soup, butternut soup
Ingredients
1

large butternut squash

about 3 pounds, halved vertically and seeded

3

tablespoon

olive oil

divided, plus more for drizzling

½

cup

chopped onion

6

garlic cloves minced

3

carrots

chopped

2

tbs

butter

2

teaspoon

salt

2

tbs

brown sugar

1

tsp

cinnamon

1/2

teaspoon

ground nutmeg

½

tsp

ground turmeric

½

tsp

ground cumin

1

tsp

black pepper

4

Cups

chicken broth

or vegetable broth

Garnish with roasted pecans
Instructions
1 Preheat the oven to 425. While the oven is heating up, using a very sharp and sturdy knife, cut the top off of the squash. Then, halve the squash down the center so that it opens like a book.




2. Use a scoop or spoon to remove the seeds (set aside for another use). Using 1 tbs of the olive oil, oil the squash all over the skin and meat and set cut side down on a rimmed baking sheet prepared with parchment paper.




3. Place the squash into the middle of the oven and bake for 45 minutes or until the skin is blistered and you see that the drippings from the squash are caramelizing (burning) on the bottom of the baking sheet. If you don't see this with the first check, check oven again every 5 minutes until done.




4. Remove the squash from the oven and set on a cooling rack to begin to cool. Allow to cool until you are able to handle it without burning yourself.





5. In the stock pot that you will make the soup, set it on the burner with burner set to medium. Heat 2 Tbs of olive oil until glistening. Add the onions, garlic, carrots and butter. Cook until all are softened - 7-10 minutes.

6. Add the salt, sugar, cinnamon, nutmeg, turmeric, cumin and black pepper as well as the chicken broth and mix well. Using an immersion blender, blend until smooth. If you don't have an immersion blender, use a regular blender and blend in batches.

7. Heat through and serve. Garnish with pecan pieces. If this is thicker than you like, thin down with more broth.

Nutrition Facts
Roasted Butternut Squash Soup
Amount Per Serving
Calories 120
* Percent Daily Values are based on a 2000 calorie diet.
A VERSE TO SHARE
(Just as an aside – I'm back at my desk here at Loaves and Dishes and while things might have a bumpy re-start over the next couple of weeks, we will soon be back to recipes coming out 2-3 times per week and an email for the email followers for "5 Little Gratitudes".  I could never be more thankful for anything other than God, family and health than I am for YOU – my dear sweet readers.  I'm so glad to have you in my life.  Cook on!). 
Have you ever heard yourself saying one of these:   "I'm afraid!", "This can't be happening",  "I don't know what to do" and " How can this be right?"  
Yep.  Me too.  More than I would like to admit.  
Being a grown up has its drawbacks and the one thing we learn in life is that we don't always get our own way.  It has been said that "everything always works out for the best".  While, I'm not sure I believe that – I'll tell you what I do believe.  He has our backs.  
In this life, things are going to happen that we don't like.  Most noteworthy, things will happen that we HATE.  It seems like we won't understand how or why this works in God's plan.  
What can we do?  
We can have faith.  That is what we are called to do.  We stand by our convictions that God's got this.  
My recent experience has shown me that no matter WHAT happens – God is caring for us – we are his precious children.  I wish I could share with you why I know this better now than ever – but that story belongs to someone else's experience and without their permission, I can't share.  
In conclusion, Just let it suffice to say, God is on His throne, He loves his children and friend, He's got this.  Finally, we are called to "Be still and know that I am".  Let's do that.  Care to join me?  Good, go grab your soup and be still.  
Love ya'll – be back soon.  
Psalms 46: 1-11
God is our refuge and strength, an ever-present help in trouble.  (and)
Therefore we will not fear, though the earth give way and the mountains fall into the heart of the sea,
though its waters roar and foam and the mountains quake with their surging.  (and)
There is a river whose streams make glad the city of God, the holy place where the Most High dwells.
God is within her, she will not fall; God will help her at break of day.
Nations are in uproar, kingdoms fall; he lifts his voice, the earth melts.
The LORD Almighty is with us; the God of Jacob is our fortress.  Come and see what the LORD has done, the desolations he has brought on the earth.
He makes wars cease to the ends of the earth. God breaks the bow and shatters the spear; he burns the shields with fire.
God says, "Be still, and know that I am God; I will be exalted among the nations, I will be exalted in the earth."
The LORD Almighty is with us; the God of Jacob is our fortress