I hope you won't mind me running a little far afield from talking about the recipe for pumpkin pie with a pecan drizzle here, because frankly I'm starting to have a little bit of an internal freak out. I know that I am supposed to be spending these first few words alluring you with the richness and creaminess of this fantastic pumpkin pie that I WILL show you in a moment, but instead the episode that is playing in my head is, "My God! I have about 20 people coming over in a couple of weeks, several of them to stay for a long weekend."
"These people will want to catch a glimpse of a clean house and they will need clean beds, clean towels, clean washcloths, food to eat… and what have I been doing with my weekend?" Then, of course, you know I have to answer myself because, after all, that IS the definition of crazy, right? So, I say, maybe out loud, but I'm not admitting to that, "well, FIRST I am busy being sick with pneumonia and secondly, I have been busy LIVING in my house, where I also work a full time day job, run a sometimes successful foodblog, raise children (which usually includes several extra teenagers), have pets and live my life!" One couldn't possibly expect this to be a tidy affair up in here? Could they?
This question floated through my head over and over again on Saturday as I sojourned right in bed where sweet hubby told me that I would be in "GREAT BIG TROUBLE" if I got up and, "DON'T YOU DARE!" I should probably listen to someone who is 6'6″ and has an angry look on their face. Finally, somewhere between an episode of "Drunk History" and "Vet School" it came to me in a feverish bolt of lightening followed by a coughing spell. This moment was much akin to how I arrived at the brilliance of the recipe you will find on this site next time, "AH-HA!".
Yes, I have 20+ people coming for Thanksgiving. Yes, I need to do some cleaning and organizing. Yes, I need to do some basic housework before they all arrive. BUT ALSO, my house is passable in the way that most people's houses are. There aren't giant spiders crawling out from under the beds at night. I don't have an opossum infestation (I saw that on hoarders once and have been haunted by it since). I simply have some piles, like everyone else I know and some dust.
Alas, I am NORMAL. Just like everyone else. I get to choose what I do with my weekends and my free time – and I usually choose to do something with my family rather than spend my time forever wiping up messes. And although I didn't choose it, this weekend, I am finding myself in bed – resting, "OR ELSE". One day when the children are all completely grown and sweet hubby and I are old and gray (it is happening faster than you think), we will be able to look at each other across our intertwined hands and say, "I'm glad we did these things together". We will never say, "I'm glad we stayed home from the movies that one weekend and rearranged the DVD shelf!".
And so, if you are going to be my guest for Thanksgiving, you can expect some pretty good eats and a reasonably clean place to be. Please don't look in the corners because you are likely to find a cobweb and please, for Heaven's Sakes, don't look in any closet or cabinet because organizing those is not how I spend my time. Instead, I do things like make Pumpkin Pie with Pecan Drizzle because it makes me feel comfy and warm. It brings up good old memories that I am happy with and that are the sign of a good life well lived. So there!
So, back to Thanksgiving. What I really have to do is to plan Thanksgiving Dinner well. You know, make as much stuff ahead as possible and then schedule the oven and stove top accordingly on the day of. It is doable.
And as I thought about that, the good people from Hefty sent me the following information so that I could collaborate for this post and I found out: Hefty is a God Send !
(This post is sponsored by Hefty, however, the opinions, recipe and content (except the infographic) are mine. You will be helping to support Loaves and Dishes by visiting my sponsor Hefty)
Those angels at Hefty then included this cool infographic to help me (and you) plan everything we need to plan.
So, with that, I am going to show you how you can make this pumpkin pie with a pecan drizzle AHEAD of time and store it in the fridge until the big day. Then, just reheat in the oven or (if you are like me and prefer ice cold pumpkin pie) simply apply the drizzle and CHOW DOWN!
RECIPE TIPS CONCERNING PUMPKIN PIE WITH PECAN DRIZZLE
This recipe will make ONE deep dish pie. I usually make this in my big blue pie plate and it is just the right amount. However, since I am making these ahead, I used my smaller pie plates that fit into my One Gallon Hefty Slider Bags. These smaller (aka – regular aluminum pie pan size) pies plates will allow this recipe to make TWO pumpkin pies! (Bonus!).
Make this pie a few days before and store in your convenient Hefty Slider Bag. Super easy way to plan for the holiday!
You can use home made pumpkin puree (which I normally do because of the gigantic amount I have in the freezer) or you can roast a real pumpkin yourself (which I started to do for this recipe but then fell ill with the pneumonia and didn't get it past the roasting stage – but didn't think it was appropriate to use since I had let it sit out on the counter for so long before I was well enough again to work on it) – Ewww. I know. But, hey, it is what happens.
When mixing the ingredients, mix them until they are really smooth and mixed well.
¾ Cup of Evaporated milk IS NOT the entire can! I can't tell you how many times I have made this recipe and accidentally poured the whole can in – don't worry, if you did that, your pie will still turn out ok – you just might have to bake it a little longer.
This pie is excellent without the drizzle – but hey – it's Thanksgiving, why not?
RECIPE INSPIRATION FOR PUMPKIN PIE WITH PECAN DRIZZLE
I have been making this recipe for pumpkin pie for a couple of years now. I have told you before how I am IN LOVE with Nancy McDermott's Pie Book "Southern Pies A Gracious Plenty of Pie Recipes from Lemon Chess to Chocolate Pecan" . I adapted her recipe by adding just slightly different spice levels and some vanilla and almond flavoring – because, I just think it tastes and smells good. I added the pecan drizzle because, well, why not? I think anyone would make a drizzle about the same way that I did, so no real inspiration there. Of course, you could adorn your pie with whipped cream, ice cream – or??? I don't know – whatever it is – go for it!
Here is a link to Nancy's Book – it is WONDERFUL. If you fix the pies that are in this book, everyone will think you are brilliant! I haven't made any yet that weren't absolutely delicious! If you buy Nancy's book through this link – I will get a single digit percentage of the sale. It makes a great gift for any cook you might know.
Southern Pies: A Gracious P…Shop on Amazon
Surely goodness and love will follow me all the days of my life, and I will dwell in the house of the LORD forever. ~ Psalms 23:6
PROCESS PHOTOS FOR PUMPKIN PIE WITH PECAN DRIZZLE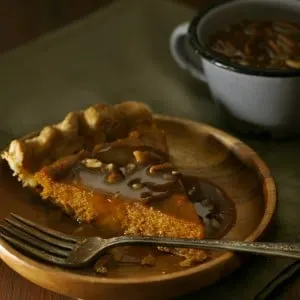 Pumpkin Pie with Pecan Drizzle
This pie with this drizzle is seriously prepared to improve 100% of the days that it stays in your house, which is likely to be about 1.
Print
Pin
Rate
Ingredients
For the Pie
1

store bought pie crust – refrigerated section – if making deep dish pie. If making regular sized pie plate pie

then will need 2 crusts

¾

Cup

Granulated Sugar

11/2

tsp

ground cinnamon

½

tsp

ground ginger

½

tsp

salt

½

tsp

ground nutmeg

½

tsp

ground cloves

2

Cups

Pumpkin Puree

not pie filling or two 15 oz cans of Pumpkin Puree

¾

Cup

Evaporated Milk

it is NOT the entire can

2

eggs

well beaten

¼

Cup

molasses

1

tsp

vanilla extract

½

tsp

almond extract
For the Pecan Drizzle
½

stick of unsalted butter

4 Tbs

½

Cup

Dark Brown Sugar

Pinch

of salt

4

tbs

heavy cream

¼

cup

pecans – chopped fine

¼

cup

pecan halves

1

tsp

pure vanilla extract

½

tsp

pure almond extract
Instructions
For the Pie

Heat the oven to 450. Place the pie crust into the pie plate(s) and crimp the edges.

In a small bowl (cereal bowl size will do), combine sugar, cinnamon, ginger, salt, nutmeg and cloves. Mix well (I find using my fingers works best for this – but you can also try a fork). In a medium sized bowl, combine the pumpkin, milk, eggs, molasses, vanilla and almond extracts.

Use a whisk and mix all of the wet ingredients together well until it appears as a uniform smooth filling.

Add the dry ingredients to the wet ingredients and mix well until everything is combined well.

Pour the pie filling into the piecrust(s) and place the pies on a baking sheet. Place the baking sheet on the bottom rack of the oven. Bake for 10 minutes at 450 and then reduce the heat to 325. Bake until the edges of the pie begin to puff and the center of the pie is no longer jiggly. Check the pie at 25 minutes. It should require 30-40 minutes, but remove from the oven when the pie is only a little jiggle when you give the pie plate a little shake.

Place the pie(s) on a cooling rack and allow to come to room temperature.

For the drizzle

On medium heat in a small sauce pan, melt the butter and add the brown sugar and pinch of salt. Allow to bubble and cook for about 3-4 minutes. Remove the pan from the heat and add the heavy cream and mix furiously while adding the cream and for another minute. Then add the pecans and the extracts, mix well and pour over slices of the pecan pie when ready to serve.
Notes
If you don't have the stuff for the drizzle, still make the pie. You won't be sorry.
Nutrition
Nutrition Facts
Pumpkin Pie with Pecan Drizzle
Amount Per Serving
Calories 280
* Percent Daily Values are based on a 2000 calorie diet.