I know you are out there on the internets searching for more Game Day recipes that will suit your crowd! Here's one that I learned when I went to a cooking class! I know, you are thinking, "YOU went to a cooking class?". The answer, yes! I love going to cooking classes! There is always something new to learn. In this case, I learned that these mushrooms are delish! They are easy too! Sausage and Cheese Stuffed Mushrooms coming your way!
I know some of you are just here for the recipe – so this is your express lane. The recipe for Sausage and Cheese Stuffed Mushrooms will follow this paragraph and maybe a photo or two. So, no scrolling for your tired fingers – it is right here. There are some of us though who LOVE to talk cooking and for US, I hope you will join me after the recipe where I want to tell you about this cooking class, some tips and tricks about making this Sausage and Cheese Stuffed Mushroom Recipe and exactly how this recipe came into being! PLUS, I want to know what YOU are preparing for the big Game Day? Are you having a party? Will you have a few friends over? Are you going somewhere to watch the game yourself?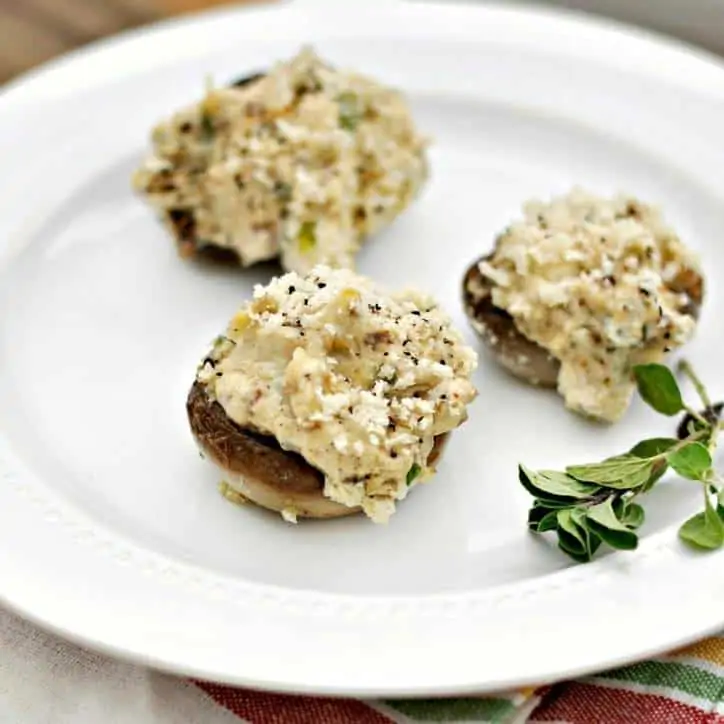 THE RECIPE FOR SAUSAGE AND CHEESE STUFFED MUSHROOMS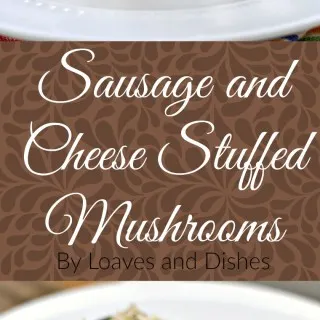 Sausage and Cheese Stuffed Mushrooms
This recipe for stuffed mushrooms is an excellent choice for game day or for entertaining of any kind. If you would like more information about how to make this recipe - please refer to the original post at www.loavesanddishes.net There is more information located in the post
Print
Pin
Rate
Ingredients
1 8

oz

box of fresh whole button mushrooms

2

tbs

truffle oil

olive oil will work if truffle oil is not available

2

tbs

olive oil

2

green onions - chopped small

white and green parts

¼

Cup

sausage

1

garlic clove

minced

¼

tsp

dried thyme

1 8

oz

package of cream cheese

¼

Cup

grated parmesan cheese

¼

tsp

black pepper

¼

tsp

salt

¼

tsp

cayenne pepper

½

cup

chicken stock

¼

cup

Panko Bread Crumbs

Fresh cracked black pepper
Instructions
Preheat the oven to 350. Carefully clean and prepare the box of mushrooms - using a damp paper towel, brush off any visible dirt. Gently remove the stems and set them aside. Once the caps are clean, rub them well inside and out with the truffle oil (olive oil if needed). Salt and pepper to preference (very important to add the salt and pepper on this step. Set caps aside.Using the mushroom stems, remove the tough ends and chop the stems very small. Heat 2 tbs olive oil in a skillet over medium heat, Add the onions, sausage and chopped mushroom stems to the skillet. Cook until sausage is cooked through and onions are not giving off any moisture. Add the garlic and dried thyme and cook for another minute.

Remove the mixture from the heat and add in the cream cheese, parmesan cheese, black pepper, salt and cayenne pepper. Mix well. Using a small spoon or scoop, fill each mushroom cap generously with the cheese filling. Place the mushroom caps in a baking dish, pour the chicken stock gently into the bottom of the dish - being careful not to splash any onto the tops of the mushrooms and fill to a depth of ⅛ inch. Sprinkle the tops of the mushrooms with the bread crumbs and the fresh cracked black pepper.

Place into the oven on the center rack and bake for 20-25 minutes until the tops start to brown slightly
Notes
Make sure to clean the caps well with a brush or paper towel.
Nutrition
Nutrition Facts
Sausage and Cheese Stuffed Mushrooms
Amount Per Serving
Calories 300
* Percent Daily Values are based on a 2000 calorie diet.
PICTURES OF THE RECIPE PROCESS
TIPS AND TRICKS FOR SAUSAGE AND CHEESE STUFFED MUSHROOMS
Larger mushrooms really work the best for this recipe. Sometimes, you just can't find those though – and in that case, just use the ones you can find. That is what I had to do for this post. I live in a rural area and sometimes the selection at my closest grocery is just what it is – we have to go with it.

It is important to clean your mushrooms really well. Cause who wants to eat those little clinging dirt pieces? Ewwww. Not me! The current advice is to NOT wash the mushrooms but instead clean them with a dry cloth. I admit – sometimes I DO wash mine – if you do so – just wash them right before you use then and make sure they are well dried before making this recipe. For example, if you are taking them to your game day party – wash them in the morning and let them dry naturally out on the counter for the day. They will be fine by the time you are ready to use them.

Oiling the mushroom is important too – don't' skip this step or your mushroom will look dry and crinkly like it needs a good moisturizing!

The stuffing will make much more than you actually need. This stuffing is excellent as a dip for crackers or heavy chips. So DON'T throw it out!

Make sure to cut the mushroom stems VERY small.

You can use white wine instead of chicken stock to bake your mushrooms in – but honestly, I like the taste of the chicken broth the best

Don't over bake – then they get dry and yucky.

If they become too cool – sweet hubby reports that they are good warmed in the microwave.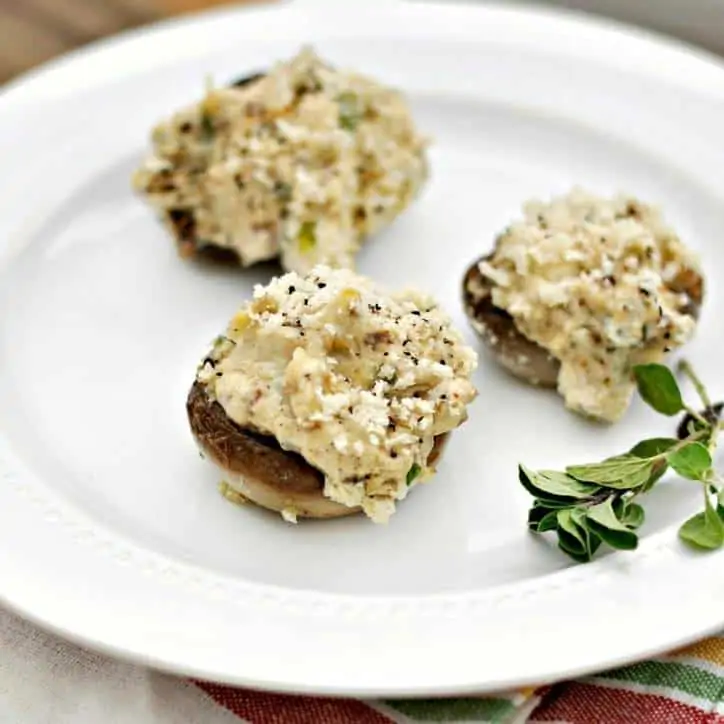 INSPIRATION FOR SAUSAGE AND CHEESE STUFFED MUSHROOMS
I have a good friend, Carolyn, who loves to cook as much as I do. Let me tell you – she knows her way around a kitchen! So delicious! If she ever invites you to dinner – you should say "YES!" because you won't be disappointed! Anyway, I had the bright idea that we should take a cooking class at a local store. It is a deal where you go for an evening and they teach you how to make the meal they are making. I was shocked by how many people attended this class. We had fun and learned a few new recipes. I was kind of disappointed because I wanted to actually do the cooking – but it wasn't that kind of class. So – this recipe comes from "The Stocked Pot" in Winston Salem – but I took a lot of liberties with their recipe. I hope you enjoy and will try this recipe when you are entertaining – or even just for your family!
Just so you will know how my recipe is different – the Stocked Pot recipe does not use sausage, bread crumbs, chicken stock for the baking. Does not add salt to the recipe, does not use thyme or truffle oil. Instead, they recommend baking in white wine and using olive oil to rub the mushrooms with. They also use fresh sage in the stuffing. After making these stuffed mushrooms per their recipe several times, I have opted to change it based on the taste that I prefer. I hope you enjoy it!
Just so you will know. I made these for this recipe post and between sweet hubby and a visiting teenager, they were gone in a matter of minutes.
Here are a few other appetizers you might like for Game Day:
Fruit Dip and Fruit – SO GOOD!
So – I have to know. What are you making for "The Big Game Day"? I am curious about everyone's menu. I'm not entirely sure what I am doing yet – probably meatball sliders and some dips and some sweets. Leave me a comment below and let me know what you are up to!
So do not fear, for I am with you; do not be dismayed, for I am your God. I will strengthen you and help you; I will uphold you with my righteous right hand. ~ Isaiah 41:10