You guys!!!  Today I have an exciting holiday treat that you can enjoy this weekend! The best ever fruit dip and fruit skewers even LOOKS like a firework!  AND…. The TASTE of the fruit dip is MMMmmmmmm good.  In fact, there is someone at my house who found the dip in the fridge and  simply dug in with a spoon and kept on eating.  No names mentioned here.  It's our little secret.
This fantastic dish took all of 10 minutes to put together and I would be proud to take it to any event, to serve to my friends at a backyard party or to enjoy with my family at the water's edge.  Seriously.  It is that good.
At our house, we are going to enjoy these fruit skewers and fruit dip at a baby shower (eventually).  The ones you see here are the practice skewers and dip.  I'll have photos of the real skewers and dip sometime in the future!  For now – I'm recommending the best ever fruit dip and skewers as the perfect holiday weekend treat!  (They are even excellent for nibbling on while writing a food blog about fruit skewers and dip!)
I will note that figuring out the best way to plate these best ever fruit dip and fruit skewers is a little bit of a challenge.  Of course, you can simply lay them on a plate – or if you are going to the park – have them in your trusty rubberware container.  The fruit dip is super tasty on simple cut fruit – but doesn't look quite as exciting!
As you can see in some of the photos, you can place the skewers in a mug – makes for easy grab and go.  Be careful, however, the skewer being selected can catch on one in the mug and they might all come tumbling out.
I did see some cute ideas on Pintrest for sticking the skewers in a piece of fruit – pineapple, watermelon or cantaloupe.  I might try one of these ideas for the shower – I'll let you know how that turns out! If you have a great idea for skewers – please put your idea in the comment section below and share with all of us how it turned out!
Recipe inspiration for The Best Ever Fruit Dip and Fruit Skewers
Of course, just like you, I have seen all kinds of fruit skewers on Pintrest – so cute!  I had to try my own.  The fruit dip I adapted from different dips I have read the recipe for – they all have the same basic components – usually cream cheese/sour cream/yogurt, sugar and some kind of juice .  I saw Ina Garten making a delicious looking dip on her show – that recipe is HERE.  When push came to shove, I simply added what I thought would taste good and mixed it in my mixer.  That is what you see here!
I hope you enjoy and have a lovely holiday weekend!
So if the Son sets you free, you will be free indeed. ~ John 8:36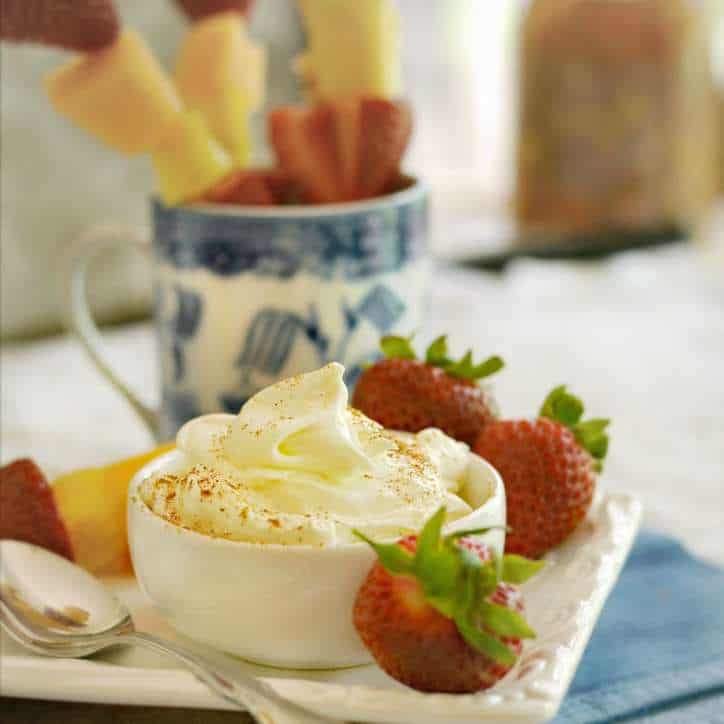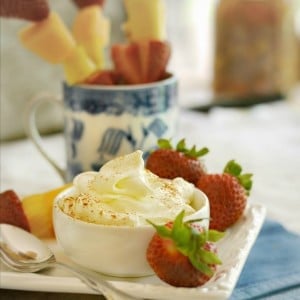 The best ever fruit dip and fruit skewers
This is a simple fruit dip that is exceptionally delicious!
Print
Pin
Rate
Ingredients
For Fruit skewers

Bite size pieces of cantaloupe

pineapple and strawberries

For the fruit dip

1

block of cream cheese – at room temp

1

cup

of powdered sugar

1

cup

of whipping cream

1

lemon - zest and juice

1/8

tsp

vanilla extract

1/8

tsp

almond extract

Pinch

of salt

Pineapple juice
Instructions
For the skewers - Slide the pieces of cut fruit onto the 8" skewers in an alternating pattern and set aside. (do this right before you plan to serve – fruit starts to look ugly after it has been cut and is sitting for a while). (The dip, however, you can make the day before and it keeps beautifully overnight in the fridge).

In a stand mixer bowl (or in a large kitchen bowl in which you can easily use a hand mixer), mix together the softened cream cheese and the powdered sugar and a medium speed (watch out for flying powdered sugar when you turn the mixer on – start at a slower speed and then speed up).

Add in the whipping cream and whip together until soft peaks form. Add the zest and juice of one lemon and mix well. Add both extracts and salt. Mix. Add in pineapple juice a small amount at the time until your desired consistency is achieved.
Notes
Simple recipe for fruit dip
Nutrition
Nutrition Facts
The best ever fruit dip and fruit skewers
Amount Per Serving
Calories 200
* Percent Daily Values are based on a 2000 calorie diet.