WHOOT WHOOT! Who has two thumbs and LOVES some sharp cheese? ME! That's who! This delicious Sharp Cheese Dip features Gorgonzola cheese – and I mean features it in an awesome kind of way! Have a party to go to this summer? Perfect, and I do mean this is the perfect dip to take along with you.
I won't bore you today with stories about my children, grandchildren, upcoming baby shower, vacation or anything else. You don't think I'm boring, right? Wait! Don't answer.
I AM on vacation and enjoying the beach right now – so, think about me sticking my toes in the sand and enjoying a cold drink in your honor! I'll try to avoid the sharks since we are going to that part of the world. (I've been avoiding sharks at the beach since Jaws came out when I was about 10 years old or so anyway – so no problem for me!).
Anyway – give this dip a whirl – it is easy and if you like that Gorgonzola bite – give this a try. If you have never tried Gorgonzola – it has a taste similar to blue cheese – and I know everyone has tried blue cheese with their chicken wings!
Recipe Inspiration for Sharp Cheese Dip
I was watching another episode of Ina Garten on Food Network the other day and saw her making a Gorgonzola Dip for a party she was having (she is always having a party – I would love to go to a party at her house!– but anyway, the recipe sounded pretty good to me). I made some adaptations and here is my rendition. You can find her original recipe HERE.
Super Excellent Extra Recipe Hint
I actually used this dip as a coating for some boneless/skinless chicken breasts after taking these photos. I rubbed the chicken breasts with the dip, placed on a baking sheet and sprinkled with bread crumbs. Then, baked the chicken breasts until they were 160 internal temp – about 20-30 mins at 350 and then turned the oven up to broil and broiled until browned on the top – just a few more minutes. OH MY GOODNESS TANGY DELISH! Delish!
Maybe I'll take pictures and you will see that recipe here one day!
Thanks for visiting and please come again!
Then I heard the voice of the Lord saying, "Whom shall I send? And who will go for us?" And I said, "Here am I. Send me!" Isaiah 6:8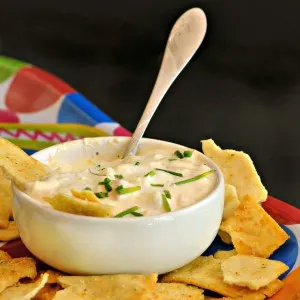 Sharp Cheese Dip
Trust me, you will be so happy you made this dip.
Print
Pin
Rate
Ingredients
1

finely chopped shallot

1

clove

of minced garlic

The zest and juice of ½ a lemon

8

oz

sour cream

½

cup

Mayonnaise

4

oz

Gorgonzola Cheese

½

tsp

Sriracha Sauce

or any hot sauce, but this is what we like – hot sauce makes this dip slightly pink in color

1

tsp

Kosher Salt

1

tsp

ground black pepper

Garnish with chopped chives
Instructions
Whirl the shallot, garlic, lemon, sour cream, Mayo in the food processor for about 30 seconds. (I have actually made this by simply mixing by hand – and it was quite good that way – so, either way is promising!). Add the gorgonzola, sriracha, salt and pepper and give it another zing with the processor – not too much – it is better if the cheese is still somewhat intact.

Garnish with chives.

Pour into a bowl and serve with heavy crackers. Wimpy crackers will break and won't have a bold enough flavor.
Notes
use the best cheese you can find.
Nutrition
Nutrition Facts
Sharp Cheese Dip
Amount Per Serving
Calories 340
* Percent Daily Values are based on a 2000 calorie diet.