Here comes a type of word you won't find around here very much…. Galette…. it sounds so….. so FRENCH! Doesn't it? It doesn't sound like Stokes County, North Carolina at all! You will laugh when you actually make Rustic Blueberry Galette and see what it is!! It is a pie without a pan!
I hate to even try to use words like Galette, but "Pie without a pan" doesn't make a lot of sense and certainly isn't what someone searching for a recipe would be googling. So, we will just go with it. Right? We can go with the flow. After making this rustic blueberry galette, you will delight in the fact that something with such a fancy name is actually so EASY to make – even EASIER THAN PIE! AND HEY! No Pie Plate to wash!
If, like me, you have a few more blueberries than you know what to do with – here is an easy solution. A Rustic Blueberry Galette! So so so easy! So so so tasty! And – if my easy freezer ice cream turns out – you can just as easily have homemade ice cream to eat with this! Imagine!! You are a Kitchen ROCK STAR! …… and, like me – you can be a rock star with blueberry juice dripping down your chin. I know – again – TMI.
I hope you have plans to come back and visit very soon because I have a month full of tasty, home style, delicious dishes coming your way. I told you when I came back from vacation that I would be rested and ready to go – and here we are! Not only am I going to fill you up with delicious home cooked meals – but I have a special guest visiting this month too and I can't wait for you to meet him!
With that – I'll let you get back to checking out the Rustic Blueberry Galette. Have even more blueberries? Then please check out my other blueberry recipes! I LOVE blueberries I guess you already noticed!
Blueberry Lemon Cheesecake
AND IN THE CATEGORY OF HEY! LOOK AT THIS!
Reader Maria sent in a photo of the Blueberry Galette that she made! Isn't it a beauty!!! I think so too!
RECIPE INSPIRATION FOR RUSTIC BLUEBERRY GALETTE
I have seen so many beautiful galette photos around the internet and in magazines, I just had to try one for myself! Of course, the pie crust is simply a refrigerated pie crust. I adapted the filling from my Blueberry Bazinga Pie recipe which you can find right HERE!
But God demonstrates his own love for us in this: While we were still sinners, Christ died for us. ~ Romans 5:8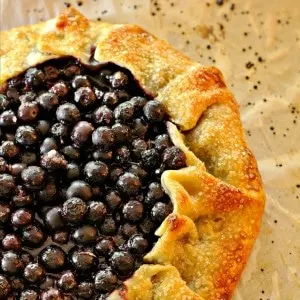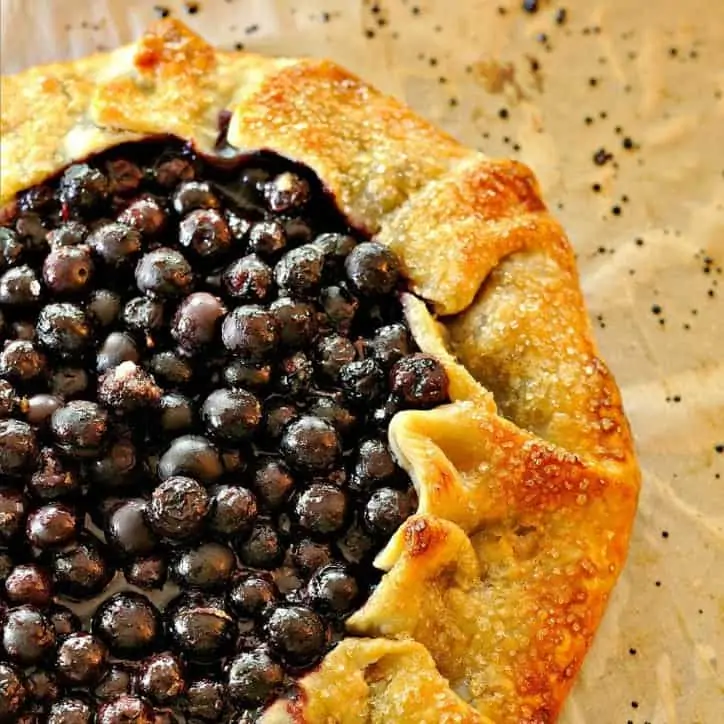 Rustic Blueberry Galette
Simple, easy and ready in just a few! An open faced pie is always a good idea, especially when it has a unique name, is freeform and tastes this good!
Print
Pin
Rate
Ingredients
1

refrigerated pie crust

the kind in the dairy section

2

Cups

of blueberries

fresh or frozen

1/3

cup

sugar

2

tbs

corn starch

½

lemon – juice and zest

Tiny Pinch of salt

1

tbs

butter – pea sized pieces

1

egg

2

Tbs

turbinado

raw sugar
Instructions
Preheat the oven to 450 (yes, I know, that is a high heat – trust me). Prepare a half sheet size baking dish with parchment paper. Lay out the refrigerated pie crust onto the baking sheet and set aside.

In a bowl mix the berries (OK to use unthawed frozen berries – that is what I did in these pictures), sugar, cornstarch, lemon juice, zest and pinch of salt. Carefully spoon the berry mixture onto the center of the pie crust. Gently pinch up the sides of the pie crust to make crust bowl for the berry mix. Pull the edges in towards the center as you pinch around the outside of the pie crust. Dot the top of the galette with the pea-sized butter pieces. When completed, set aside

In a small bowl whisk the egg and a splash of water together. Paint the edges of the pie crust with the egg wash (this gives it the golden brown color). When done, sprinkle the edges with the turbinado (raw) sugar.

Place in the oven on the center rack and bake for 20-25 minutes. Remove when the crust is golden and the center is bubbly.
Notes
If you are wondering what a galette is, it is just a pie without a pie pan! Super easy and freeform!
Use frozen or fresh blueberries, either one works.
Nutrition
Nutrition Facts
Rustic Blueberry Galette
Amount Per Serving
Calories 250
* Percent Daily Values are based on a 2000 calorie diet.
A