The BIG game day is coming soon! I know you need the PERFECT and easy dish to share! I have it and you'll love it and you WILL BE THE STAR OF THE PARTY with Tennessee Whiskey Meatball Sliders! Promise!
My dear team The Titans are out of the race already – but it's a 'no nevermind' because I'm sitting here chomping on my Tennessee Whiskey Meatball Sliders. So simple and easy and …. OH DON'T LET ME FORGET TO SAY DELICIOUS! Plus – make them in the crockpot – what could be easier?
Simply cook down some Tennessee whiskey and throw it all in the crockpot until game time. Then, you are ready to go! Load up your crock pot, buns and some cute little toothpicks and your dish is COVERED for the party! TOUCHDOWN!
There's just one thing I want to know – You can shoot me an email if you like wendi (at sign) loavesanddishes (dot) net. I want to know who are you rooting for and what dish you are taking to the BIG GAME DAY party. I hope you will say, "I'm taking these sliders".
I hope you are considering joining me and over 1200 of my friends on the Loaves and Dishes mailing list! You can sign up right over there on the right hand side of this page at the red banner. Loaves and Dishes subscribers are FIRST in line for great recipes and privy to secret email tips that are ONLY for email subscribers. I hope you'll join today!
THE RECIPE FOR Tennessee Whiskey Meatball Sliders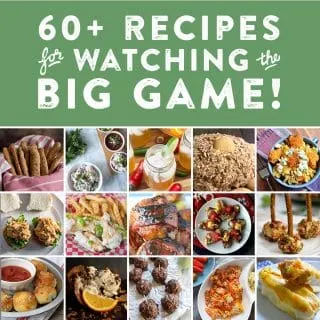 Ingredients
1

Cup

Tennessee Whiskey

I used Jack Daniels

½

cup

Strawberry Jam - the best kind you can find-

I used homemade

¼

Cup

Brown Sugar

¼

Cup

Tabasco Sauce

I used Cholulas

½

Cup

Thick Red sweet barbecue sauce

I used "Bone Sucking" sauce - but any will be fine

¼

Cup

Molasses

I like the organic type

¼

Cup

water

2

Tbs

garlic powder

2

Tbs

onion powder

2

Tbs

Chipotle Chili powder

Salt and pepper to taste

1

package of 28 Frozen Italian Meatballs

Green onions for garnish
Instructions
In a small sauce pan, heat the Tennessee Whiskey over medium heat until reduced by ½ (no need to measure exactly - just eyeball it). Just fyi - this makes a smell in your house - but don't skip this step - makes for flavor.

In a medium sized mixing bowl,whisk together all the ingredients except the meatballs.

Place meatballs into crock pot and pour the whisked sauce over the top. Mix again with a spoon to make sure all the meatballs are coated.

Heat crockpot on High for 4 hours or Low for 8. Serve on slider buns (we like to use the King's Hawaiian Rolls as buns). Garnish with chopped green onions.
Notes
Use the meatballs found on loaves and dishes for better taste
Nutrition
Nutrition Facts
Tennessee Whiskey meatball sub sliders
Amount Per Serving
Calories 240
* Percent Daily Values are based on a 2000 calorie diet.

TIPS AND TRICKS FOR Tennessee Whiskey Meatball Sliders
I realize strawberry jam is a weird ingredient – but it works – trust me. You really could use just about any kind of jam – grape and/or apricot work well too but lend a different flavor – I think the strawberry tastes best

The boiling whiskey is not a good smell – just hang in there – it will soon be over and you can open a kitchen window or something. You could always sip a little while it cooks down – then you might not care.

If you are concerned about the amount of alcohol in this recipe – then please do not serve them to children – but really – between reducing the whiskey and then simmering in the crockpot for hours – the alcohol is not discernable- only the flavoring.

It's fine to use frozen meatballs and you don't have to thaw them first.

This recipe is a little spicy. Please please though, don't leave the chili powder out altogether and don't substitute regular chili powder. The chipotle has a distinct smoky flavor that would be totally amiss if you left it out. If you like less spice – then use 1 Tbs instead. You might want to just try a different recipe – because if you ask me – the Chipotle pepper is what makes this recipe. In fact, THESE meatballs are much less spicy and really yummy too. THESE aren't spicy at all – and are DELICIOUS – but a little more work. You could try THEM instead and be perfectly happy!

And HERE is the fun part! I have written this post teaming up with some of my football blogger friends. This is one final collaboration to bring you some brilliant Big Game recipe ideas. We've made appetizers, entrees, desserts and even drinks. Prepare to be inspired, and be sure to check out their links below! I hope you will follow some of these links and check out some other TERRIFIC Game Day Recipes!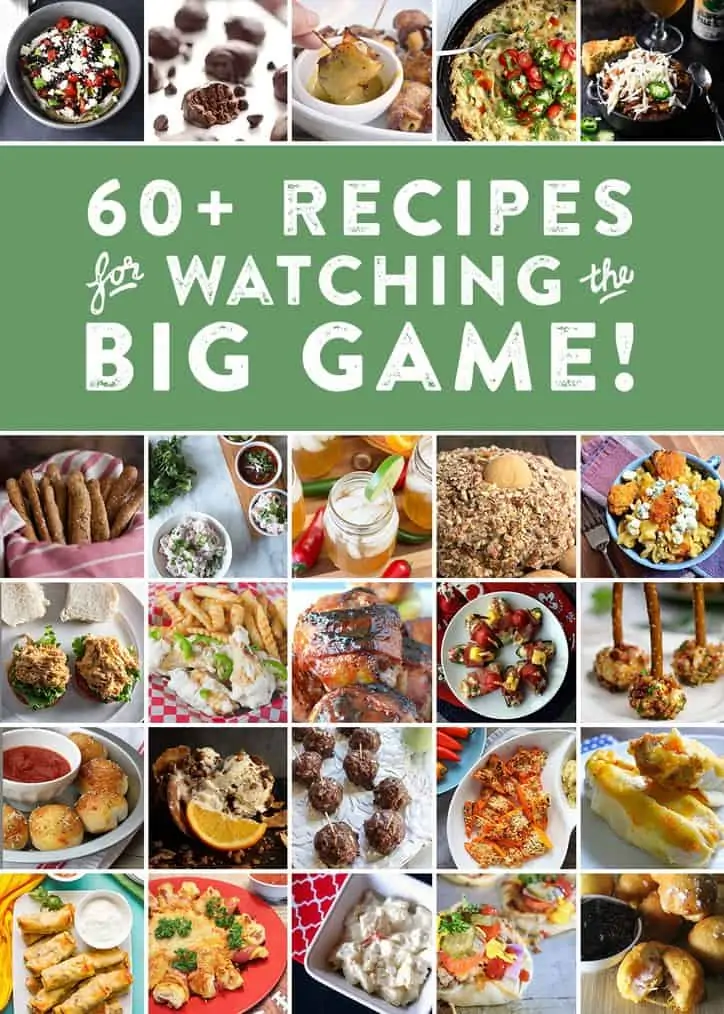 Classic Potato Salad by Celebrating Family
Chili Cheese Burritos by Love Bakes Good Cakes
Fruit Spring Rolls with Key Lime Cheesecake Dip by Body Rebooted
Slow Cooker Buffalo Chicken Sliders by Dash of Herbs
Mediterranean Seven Layer Dip by The Culinary Compass
Chicks in a Blanket with Apricot Sauce by Mom's Messy Miracles
Jalapeno Pale Ale Chili by Beer Girl Cooks
Jalapeno Popper Pull Apart Bread by The Life Jolie
Sausage Pepperoni Pizza Dip by Feast + West
Baked Southwestern Egg Rolls by Family Food on the Table
Mini Bacon Ranch Cheese Balls by Honey & Birch
Cookie Dough Cheese Ball by Bread Booze Bacon
Hawaiian Pizza Jalapeno Poppers by Love & Flour
Meatloaf Sliders by Foodtastic Mom
Wonton Taco Cups by A Mind Full Mom
Pancetta and Smoked Mozzarella Arancini by The Secret Ingredient Is
Bean and Cheese Taco Bites by The BakerMama
Monte Cristo Poppers by See Aimee Cook
Chile Beer Sangria by Cake 'n Knife
Low Carb Stuffed Crust Pizza by Sustaining the Powers
Puff Pastry Pizza Bites by The Mexitalian
No Churn Pistachio Baklava Ice Cream by Club Narwhal
Roasted Jalapeno Poppers by Off the Eaten Path
Buffalo Cauliflower Mac and Cheese by Hello Little Home
Jalapeno Popper Chicken Wings by Around My Family Table
Gluten Free Bread Sticks by What A Girl Eats
Cheesy Beef Dip by Polka Dotted Blue Jay
Buffalo Chicken Deviled Eggs by The Crumby Cupcake
Greek Meatballs by Two Places at Once
Baked Taco Empanadas by Simplify, Live, Love
Cheese Sticks by Coffee Love Travel
Bacon Wrapped Blue Cheese Meatballs by West via Midwest
Puff Pastry Bacon Pizza Twists by 2 Cookin Mamas
Skillet Chicken Queso Dip by foodbyjonister
Spicy Sausage Rolls by Peanut Blossom
Protein Dark Chocolate Truffles by The Creative Bite
Chickpea Pepper Cheese Poppers by Bucket List Tummy
Maple Cranberry Apple Sangria by Order in the Kitchen
Meyer Lemon Shandies by The Speckled Palate
Game Day Fried Deviled Eggs with Chow Chow Relish by For the Love of Food
Buffalo Chicken Eggrolls by Simple and Savory
Pimento Mac and Cheese Squares by Lauren's Kitchen
Pastrami Nachos by A Little Gathering
Shrimp Ceviche Dip by Glisten and Grace
Football Bourbon Balls + Boozy Lemonade by Culinary Adventures with Camilla
Apple Cider Mimosas With A Sparkly Sugar Rim by And She Cooks
Pulled Pork Stuffed Corn Dogs by Nik Snacks
Easy Pepperoni Rolls by Me and My Pink Mixer
Real Boneless Chicken Wings by Macheesmo
Califlower Tater Tots by Living Well Kitchen
Cheeseburger Naan Pizza by Shaws Simple Swaps
Red Velvet Ginger Rum Balls by Cafe Terra
Crab Rangoon by Brunch-n-Bites
Sweet n' Spicy BBQ Popcorn by Life's Ambrosia
Buffalo Chicken Rolls by Loves Food, Loves to Eat
Crowd Pleasing Steak Fajita Dip by Lizzy is Dizzy
Sriracha Hummus Pinwheel Sandwiches by Casa de Crews
Simlple Meatball Sub Sliders by Loaves & Dishes
Maple-Mustard Bacon Chicken Bites by An Oregon Cottage
Soft Pretzels with Beer Cheese & Honey Mustard Dipping Sauces by A Simpler Grace
Ricotta Stuffed Sausage Meatballs by A Joyfully Mad Kitchen
Note: This post is in no way sponsored, endorsed or administered by the National Football League (NFL) or any of its teams. All opinions and views expressed on our blogs are our own, not that of the NFL and/or any of its 32 teams. Any team names, logos or other symbols referenced are properties of their respective organizations. We are just big fans — and we want to share our love for our teams, the game and the food that brings us all together on game day.
A VERSE TO SHARE
Isaiah 28
In that day the Lord Almighty
will be a glorious crown,
a beautiful wreath
for the remnant of his people.
6 He will be a spirit of justice
to the one who sits in judgment,
a source of strength
to those who turn back the battle at the gate.
7 And these also stagger from wine
and reel from beer:
Priests and prophets stagger from beer
and are befuddled with wine;
they reel from beer,
they stagger when seeing visions,
they stumble when rendering decisions.
8 All the tables are covered with vomit
and there is not a spot without filth.
9 "Who is it he is trying to teach?
To whom is he explaining his message?
To children weaned from their milk,
to those just taken from the breast?
10 For it is:
Do this, do that,
a rule for this, a rule for that;
a little here, a little there."
11 Very well then, with foreign lips and strange tongues
God will speak to this people,
12 to whom he said,
"This is the resting place, let the weary rest";
and, "This is the place of repose"—
but they would not listen.
13 So then, the word of the Lord to them will become:
Do this, do that,
a rule for this, a rule for that;
a little here, a little there—
so that as they go they will fall backward;
they will be injured and snared and captured.
Therefore hear the word of the Lord, you scoffers
who rule this people in Jerusalem.
15 You boast, "We have entered into a covenant with death,
with the realm of the dead we have made an agreement.
When an overwhelming scourge sweeps by,
it cannot touch us,
for we have made a lie our refuge
and falsehood our hiding place."
16 So this is what the Sovereign Lord says:
"See, I lay a stone in Zion, a tested stone,
a precious cornerstone for a sure foundation;
the one who relies on it
will never be stricken with panic.
17 I will make justice the measuring line
and righteousness the plumb line;
hail will sweep away your refuge, the lie,
and water will overflow your hiding place.
18 Your covenant with death will be annulled;
your agreement with the realm of the dead will not stand.
When the overwhelming scourge sweeps by,
you will be beaten down by it.
19 As often as it comes it will carry you away;
morning after morning, by day and by night,
it will sweep through."
The understanding of this message
will bring sheer terror.
20 The bed is too short to stretch out on,
the blanket too narrow to wrap around you.
21 The Lord will rise up as he did at Mount Perazim,
he will rouse himself as in the Valley of Gibeon—
to do his work, his strange work,
and perform his task, his alien task.
22 Now stop your mocking,
or your chains will become heavier;
the Lord, the Lord Almighty, has told me
of the destruction decreed against the whole land.
23 Listen and hear my voice;
pay attention and hear what I say.
24 When a farmer plows for planting, does he plow continually?
Does he keep on breaking up and working the soil?
25 When he has leveled the surface,
does he not sow caraway and scatter cumin?
Does he not plant wheat in its place,
barley in its plot,
and spelt in its field?
26 His God instructs him
and teaches him the right way.
27 Caraway is not threshed with a sledge,
nor is the wheel of a cart rolled over cumin;
caraway is beaten out with a rod,
and cumin with a stick.
28 Grain must be ground to make bread;
so one does not go on threshing it forever.
The wheels of a threshing cart may be rolled over it,
but one does not use horses to grind grain.
29 All this also comes from the Lord Almighty,
whose plan is wonderful,
whose wisdom is magnificent.