Sometimes you just have to give in to the urge. That's what I've been doing with these S'mores Cookie Bars. We didn't have a bonfire all summer – not a single one. No campfire while we were at the beach. Nothing. There were NO opportunities for S'mores in my life this summer. And now, sadly, summer is over. Thus, I just had to do what I had to do – create S'mores Cookie Bars.
I know – you recipe seekers are just here for the recipe – but honestly, if you can hang around for just a bit, I can share lots of handy tips and we can chat for a minute. Like, we can chat about how Hershey Bars melt and make a terrific substitute for chocolate chips.
We can talk about gooey marshmallows with a perfectly browned top. What about a graham cracker crust – I mean – adding sugar and butter to graham crackers to make a crust – isn't that better than just a plain graham cracker? Yeah, I thought so!
But if we must – here is the recipe. By the way, I'm so excited that I am going to be able to solve this little dilemma of me wanting to put the recipe near the bottom of the post, but recipe seekers want it near the top! So excited- but that is coming a few weeks in the future.
THE RECIPE FOR S'MORES COOKIE BARS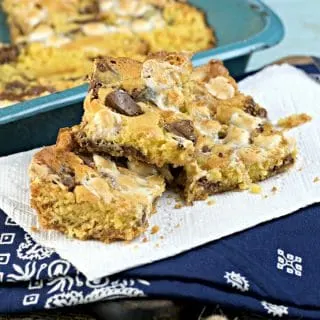 S'mores Cookie Bars
If you enjoyed this recipe, visit Loaves and Dishes for more DROOLWORTHY easy recipes that will make you the kitchen Rockstar you always wanted to be!
Print
Pin
Rate
Ingredients
1 ¼

Cup

Graham cracker crumbs

I use the pre crushed kind

¼

cup

granulated sugar

⅓

cup

melted unsalted sweet cream butter

1

box yellow cake mix

1

3.4 oz small box of instant vanilla pudding

¼

Cup

water

¾

Cup

vegetable Oil

2

eggs

½

bag miniature marshmallows plus extra

10 oz bag

6

hershey chocolate bars - beat with a meat mallet while still in package to break into chunks
Instructions
Preheat the oven to 350. In a 9x13 pan, mix together the graham cracker crumbs, sugar and butter. Use a fork and mix together until the crumbs are sticking together pretty well. Using your hands, pat out the crumbs into a crust on the bottom of the pan.

In a medium sized bowl, mix all of the other ingredients together. Pour this mixture (it doesn't pour very well, actually - so do your best) onto the graham cracker crust. Pat out with your hands gently if necessary so as not to disturb the graham cracker crust.

Bake at 350 for 35-45 minutes until the top of the cookie bars are toasted in appearance and the center is no longer jiggly. Allow to cool. Cut into 3 inch squares - or thereabouts.
Notes
IF you prefer a slightly different flavor, try other candies!
Nutrition
Nutrition Facts
S'mores Cookie Bars
Amount Per Serving
Calories 330
* Percent Daily Values are based on a 2000 calorie diet.
PROCESS PHOTOS FOR S'MORES COOKIE BARS
TIPS AND TRICKS FOR S'MORES COOKIE BARS
These are gooey cookies to put together – not once they are cooked – but the putting together part is gooey. Just sayin.

Once all of the ingredients are put together – the batter becomes kind of like the consistency of that green slime that my kids used to play with way back when. It's kind of stretchy and shiny- it sticks to itself but not really to other stuff. It's kind of weird actually – but the cookie – is GOOD!

The funnest part of this recipe is getting to bang on those hershey bars with the meat mallet. I mean, that is fun – AND – it seems so wrong – but is totally what you should do – which adds to the excitement of this recipe. (I know, that is a sad statement on the fun in my own life – but there you have it).

Once the pan of cookies is cooked, it will be "puffed up". This is normal. It then sinks as it cools. The little marshmallows sink too – and that is normal as well.

Tip: Although, you will probably WANT to eat all of these cookies at once, I wouldn't recommend it. Leads to a full tummy.

These are excellent with both cold milk and hot coffee.

I give them a two thumbs up and my grandbaby does as well. He even thought they were good following a lunch of fresh tomatoes. I'm not sure he knows what tastes good yet though. We were the only two home to test them.

I sent the rest of these cookies to live at his house when I took him home. Cause, if you could see my midline, you would know, I don't need S'mores Cookie Bars hanging around my house. I only wanted a couple.

I created this recipe using my good ol' standard and kids favorite "Cookie Bar". You can find the recipe HERE. Easiest cookie recipe you will ever make PLUS it makes an entire pan of cookies which is great if you have a house full of preteen kids. I simply substituted the hershey bar chunks for the chocolate chips, added half a bag of mini marshmallows and stuck a graham cracker crust on the bottom. I didn't know what would happen – but as it turns out – all is well and DELICIOUS!

When you are trying to spread the cookie batter around – as I said, it sticks to itself – if you push down hard, you will spread the graham cracker crust out and that doesn't work either. The secret is to gently pat it, spread it out little by little as you go. It will get there – just give it a little time and more pats.
A VERSE To SHARE
After a thing happened to me this week, I'm feeling this today and wanted to share. I've been feeling pretty sad about this thing. So, I had to dig in and read. You know, the Bible says that as Christians we WILL be persecuted. I've always taken that to mean that in the future, near the second coming, Christians will be treated all kinds of bad ways. I think God calls us to hold our heads up and just move on in love.
Therefore, since Christ suffered in his body, arm yourselves also with the same attitude, because whoever suffers in the body is done with sin. 2 As a result, they do not live the rest of their earthly lives for evil human desires, but rather for the will of God. 3 For you have spent enough time in the past doing what pagans choose to do—living in debauchery, lust, drunkenness, orgies, carousing and detestable idolatry. 4 They are surprised that you do not join them in their reckless, wild living, and they heap abuse on you. 5 But they will have to give account to him who is ready to judge the living and the dead. 6 For this is the reason the gospel was preached even to those who are now dead, so that they might be judged according to human standards in regard to the body, but live according to God in regard to the spirit.
7 The end of all things is near. Therefore be alert and of sober mind so that you may pray. 8 Above all, love each other deeply, because love covers over a multitude of sins. 9 Offer hospitality to one another without grumbling. 10 Each of you should use whatever gift you have received to serve others, as faithfulstewards of God's grace in its various forms. 11 If anyone speaks, they should do so as one who speaks the very words of God. If anyone serves, they should do so with the strength God provides, so that in all things God may be praised through Jesus Christ. To him be the glory and the power for ever and ever. Amen. 1 Peter 4 : 1-11.
HOW TO GET GREAT RECIPES LIKE S'MORES COOKIE BARS…
ADMIT IT, you need easy delicious recipes in your kitchen every day with the right tips and tricks that tell you how things are supposed to go! Right?
When you become a member of the Loaves and Dishes Community, you will be serving DROOLWORTHY DINNERS that are PACKED with flavor that your family will LOVE. (This IS going to involve butter, cheese and cream. Cow Vs Chemist, I choose Cow. Every. Single. Time.)
When you join my mailing list, you will get a sneak peek at every great new recipe via email as it comes out. PLUS, I promise, I will never share your information with anyone. Ever. I'll guard it with my life. I hate SPAM too.