Weeknight Cheesy Chicken and Stuffing
Admit it. It's Wednesday afternoon at 4:30pm. Almost time to go home. You have the ingredients for two different dishes in the fridge at home but the thought of chopping, cooking and cleaning up after dinner makes your bones hurt. You just want to go home and sit down. After all, you still have the rest of the week in front of you and you are TIRED. You call your "better half" and say, "I can't face cooking tonight, let's just go out".
What happens after that?
Feelings of guilt and shame. That package of chicken pecks you in the face every time you open the refrigerator door.
Your checking account SCREAMS "YOU DUMMY!!!" as you realize that if you hadn't spent $35 on dinner you could have gone for a pedicure instead.
What you really need is an EASY solution.
You need a simple recipe that takes about 30 minutes and minimal dishes to prepare. It must be delicious and something that the whole family will eat and not complain about.
I have your answer. Weeknight Cheesy Chicken and Stuffing.
This recipe is so simple, you could probably teach your 5th grader to fix it (then you won't have to fix dinner! See where I'm going with this?). Then just provide a veggie as a side and you are done! Make a salad. Heat up a can of green beans. Carrot sticks anyone?
THE RECIPE FOR Weeknight Cheesy Chicken and Stuffing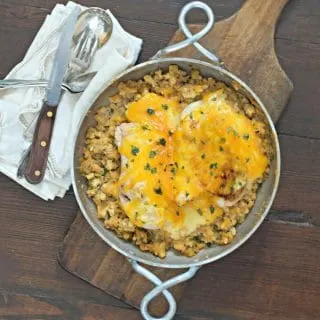 Weeknight Cheesy Chicken and Stuffing
This simple recipe is available at www.loavesanddishes.net. Come by and let me help you with other easy weeknight dinners!
Print
Pin
Rate
Ingredients
2

Tbs

butter

4

boneless skinless chicken breasts

Salt and pepper - pinch of each

¼

tsp

garlic powder

¼

tsp

onion powder

1

box of stuffing

3

cloves

garlic - minced

½

cup

shredded cheddar cheese

1

can cream of chicken soup

½

cup

milk

½

cup

shredded cheddar cheese

Parsley or chives for garnish
Instructions
Preheat the oven to broil. Heat butter in a skillet on stovetop over medium heat in an oven proof skillet. Sprinkle the chicken breasts with salt, pepper, garlic powder and onion powder. Add the chicken to the skillet and cook 12-15 minutes until done. Remove the chicken to a dinner plate and set aside.

Mix the box of stuffing with ½ cup - ¾ cup water - until just wet and starting to stick together. Add this to the hot skillet that you just removed the chicken from. Add the cheese. Mix until melted. Remove from the heat, place the chicken back on top of the stuffing and set aside for a moment

Mix together the can of soup and the milk. Pour the soup back over the top of the chicken and then sprinkle the cheese over the top.

Place the skillet under the broiler until cheese is melted over the top. Garnish with fresh parsley or chives.
Nutrition
Nutrition Facts
Weeknight Cheesy Chicken and Stuffing
Amount Per Serving
Calories 280
* Percent Daily Values are based on a 2000 calorie diet.
TIPS AND TRICKS FOR WEEKNIGHT ONE DISH CHEESY CHICKEN AND STUFFING
You will know your chicken breasts are done when they are white all the way through – just don't check too much or you'll let all of the juicy goodness out!

It's ok if you see a little brown crunchy goodness coming up on your chicken breasts – that is what tastes so good!




Just put the stuffing right in the drippings from the chicken – again what makes it taste good!

This is ALMOST a one pot dinner – but since you have to mix the soup and milk separate – its not quite one pot.

When you add the water to the stuffing mix – just add some until the stuffing starts to get a little chunky.

I know its a pain to add a garnish – but really that fresh herb on the top really adds some zip.
A VERSE TO SHARE
Are you having one of those days where you are feeling tired and weak? I have those all the time! I have a lot of days where I really can't face cooking dinner. (Not today because I am trying out meatball recipes – and I can't wait for dinner). Anyway, regardless of the situation, it is comforting to know that God is there and hears us — even in our wordless groans (I have a lot of those, don't you?).
In the same way, the Spirit helps us in our weakness. We do not know what we ought to pray for, but the Spirit himself intercedes for us through wordless groans. And he who searches our hearts knows the mind of the Spirit, because the Spirit intercedes for God's people in accordance with the will of God. And we know that in all things God works for the good of those who love him, who[a] have been called according to his purpose. ~Romans 8: 26-28