Note: This post is in no way sponsored, endorsed or administered by the National Football League (NFL) or any of its teams. All opinions and views expressed on our blogs are our own, not that of the NFL and/or any of its 32 teams. Any team names, logos or other symbols referenced are properties of their respective organizations. We are just big fans — and we want to share our love for our teams, the game and the food that brings us all together on game day.
It is a total waste of time to even get the winter stuff out of the attic. (Mr. Loaves and Dishes logic). Here comes the juggernaut of fall – football season This means that weekend afternoons and Monday nights have a singular purpose. Hello couch, popcorn and cold drinks.
Then, the entire season passes like a tornado leaving the Mr. and his comrades in a wake of potato chip crumbs and butt shaped chair dents. At that point, spring is here and it is a long and lonely time until football season again (according to the sweet hubby).
So, see….? Don't even waste your time with lugging the winter stuff out of the attic.
With that kind of logic, you will have some extra time on your hands so how about if I tell you a little story of a member on MY TEAM!
I couldn't be MORE PROUD.
While many in the NFL are refusing to participate in our National Anthem. There is at least one guy who stands out like a bright shining star.
While many stand with their fist in the air in defiance to our nation and our flag. There is at least one guy willing to face fines from the National League for wearing his Red White and Blue cleats.
While many kneel in defiance to our nation and those who have made it great. There is at least one guy who proudly runs onto the field remembering those who have died in service to their fellow man.
That right there is MY KIND OF GUY.
I would like to remind you, regardless if you support Black Lives Matter or Blue Lives Matter or All Lives Matter, one thing remains true. We are all the same color on the inside and THAT IS ACTUALLY WHAT MATTERS! Wouldn't it be great if we could all remember this?
Did you see this story?
Yeah, that's my Titans. They should be your Titans too. Let's be CLEAR. Avery DID wear his Red White and Blue Cleats out on the field on 9/11 – to heck with charges. He did it anyway.
My football heroes name is Avery Williams and I made him a cake. You'll see that it is Red White and Blue on the inside AND the outside. I wish we all were.
Perhaps if we sit down and have a piece of cake together, help Mama get a few things out of the attic during the commercials and chat a bit we could all see that actually we are all the same color where it counts.
Now, here is something fun! I hope you will check it out!
In celebration of football season, I've joined a group of bloggers from all over the country — all of whom are big football fans! — to bring you football-inspired recipes this season. Last month we shared our favorite tailgating recipes, and now we are sharing more than 60 recipes ideas for celebrating on game day. Click on their links below (just below the recipe) to join in!
THE RECIPE FOR AVERY WILLIAMSON AMERICAN CAKE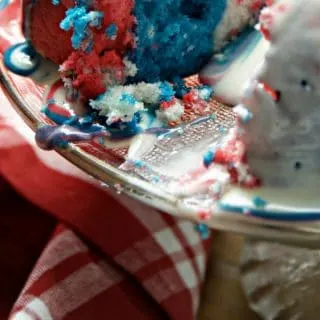 Ingredients
For the cake

2

Cups

all purpose flour

1

Cup

Granulated Sugar

2

tsp

baking powder

¼

tsp

Kosher salt

4

large egg whites at room temp

⅔

Cup

milk

6

Tbs

unsalted sweet cream butter at room temp.

2

tsp

pure vanilla extract

1

tsp

pure almond extract

Red and Blue food coloring

For the Icing:

2

sticks of butter at room temp

1 8

oz

block of cream cheese at room temp

4

cups

of powdered sugar

2

tsp

pure vanilla extract

1

tsp

pure almond extract

Red and Blue Food coloring
Instructions
Preheat oven to 350 and prepare a Bundt Pan by spraying with bakers spray.

In the bowl of a stand mixer (or in a large bowl if you will be using a hand mixer), mix together on low speed the flour, sugar, baking powder and salt.

Add in one ingredient at a time, mixing between the egg whites, milk, butter, extracts and red food coloring. Mix on a low speed until everything is mixed well then turn to high and mix for another minute.

Divide batter into three equal batches (about a cup each). Into one, drop red food coloring and mix until the color red you desire appears - for me, I used about 16 drops of red. Do the same with the blue in a separate batch - again, for me, about 16 drops of blue. Leave the other batch white.

First pour the red batter into the bottom of the Bundt Pan. Gently pour the white on top of the red and then, pour the blue on top of the white. Do not try to smooth them out and don't worry about if one color doesn't completely cover the other. It will be fine.

Bake for 30-36 minutes until cake tester or toothpick comes out clean. As SOON as it comes out clean, remove from the oven and allow to rest for 2 minutes before removing from the bundt pan by turning over upside down on a cooling rack. Remove to a wire rack to cool completely. Allow to cool completely before applying the icing.

For the icing

In the bowl of a stand mixer, mix together the butter, cream cheese, powdered sugar, vanilla and almond extract.

Separate the icing into three equal batches (just like with the batter), just like with the batter add red food coloring to one batch, blue to another until your desired color appears.

Microwave each of the colors about 30 secs - 1 minute until the icing is slightly runny. Drizzle the top of the cake with icing using a large spoon. Drizzle back and forth forming the icing in stringy layers across the cake - like a firecracker!
Nutrition
Nutrition Facts
Avery Williamson American Cake
Amount Per Serving
Calories 441
Calories from Fat 126
% Daily Value*
Fat 14g22%
Cholesterol 40mg13%
Sodium 193mg8%
Potassium 170mg5%
Carbohydrates 75g25%
Protein 5g10%
Vitamin A 485IU10%
Calcium 77mg8%
Iron 1mg6%
* Percent Daily Values are based on a 2000 calorie diet.
TIPS AND TRICKS FOR AVERY WILLIAMSON AMERICAN CAKE
The main trick is to be careful with the food coloring – it stains.
Don't be too anxious about getting your cake out of the pan, you can burn your thumb if you get in too big of a hurry. Ask me how I know. lol
THE INSPIRATION FOR AVERY WILLIAMSON AMERICAN CAKE
Ya'll I can't resist that Betty Crocker site. I can't. So many delicious things over there! Anyway, I saw a similar cake that uses a cake mix for a bundt cake over there. Here is the link if you want to check it out. Instead, I used my one bowl cupcake recipe to make a cake! It is delicious either way. Remember when I said that Mr Loaves and Dishes and I are complaining about our tight waisted pants – yeah, well, this isn't helping any. At all. lol.
Now, you can check out these other great recipes that represent the OTHER NFL teams. I'm sure the recipes are great!!
Red Sea Party Punch by Celebrating Family
Bird Gang Sonoran Nachos by Love Bakes Good Cakes
GameDay Cheesecake Bars by Body Rebooted
Healthy Dirty Bird Dip by Dash of Herbs
Purple Potato Salad by The Culinary Compass
Chocolate Blackberry Cheesecake Parfait by Mom's Messy Miracles
Easy Buffalo Chicken Sliders by Beer Girl Cooks
Quick and Easy Baked Buffalo Chicken Sliders by The Life Jolie
Blackened Steak + Blue Cheese Nachos by Feast + West
Easy Pimiento Cheese Crackers by Family Food on the Table
Chicago-Style Deep Dish Breadsticks by Honey & Birch
Italian Beef by Bread Booze Bacon
Welcome to the Jungle Cocktail by Love & Flour
Bengal Striped Bundt Cake by Foodtastic Mom
Polish Boy Potato Skins by A Mind Full Mom
Sweet and Salty Brownies by The Secret Ingredient Is
Cowboy Cookies by The BakerMama
Cowboy Chili by See Aimee Cook
Green Chili Pulled Pork Poutine by Cake 'n Knife
Blue and Orange Jello Shot Gummies by Sustaining the Powers
Greek Town Loaded Potato Skins by The Mexitalian
Marbled Scotcharoos by Club Narwhal
Beer Cheese Fondue by Off the Eaten Path
Easy Beer Cheese Soup by Hello Little Home
Chicken Stack Sandwich by Around My Family Table
Bratwurst Sandwiches with Pub Mustard by What A Girl Eats
Game Day Cupcakes by Polka Dotted Blue Jay
Brownie Batter Dip by The Crumby Cupcake
Chocolate Coconut Cupcakes by Two Places at Once
Tomahawk Cooler by Mixplorology
Spicy Jalapeno Popper Cheese Dip with Real Cheese by Simplify, Live, Love
Game Day Snack Tray by Coffee Love Travel
Bacon Mac Cups by West via Midwest
South Beach Punch by 2 Cookin Mamas
Miami Mahi Mahi Sandwich by foodbyjonister
Swedish Meatball Dip with Tater Tot Dunkers by Peanut Blossom
Fruity Dessert Pizza with Peanut Butter Chocolate Glaze by Bucket List Tummy
New England Rum Punch by Order in the Kitchen
Crawfish Etouffee by The Speckled Palate
Cajun Crawfish Fritters with Remoulade Dipping Sauce by For the Love of Food
Reuben Sliders with Homemade Russian Dressing by A Dish of Daily Life
Big Blue Cheese Steak Stromboli by Simple and Savory
Spinach & Artichoke Bites by Lauren's Kitchen
Herb Pesto Arancini by A Little Gathering
Beluga Lentil Hummus by Culinary Adventures with Camilla
Philly Cheesesteak Nachos by And She Cooks
Philly Cheesesteak Cheesecake by Nik Snacks
Game Day Cookie Cups by Me and My Pink Mixer
Primanti Style Sliders by Macheesmo
Pineapple Salsa by Living Well Kitchen
Tex Mex Cream Cheese Wontons with Bacon by Shaws Simple Swaps
Blue Cheese Blitz Dip by Cafe Terra
Chicken Adobo Fries by Brunch-n-Bites
Game Day Candy Bark by Life's Ambrosia
Chicken Teriyaki Pizza by Loves Food, Loves to Eat
High Seas Sour Cherry Slush by Lizzy is Dizzy
Buffalo Chicken Deviled Eggs by Casa de Crews
Avery Williamson American Cake by Loaves & Dishes
Game Day Sriracha-Honey Nut Mix by An Oregon Cottage
Double-Stuffed Potato Skins by A Simpler Grace
Red Skin Potato Chili Nachos by A Joyfully Mad Kitchen